Workers' Comp – Covered or Not?
November 03, 2022 | NEW JERSEY
BAGOLIE FRIEDMAN INJURY LAWYERS, Correspondent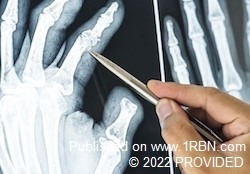 Photo by PROVIDEDWork-related injuries can include anything from chemical burns to repetitive stress damage.
This article is a direct street report from our correspondent and has not been edited by the 1st Responder newsroom.
Injured Workers: Don't Overlook Third-Party Actions

According to the Bureau of Labor Statistics, more than 2.9 million workers were injured in the workplace in 2016, and 4,764 died from those injuries. Over 50% of workers required time off because of an injury or illness, and workplace injuries cost employees, employers, and insurance companies more than $163 billion a year.

Workers' compensation insurance is required of employers in 49 states to protect an injured employee while shielding employers from a lawsuit. In return, an injured worker (or family member) can file a claim to help with medical costs, disability benefits, lost wages, and death benefits, if applicable.

Common Workplace Injuries

Many workplace injuries are found in these seven categories. However, the COVID-19 pandemic dramatically increased worker illnesses during 2020 and 2021.

-Musculoskeletal injuries. Musculoskeletal disorders often result from overexertion, lifting heavy objects, typing, and other run-of-the-mill job-related tasks.

-Slip-and-fall injuries.

-Repetitive motion injuries. Have you ever suffered from carpal tunnel syndrome at work? If so, you're not alone - according to one survey, 20 percent of workers reported suffering work-related injuries caused by repetitive motion.

-Injured by machinery or struck by an object. From defective machinery and equipment to improper maintenance, employees who suffer injuries from such items can look into workers' comp and product liability claims against the manufacturer.

-Motor vehicle accidents.

-Workplace violence.

-Burns. The Occupational Safety and Health Administration (OSHA) reports that several types of burns may occur at work, including thermal, electrical, and chemical burns. Employers are required to follow workplace safety rules set forth by OSHA and provide protective equipment, if necessary.

Third-Party Liability Claims

Many think that workers' compensation is their only source of benefits if they have an on-the-job injury. While workers' compensation is provided without regard to fault on the employee or employer's part, there are situations where a negligent third party might be held responsible. Called a third-party claim, this legal action allows injured employees to seek additional compensation from the negligent party. Given the movement to cut workers' compensation benefits in many states, a third-party claim may be critical to achieving full financial recovery from a devastating work injury. Types of third-party claims include:

-Equipment or manufacturer defects: The manufacturer may be held accountable when equipment malfunctions and causes an injury.

-Improper safety practices: An employee may work for one employer on a job involving other companies. If the second company should have and did not follow proper safety guidelines, it may be held liable for the accident.

-Premises liability: An injury sustained by a worker on someone else's property due to a known danger may result in a third-party liability claim.

Bottom line, workers' compensation is limited. It does not cover noneconomic or punitive damages. Big bills can stack up quickly. If recklessness or negligence caused the injury, third-party claims might be one more path to justice.

Because these are often complicated legal issues, your best bet if injured at work – no matter how straightforward it looks – is to contact a personal injury lawyer.