"FOREST FIRE SERVICE" a Big Hit for the Burn Foundation in Wildwood
By JOSEPH M. GETSINGER, Correspondent | October 13, 2021 | NEW JERSEY
Story No. 101321111
Photo by PROVIDED(L to R): First prize winner Nikki Winkles with husband Sean and son Alexander.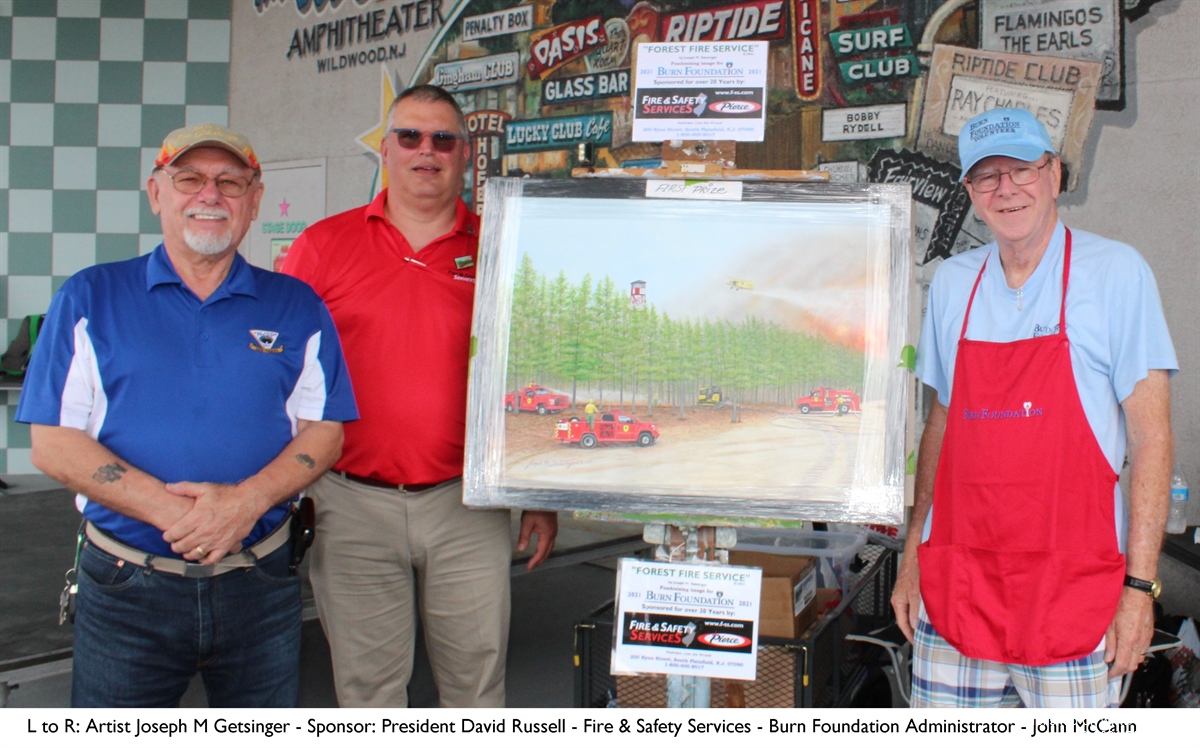 Photo by PROVIDED(L to R): Artist Joseph M. Getsinger, Sponsor: President David Russell - Fire & Safety Services, and Burn Foundation Administrator John McCann.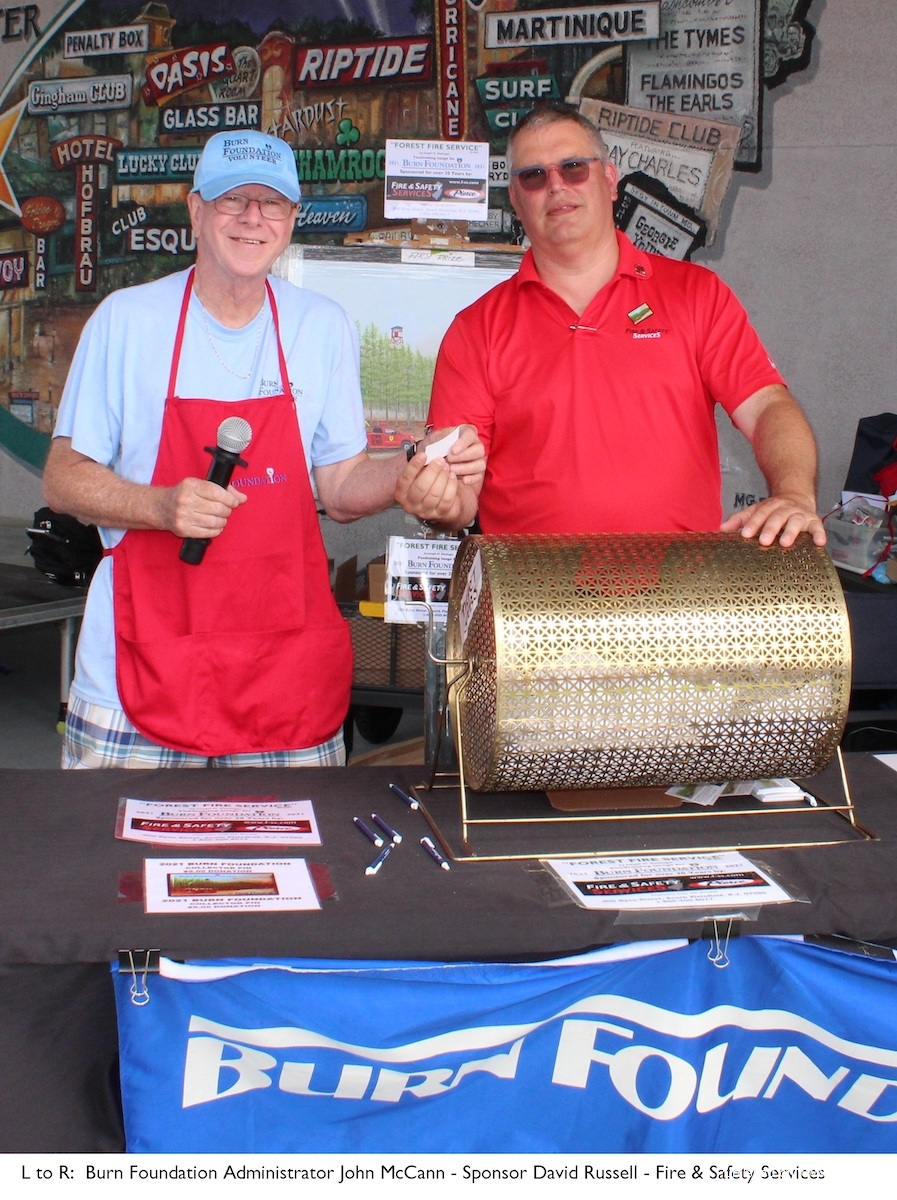 Photo by PROVIDED(L to R): Burn Foundation Administrator John McCann and Sponsor David Russell, Fire & Safety Services.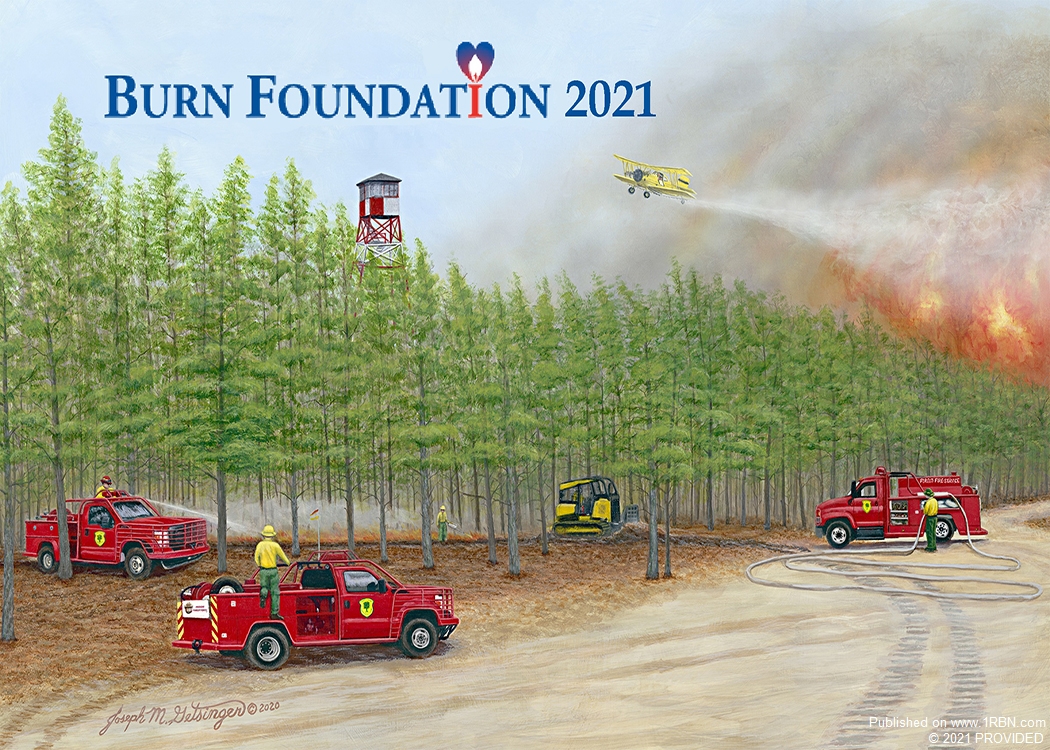 Photo by PROVIDEDForest Fire Service collector card
WILDWOOD, NJ - Burn Foundation Administrator John McCann was elated at how well received the "FOREST FIRE SERVICE" print raffle and collector pin donations went during the Firemen's Convention for 2021.

Post-Covid-19 crowds occupied the tent and open areas and donated over $14,500 to take a chance at one-of-30 of the signed and numbered "FOREST FIRE SERVICE" prints by Artist Joseph M. Getsinger, or a framed signed number one giclee canvas print of that image. David Russell, President of Fire & Safety Services, who sponsored the prints and raffle tickets, helped John McCann pick out the winners on Saturday afternoon. Artist Joseph Getsinger was present and assisted during the fundraiser and received many compliments on this year's image, and his 41st year of creating art for the Burn Foundation.

Ticket donations went well, and there was an overwhelming sale of the collector pins, which sold out for the first time. The pins were sponsored by First Harvest Credit Union through Senior Vice President Kenneth Barnshaw, who was present at the Burn Foundation booth with the artist. Many thanks go out to the Burn Foundation volunteers who stood at the gates collecting donations, handing out raffle tickets, collector pins and cards.

Other sponsors that contributed to the Burn Foundation fundraiser were: Wil Edwards of Premier Art & Frames, Pitman, NJ, who donated the framing of the Grand Prize giclee canvas #1; John Cortese of VanGoghAgain Galleries donated the giclee canvas for the Grand Prize; and Chip Lillie of CHOICE Custom Cards donated all the "Forest Fire Service" collector cards given out during the convention. Many thanks to President Bill Eachus, Jr. of B.C.& B. Graphics, Pennsauken, NJ, who printed the full color raffle tickets and the full sized "Forest Fire Service" prints for the raffle. All of the combined funding and effort of the aforementioned sponsors assist the Burn Foundation with their continuing mission of service to the Burn Centers and the Burn Patient communities.

The Burn Foundation raffle winners for the "FOREST FIRE SERVICE" signed and numbered prints at the 2021 Wildwood NJ Firemen's Convention were:

Maxfield, Michelle Davis–Maywood, NJ; Joe Hartman–Egg Harbor, NJ; John Paul Jones–Kansas City, Kansas; Ed Beck–Dennis Twp., NJ; Dave Walter, Emily Magno-Helmetta, NJ; Larry Olphant–Manhawkin, NJ; Michelle Arancio–Middlesex, NJ; Ed Fleming–Flemington, NJ; Rick Woods–Cottage Place, Pa.; Kristina Imboden–Nazereth, Pa.; John Nunn-NJ; Adam Hartsoush-Carney's Point, NJ; Kevin Berry-Pa.; John Hebble–Stanhope, NJ; Dave Michael, Aitor Ostolaza–Landing, NJ; Brian Tierney–South Amboy, NJ; Fred Porsicano–Mickleton, NJ; Dayton Kenney–Barnegat, NJ; Jeff Shaw, Eileen Buccino–Westfield, NJ; Casey Agliano–Barto, Pa.; C. Sawboda–Tuckerton, NJ; Jerry Sheord–Budd Lake, NJ; John D. Clark, Roy Hollahan-Levittown, Pa.; and Lee Smith–Wanaque, NJ.

The Grand Prize winner for the #1 giclee canvas of "Forest Fire Service" was Nikki Winkles of Sewell, N.J.

Special thanks go out to the Woodbury Heights Fire Department who donated $100 to the Burn Foundation, along with Fire Marshal Joseph Buono, Woodbury, N.J., who also donated $100. Great job to all the individuals who donated funds to help the Burn Foundation help burn survivors.
This article is a direct street report from our correspondent and has not been edited by the 1st Responder newsroom.