Pinellas Park Fire Department Dedicates New Fire Station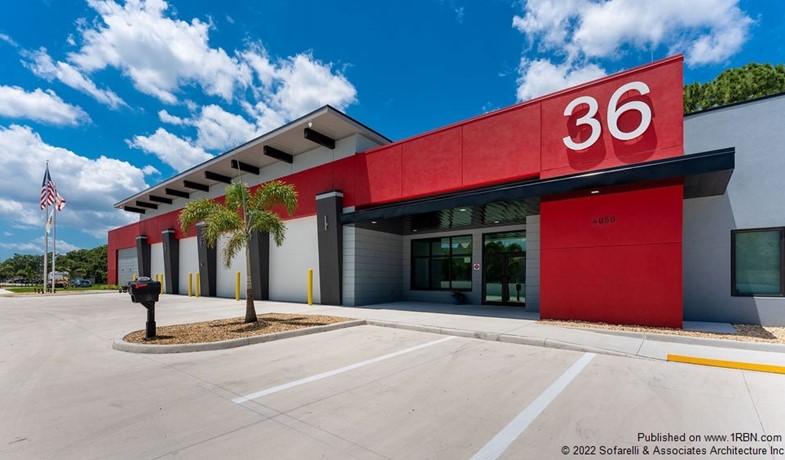 Photo by Sofarelli & Associates Architecture IncPinellas Park Fire Station 36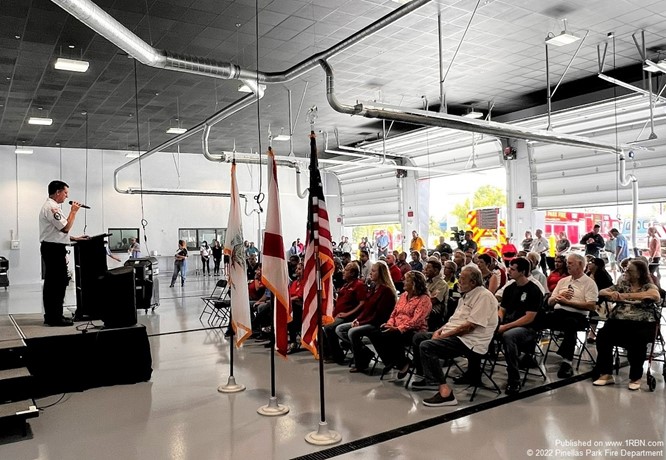 Photo by Pinellas Park Fire Department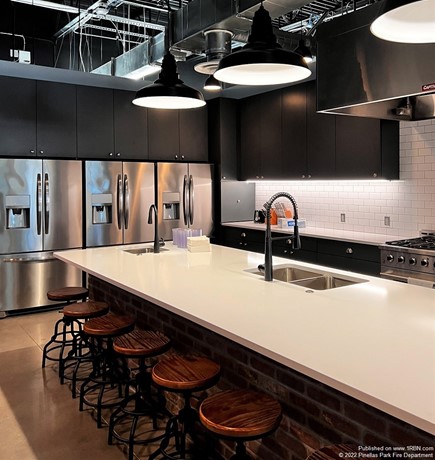 Photo by Pinellas Park Fire Department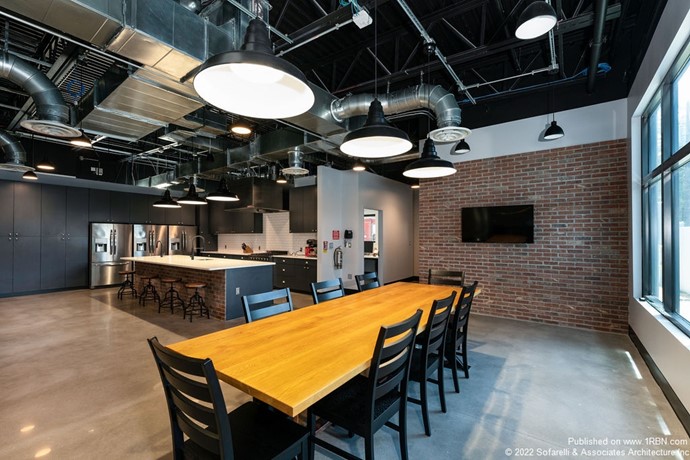 Photo by Sofarelli & Associates Architecture Inc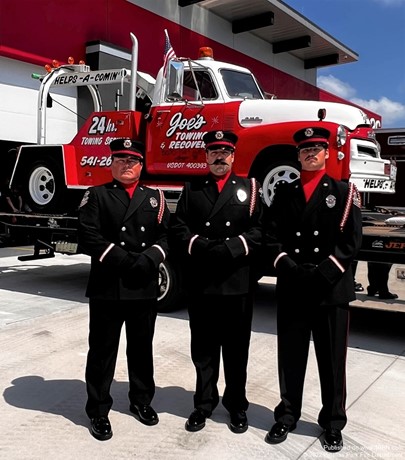 Photo by Pinellas Park Fire Department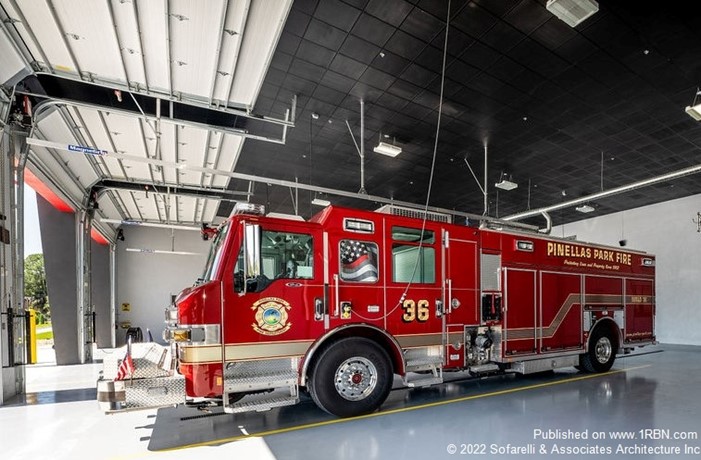 Photo by Sofarelli & Associates Architecture Inc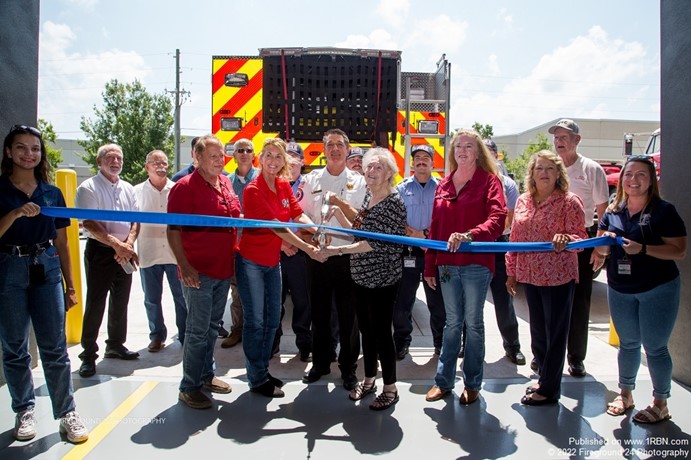 Photo by Fireground 24 Photography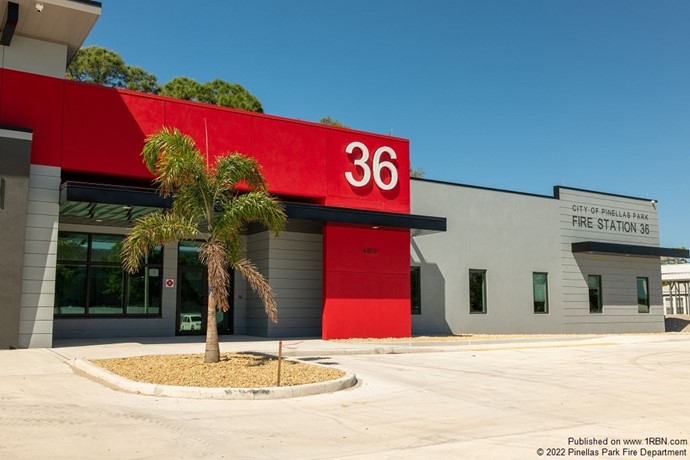 Photo by Pinellas Park Fire Department
This article is a direct street report from our correspondent and has not been edited by the 1st Responder newsroom.
PINELLAS PARK, FL - The City of Pinellas Park Fire Department held an official ribbon cutting and dedication on June 24, 2022, to officially open Fire Station 36 – its fifth fire station serving the Pinellas Park fire district within Pinellas County. Pinellas Park Fire Chief Brett Schlatterer presided over the ceremony, thanking and recognizing all those who had a hand in bringing this project to fruition.
Station 36 was dedicated to the memory of Joseph Kolodziej of Joe's Towing and Recovery, who was an ardent supporter of the Pinellas Park Fire Department. "Joe was instrumental in assisting the PPFD Extrication Team by allowing them to utilize his personnel and resources to train in the area of extrication" stated Chief Schlatterer. "Joe will always be a part of the Pinellas Park Fire Department…and his legacy will be remembered always."
Mayor Sandra Bradbury and City Manager Bart Diebold joined Chief Schlatterer at the podium to say a few words about the station and thank the staff and council for their support. Following remarks, they were joined by members of Joe's family for the ribbon cutting to officially open Pinellas Park Fire Station 36.
Station 36 is located at 4050 80th Avenue North in Pinellas Park and operates 24/7 to provide fire suppression, fire prevention, and emergency medical service to the community.
Designed by Sofarelli and Associates and built by Nelson Construction, this 13,400 square foot state-of-the-art facility has 10 bedrooms, 6 bathrooms, a 4-bay garage, a fully-equipped gym, a commercial-style stainless steel kitchen, a storage warehouse, and SCBA (self-contained breathing apparatus) room.
In the dining area sits a custom table handcrafted and donated by retired Pinellas Park Lieutenant Nick Reale—owner of Nick Reale Woodturning. The table was crafted using reclaimed wood and includes an antique wooden fire ladder at the base. Out in the truck bay, a source capture exhaust system acts to reduce firefighter exposure to diesel exhaust and helps improve personnel safety.
The station is also home to Squad 36 - our brand new fire apparatus which is a combination fire engine and heavy rescue. Depending on the nature of the call, Squad 36 can be dispatched as an engine, squad or rescue.
With the continued growth of Pinellas Park's fire service area, the placement of this new station will help reduce emergency response times along the heavily traveled U.S. Highway 19 corridor—allowing Pinellas Park to provide high-quality fire and emergency service to the neighboring Mainlands subdivision, the Gateway area, and all residents and businesses in the southeastern portion of the city.