Firefighters Battle Flames and Humidity in West New York
By RON JEFFERS, New Jersey Editor | June 24, 2020 | NEW JERSEY
Story No. 062520108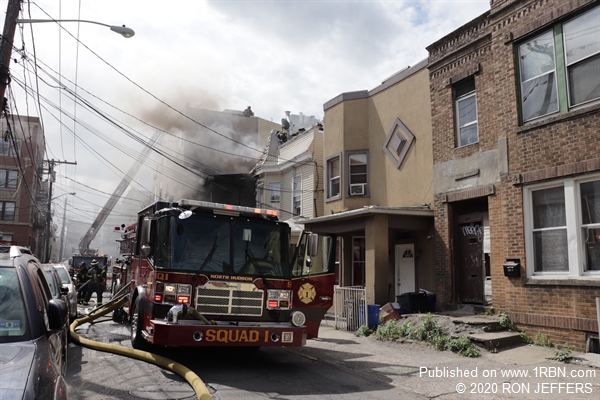 Photo by RON JEFFERSNorth Hudson firefighters battled a 3-alarm fire involving three dwellings on a humid June 24th morning along 54th Street, West New York.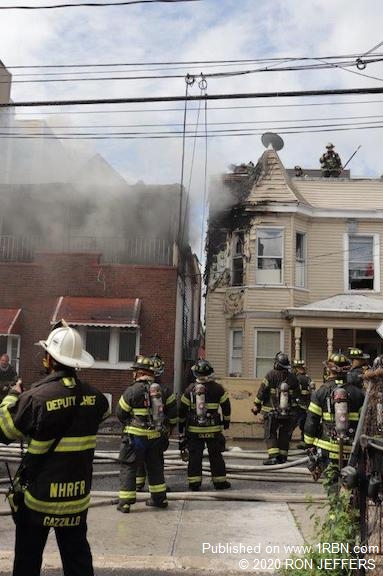 Photo by RON JEFFERSEngine 9 used a handline to knock down flames that had extended to Exposure "D."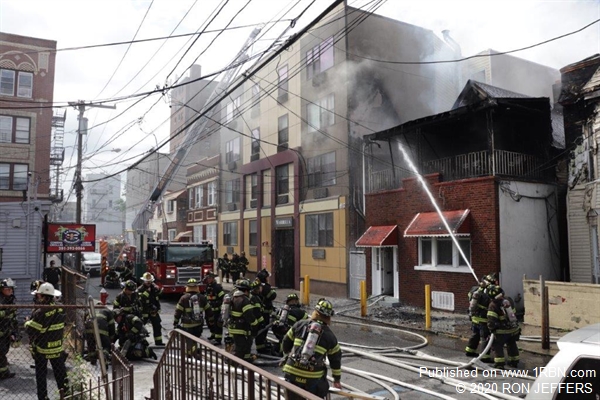 Photo by RON JEFFERSExposure "B" was also affected by fire.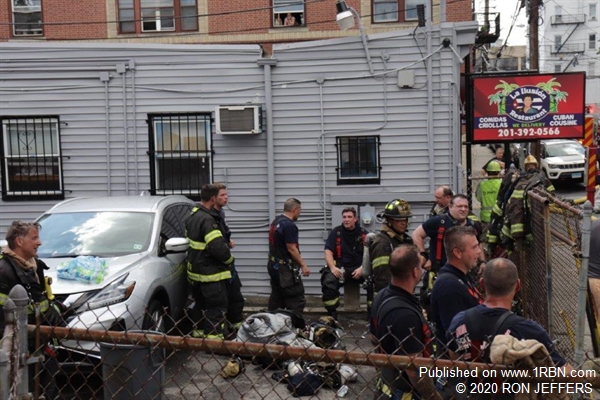 Photo by RON JEFFERSFirefighters take a blow in a parking lot opposite the fire.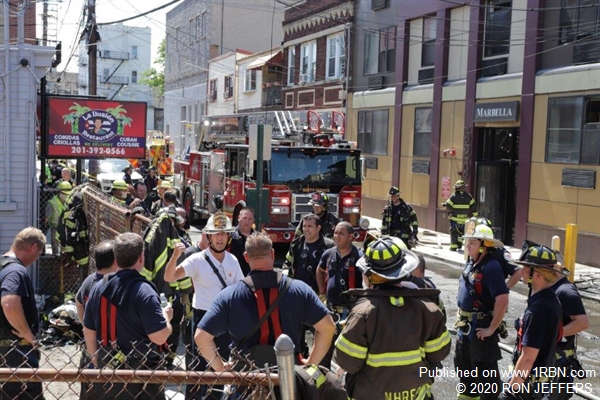 Photo by RON JEFFERSDeputy Chief Gazziollo, center, goes over operations with members after the fire was declared under control.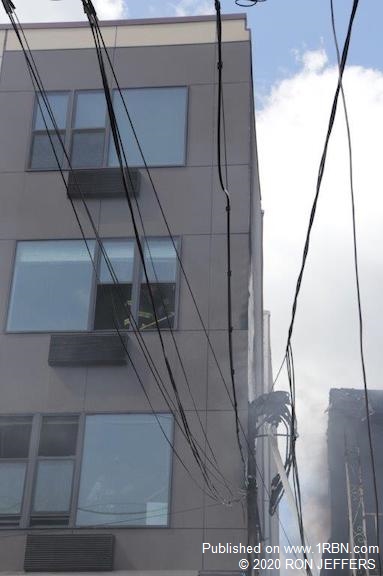 Photo by RON JEFFERSThe many overhead power lines are always a problem for New Jersey firefighters.
West New York, NJ - Heavy fire and smoke weren't the only obstacles faced by North Hudson firefighters, June 24th, as they battled flames that involved three 54th Street dwellings. The heat and humidity were also a factor; however, firefighters managed to quickly knock down the heavy amount of flames.

Shortly after 9:30 A.M., fire companies were sent to the 500-block of 54th Street for a report of a fire. The dispatcher notified responding units that they were receiving numerous phone calls. In addition, firefighters saw smoke in the sky, while en route.

First arriving police officers were credited for rushing into buildings to alert and evacuate residents. They are Deputy Chief De Rojas, Captain Frank Steffe and Lt. Marcos Garciga.

Heavy fire was venting from the second floor of a two-story home as Captain Carlos Perez, of Engine Co. 9, arrived and reported a working fire. Second Battalion Chief Dan Giacumbo transmitted a second-alarm upon his arrival, quickly followed by a third-alarm.

Overhead power lines, exposed to flames, were falling down to add to the difficulties. Flames had already extended to a two-story dwelling to the west of the fire building, burning the second floor and attic area. A hose line was trained on that building to suppress fire. In addition, fire extended into a four-story apartment building on the east side of the original fire building. Firefighters entered that structure with hose lines and opened up the walls and floor to extinguished hidden pockets of fire.

All occupants of the buildings were safely evacuated. Red Cross spokeswoman Diane Concannon said her organization was assisting at least 53 displaced residents.

Firefighters were rotated fighting the fire and taking a break in the shade, removing their heavy turnout gear, to cool off. One fire officer was taken to Palisades Medical Center and treated for heat exhaustion.

Deputy Chief Nick Gazzillo placed the fire under at 10:26 A.M. West New York authorities then entered the structure to begin an investigation as to what caused the fire.

The deputy chief gathered a group of his firefighters into an informal huddle to go over operations after the fire was under control. West New York Mayor Gabriel Rodriguez came over to thank Deputy Chief Gazzillo and all of the firefighters for for their hard work and quickly knocking down the heavy flames.

This article is a direct street report from our correspondent and has not been edited by the 1st Responder newsroom.