Firefighters Battle Stubborn Apartment Fire for Hours
By RON JEFFERS, New Jersey Editor | June 05, 2021 | NEW JERSEY
Story No. 060721103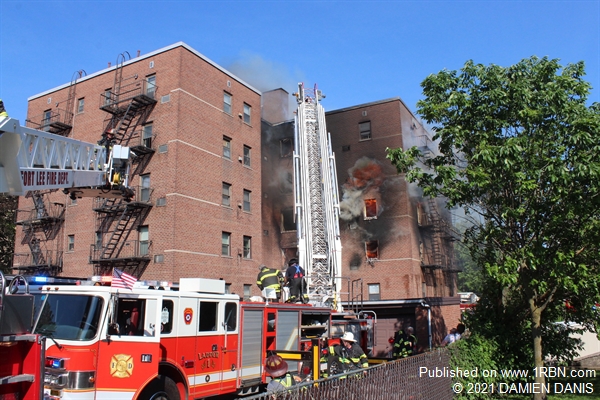 Photo by DAMIEN DANISAerial devices set up master streams as flames move up to all floors of the Fort Lee apartment building.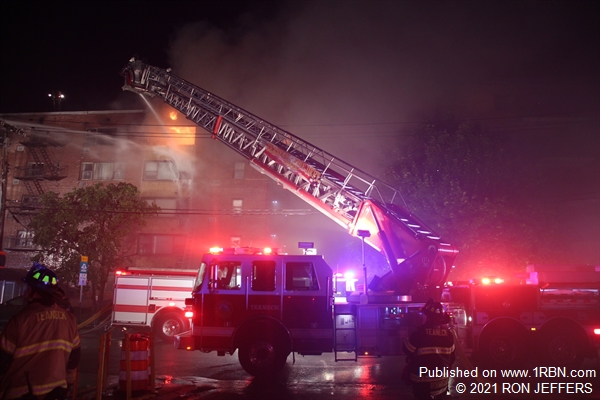 Photo by RON JEFFERSStubborn, deep-seated fire continued to burn in the building. Teaneck Tower 1 hits fire around 10:00 P.M.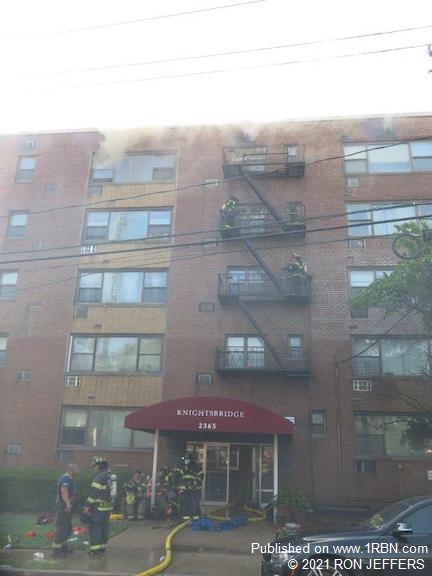 Photo by RON JEFFERS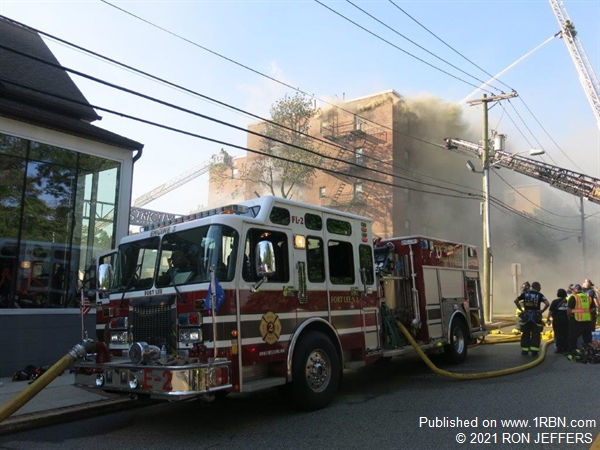 Photo by RON JEFFERS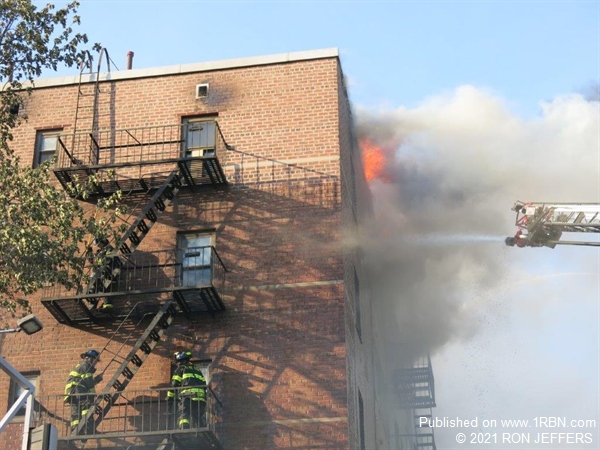 Photo by RON JEFFERS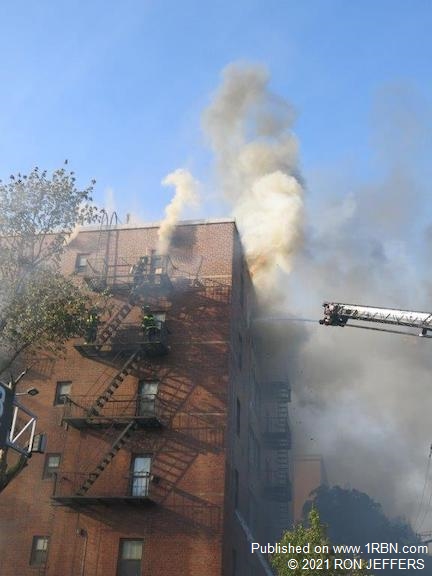 Photo by RON JEFFERS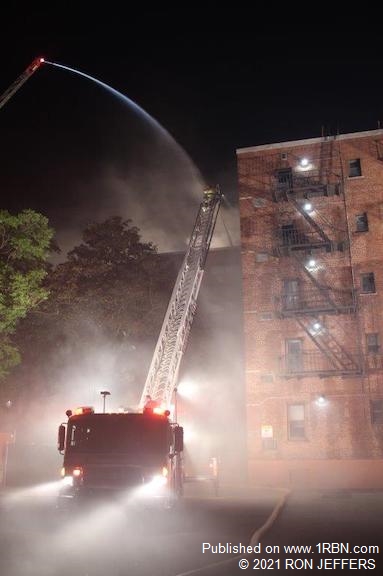 Photo by RON JEFFERSLadder pipes from Ridgefield Park Truck 1, left, and Fairview Truck 2 operate along the rear wing, as the sun set.
FORT LEE, NJ - Flames and smoke dominated a five-story apartment building for hours, bringing in numerous fire, EMS, police and rehab units to the scene on a warm June 5th Saturday afternoon.

Shortly after 3:30 P.M., borough firefighters were dispatched to a reported fire at the Knightsbridge apartment building, 2365 Hudson Terrace, opposite an entrance and exit route to the Palisades Interstate Parkway (PIP). Fort Lee and Palisades Interstate Parkway police were first on the scene and assisted in alerting occupants, as smoke alarms rang out. There was an initial report of a possible entrapment.

One resident, returning home, said people were running out and shouting, "Fire, Fire!, Fire!".

Firefighters arrived to find flames coming from windows on the second-floor, along the south side of the structure. A borough general alarm was sounded for all local fire companies to turn out.

Firefighters began an interior attack as the fire and smoke conditions increased. Mutual aid began with a call for Edgewater Tower 1. Later, second and third alarms were transmitted and numerous special calls for additional resources, by order of Chief Bryan Drumgoole.

Conditions began to deteriorate, with some ceiling collapse reports, and members were ordered out of the structure. Low-banking smoke filled the area, as well as rolling across the heavily traveled PIP, where traffic slowed down while drivers observed the fire as they passed by.

Flames traveled up all floors and into the cockloft. Ladder pipes were set up surrounding the building, and used from Fort Lee, Leonia, Palisades Park, Fairview and Ridgefield Park. In addition, there were tower ladder operations from Fort Lee and Teaneck, plus a squirt device from Cliffside Park.

Twice, during the fire, a loud, thundering boom noise was heard. Once on the 'Alpha' side and once, later, on the 'Bravo' side. This was part of an interior pancake collapse of all floors to the ground level. Master streams continued to pound the fire.

Stubborn, interior flames kept rolling into the night. Around 10:00 P.M., flames were shooting out of the top floor windows on the 'Alpha' side, where Teaneck Tower 1 and Fort Lee Ladder 1 were in operation.

On this warm day, rehab stations were set up and bottled water and wet towels passed out to firefighters. Rehab operations included personnel from Fort Lee EMS and an Englewood Hospital and Medical Center mass care response. In addition, Teaneck's Box 54 Club set up a food and cold drink station south of the fire. This unit was relieved by the Jersey City Gong Club canteen, after 1:00 A.M.

Officials said two volunteer firefighters were taken to a local hospital and treated for minor injuries. The Red Cross put up about a dozen families at local hotels and assisted other residents from the 36 units, according to Mayor Mark Sokolich.

All residents of the building are safe and accounted for, except for one person who is believed to be out of the country, according to Mayor Sokolich.

Fire departments that operated at the scene, not already mentioned, included Englewood Cliffs, Englewood, Ridgefield, Paramus, Bogota, Paramus, Hackensack and Bergenfield. Units continued to be called in for additional water supply and relief purposes. In addition, the Hackensack Mask Service Unit was also on the scene filling the many empty air bottles.

The fire was placed under control at 1:25 A.M., June 6th.

This article is a direct street report from our correspondent and has not been edited by the 1st Responder newsroom.