NJ EMS Task Force Gets a Generous Donation from Products Distributor V.E. Ralph & Son, Inc.
By RICHARD HUFF, Senior Correspondent | May 21, 2020 | NEW JERSEY
Story No. 052120100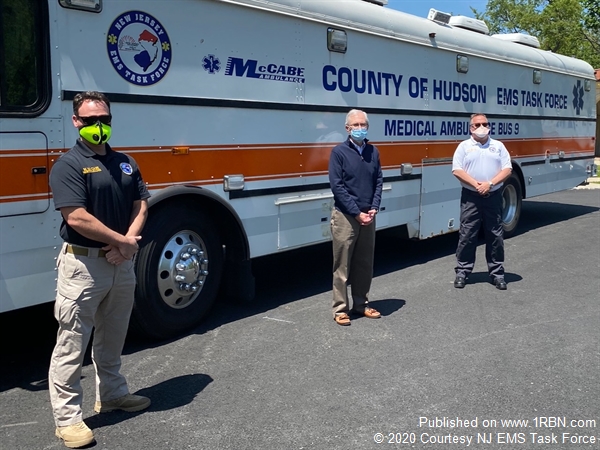 Photo by Courtesy NJ EMS Task Force(L to R): Michael McCabe, NJEMSTF North Leader, Vernon J. Ralph, President of V.E. Ralph and Joe Anderson, treasurer of NJEMSTF.
The New Jersey EMS Task Force has received a generous donation from EMS products distributor V.E. Ralph & Son, Inc.

The donation from the NJ-headquartered V.E. Ralph will immediately go to the operational support of the organization and the men and women of the NJ EMS Task Force on the front line of the fight against COVID-19.

"V.E. Ralph has been a longtime supporter of the NJ EMS Task Force and its mission to help the people of New Jersey," said H. Mickey McCabe, vice chairman of the NJEMSTF Advisory Board. "The Ralph family have been great partners in this organization from the start and we look forward to working with them long into the future."

"We know the dedication and expertise of the NJ EMS Task Force," said Vernon J. Ralph, President of V.E. Ralph & Son. "We are happy to support them in their critical mission."

For more than 70 years, V.E. Ralph has been serving the needs of emergency responders around the country. Started as an oxygen delivery service in 1946, the company has evolved into a leading distributor of emergency medical equipment and supplies. V.E. Ralph is one of the most trusted names in EMS supplies.

The NJEMSTF was activated in March as part of the New Jersey's efforts to fight the COVID-19 pandemic. Working side-by-side with local, state, and national health, law enforcement and office of emergency management teams, members have handled such missions as providing administrative and logistics support at the mobile COVID-19 testing sites, deployed Western Shelter tent facilities at 20 hospitals, placed oxygen generators at various facilities, and coordinated the deployment of its medical ambulance bus fleet to transport COVID-19 positive patients from long term care facilities and hospitals. The team is also staffing regional temporary morgue sites, the deployment of out-of-state FEMA ambulance teams, working to obtain and distribute PPE, and coordinating state EMS needs.

The New Jersey EMS Task Force is a 501(c)(3) non-profit organization that represents more than 200 career and volunteer EMS providers positioned throughout the state, who are trained in various disciplines of emergency medical services to respond to large-scale man-made and natural disasters as well as pre-planned events.

The NJEMSTF was formed after the Sept. 11, 2001 terrorist attacks as a way to better prepare New Jersey's preparations and responses to large-scale events. Today, through partnerships with local agencies, the NJEMSTF has specialized equipment and EMS providers strategically stationed throughout the state and ready to respond to any emergency. The NJEMSTF has been critical in the response to such events as Superstorm Sandy, Hurricane Irene, the hurricanes that hit the US Virgin Islands, wildfires, flooding in Bound Brook, a fire on the Seaside Heights boardwalk, and the crash of US Airways Flight 1549 on the Hudson River.

Follow the NJEMSTF on Facebook, on Twitter and online at https://www.njemstf.org/

Follow V.E. Ralph online at https://www.veralph.com/

This article is a direct street report from our correspondent and has not been edited by the 1st Responder newsroom.