Multiple Pets Rescued From Shirley House Fire
By JOHN WALTHERS, Senior Correspondent | May 13, 2022 | NEW YORK
Story No. 051322104
Photo by John Walthers- Suffolk Fire PhotosFirefighters Brookhaven and from several neighboring departments battle a house fire on Probst Drive in Shirley on May 12th.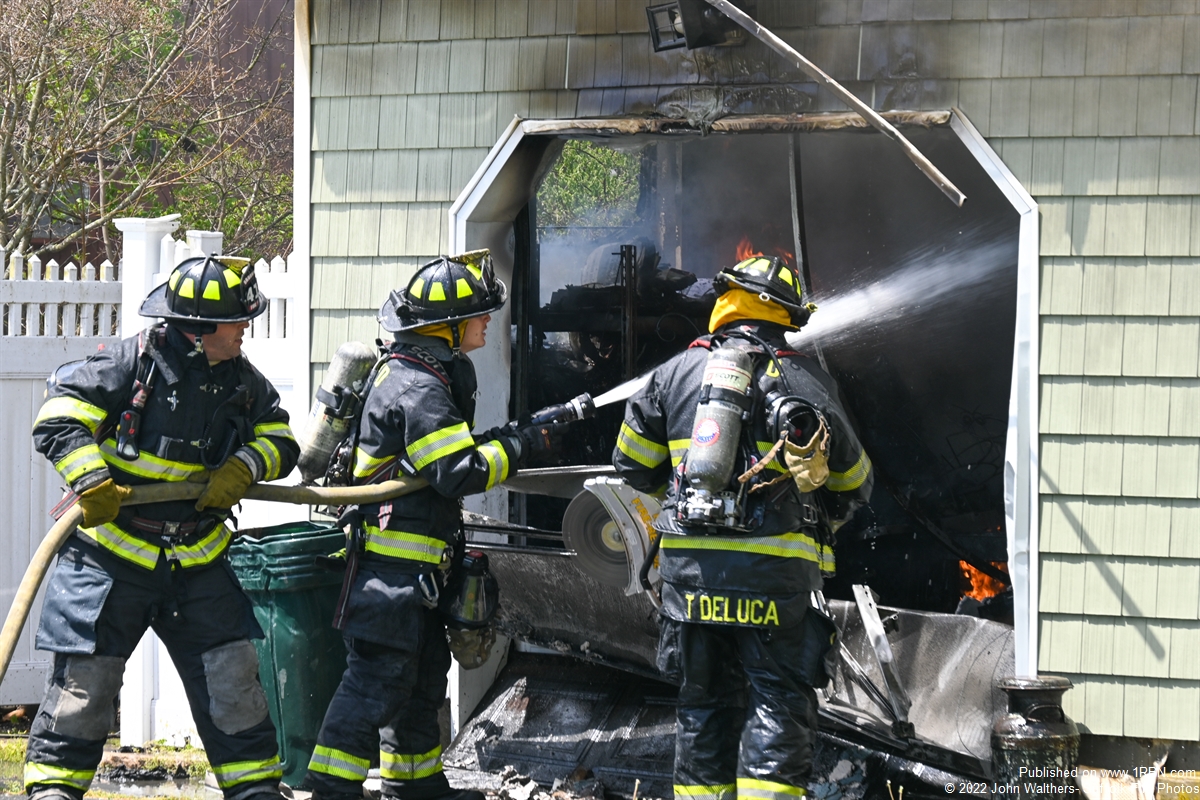 Photo by John Walthers- Suffolk Fire PhotosBrookhaven Firefighters can be seen dousing the garage that is on fire with water at this Shirley House Fire.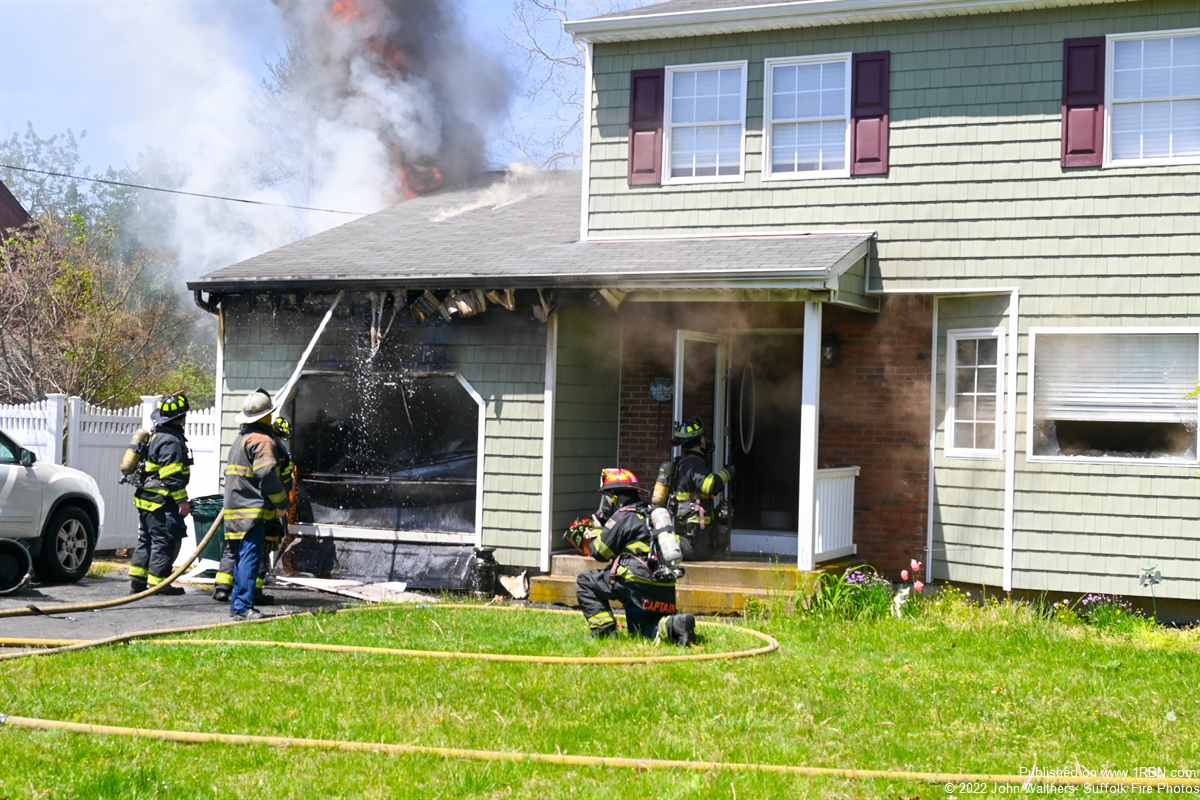 Photo by John Walthers- Suffolk Fire PhotosJust before 1:15 PM May 12th fire was reported on Probst Dr in Shirley bringing out about 5 to 6 fire departments and the local ambulance company. Numerous cats and dogs were Rescued by Police Officers and Firefighters and treated by Shirley EMS.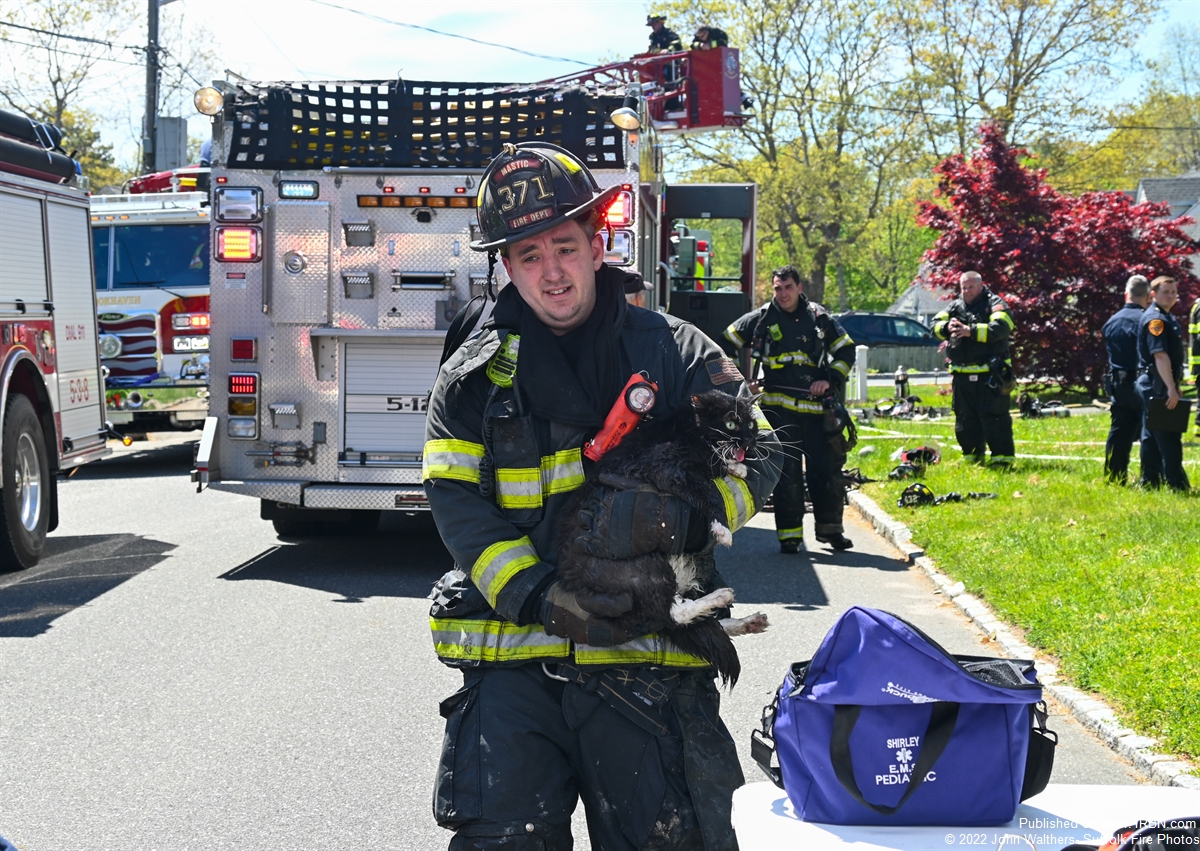 Photo by John Walthers- Suffolk Fire PhotosMastic Firefighter Robert Rodecker can be seen removing a cat from a house fire in Shirley and bringing it to Shirley EMS Rehab for evaluation.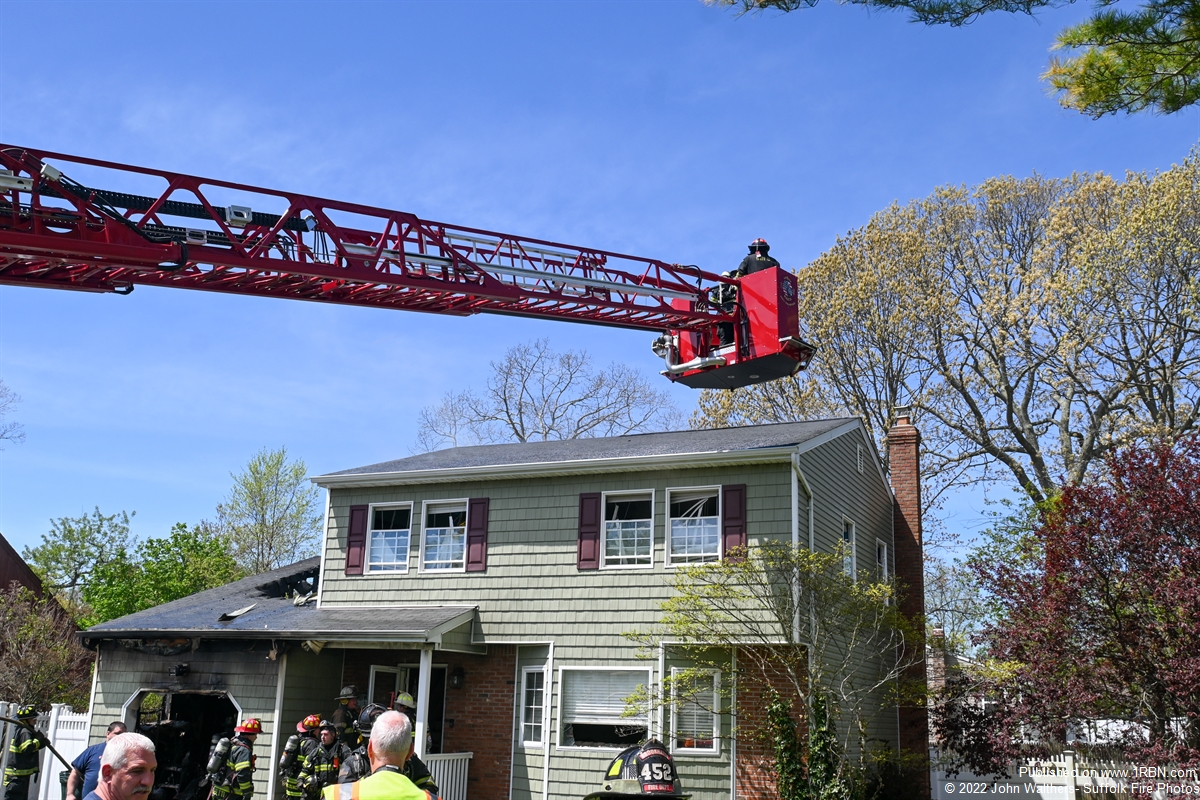 Photo by John Walthers- Suffolk Fire PhotosBrookhaven FD puts the tower ladder in to place at the house fire.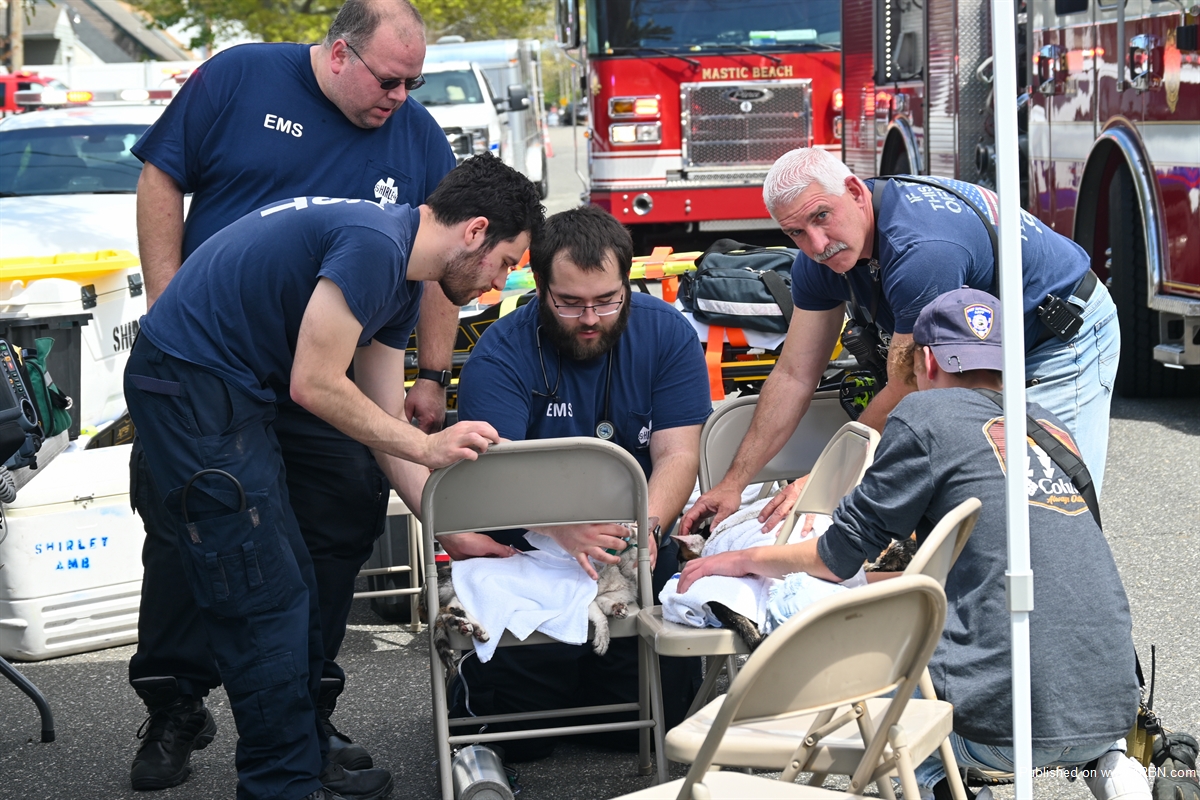 EMS personnel along with Mastic Beach FD assistant chief Jeff McGown can be seen treating several cats at a house fire on Probst Dr in Shriely NY on May 12th.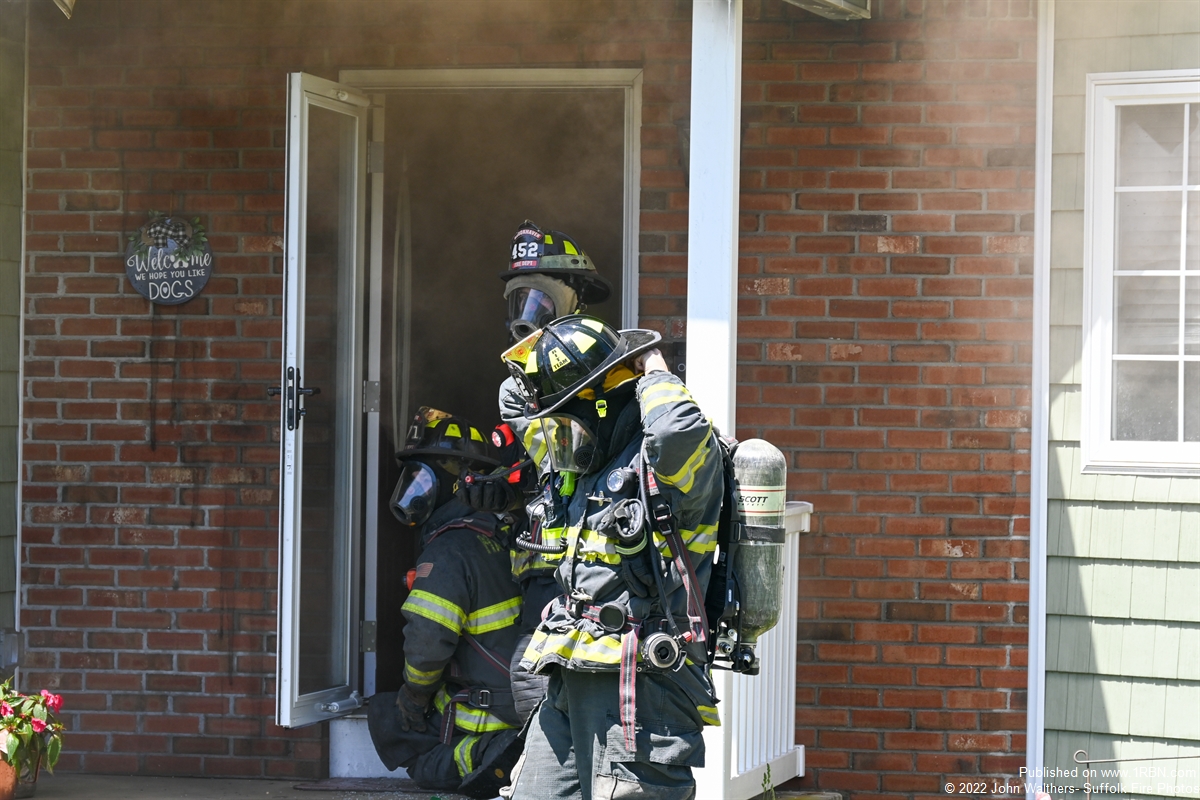 Photo by John Walthers- Suffolk Fire PhotosSeveral firefighters prepare to make entry into the home at this house fire in Shirley to conduct searches. numerous cats would later be removed by multiple firefighters.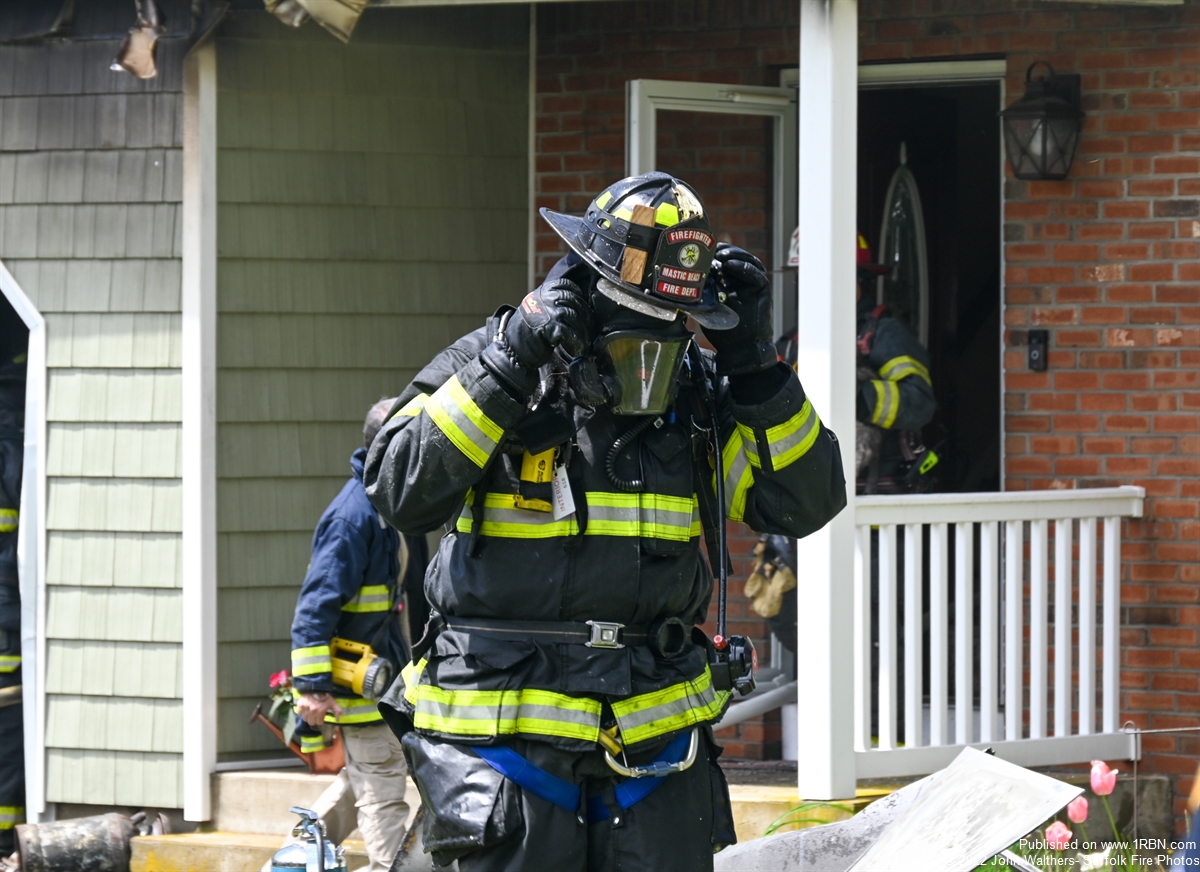 Photo by John Walthers- Suffolk Fire PhotosA Mastic Beach firefighter exits the home after a house fire on probst Dr. In Shirley.
Shirley N.Y. – On Thursday May 12, 2022, shortly before 1:15 PM Suffolk County Police and Fire Rescue Communications personnel began to receive calls for a house fire at 27 Probst Dr in Shirley. The caller reported that their were Dogs trapped in a residence and smoke and flames were visible.
On arrival Suffolk Police 7th Pct officers Joseph Hoffer ,Chris Miron and Michael Sclafani made entry after breaking through the back sliding door of the home and according to Suffolk Police Officer Sclafani had to carry one of the dogs out the other 2 were removed under their own power.

Deputy Chief Ed Johnson Suffolk County Fire Coordinator 53 arrived on scene along with Brookhaven FD a short time later and on arrival Captain Hudson Darrow transmitted the working fire. Johnson also provided a status update to Fire Rescue Base on the Coordinators channels before going to work to assist in the operations. Mutual aid was requested from Mastic, Bellport , Brookhaven , Center Moriches and Mastic Beach to the scene. Shirley Ambulance was also requested for the rehab unit to respond in.

On his arrival Bellport Chief David DiDio was given command. Firefighters stretched multiple handlines off the engines at the scene to attack the fire which was in the garage and also had spread into the dwelling up on the 2nd floor and through the roof. During the operation Brookhaven FD Tower ladder 5-3-1 was also set into operation to assist as needed. In addition to the dogs that were rescued by police Firefighters from the numerous departments could be seen pulling out multiple cats from the home and bringing them over to the rehab area. Shirley Ambulance along with other rescuers assessed the cats as best they could and provided oxygen as needed as well as a shaded location in the rehab tent for them to cool off.
At least 6 cats were removed from the home alive and were later taken by the owners to an emergency clinic. For evaluation and treatment of smoke inhalation. It was reported that 2 cats and perished in the fire unfortunately and 2 or 3 more were missing and may have run out of the home into hiding during the incident. Firefighters and EMS personnel operated on scene for about 2 hours. During this time Yaphank FD stood by at Brookhaven FD's Substation in case the department received other alarms that needed to be answered. Suffolk Police 7th Precinct assisted Brookhaven FD fire police with closing the road to keep the scene safe. The scene was later turned over to the Brookhaven Fire Marshals Office and Suffolk County Police Arson Squad for a fire investigation.

This article is a direct street report from our correspondent and has not been edited by the 1st Responder newsroom.