Third Major Fire in 36 Hours Leaves Over 50 Displaced
April 14, 2023 | NEW JERSEY
RON JEFFERS, New Jersey Editor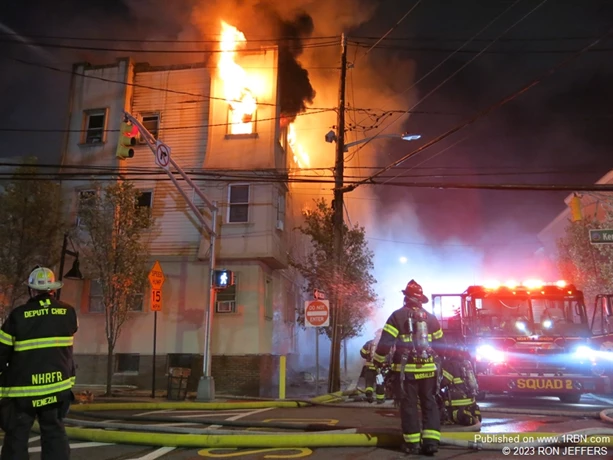 Photo by RON JEFFERSNorth Hudson and Jersey City firefighters battled a 4-alarm fire on Kerrigan Avenue and 19th Street, Union City, April 14th, displacing over 50 residents. It was the third major fire in North Hudson's First Battalion in some 36-hours.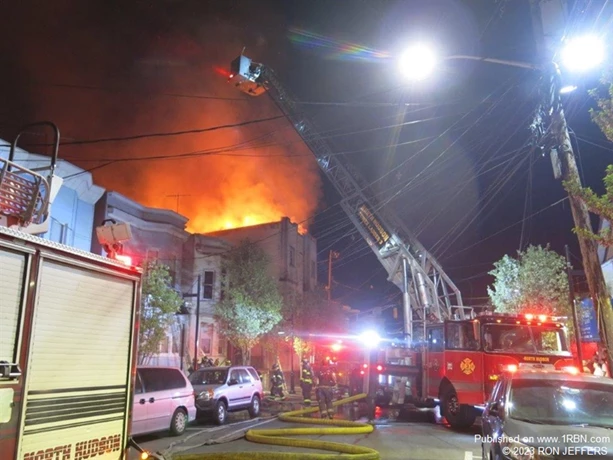 Photo by RON JEFFERS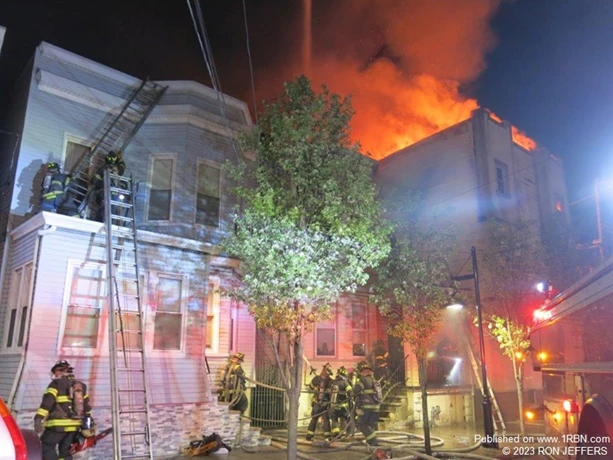 Photo by RON JEFFERS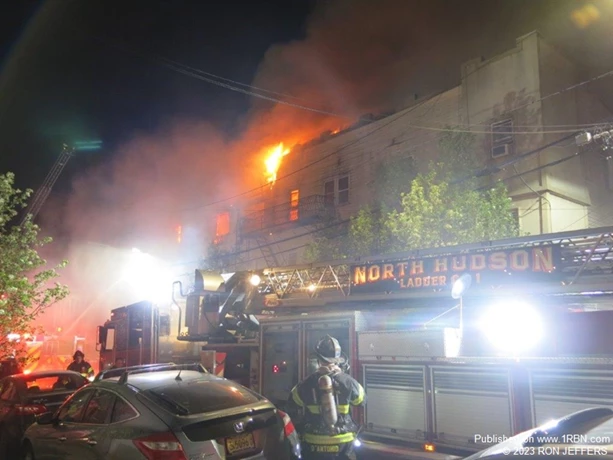 Photo by RON JEFFERS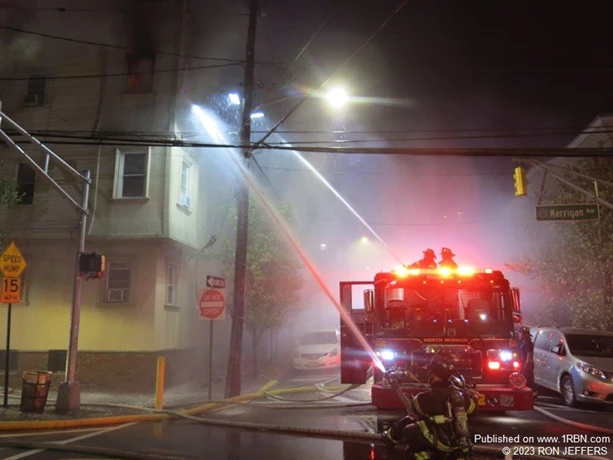 Photo by RON JEFFERS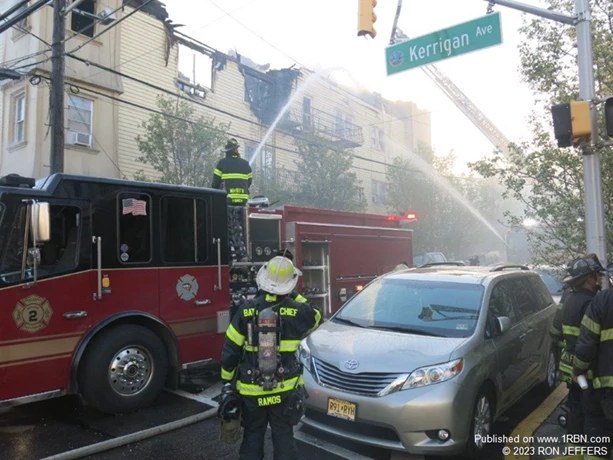 Photo by RON JEFFERS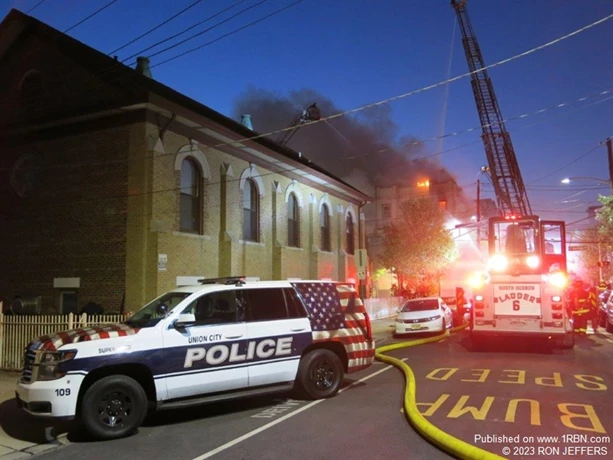 Photo by RON JEFFERS
This article is a direct street report from our correspondent and has not been edited by the 1st Responder newsroom.
UNION CITY, NJ - The third major fire in a 36-hour period struck North Hudson's First Battalion on the morning of April 14th, displacing over 50 residents.
Just after 5 a.m., an AFA assignment was dispatched to 822-19th St. This was quickly followed by Fire Control announcing that the assignment was being filled out. 
Fire Communication Director Joe Isola lives a few doors away from the 822 address, and he was awoken by people banging on his door reporting a fire. He and first arriving police officers began alerting tenants in the large three-story corner building to evacuate. In addition, fire was found in a two-story dwelling at 1902 Kerrigan Ave., adjacent to the corner structure, and those residents were alerted. 
Heavy fire was consuming the structures and quickly broke through the roof. A second-alarm was struck upon arrival of first-in companies. Hand lines were stretched, but it wasn't too long before a defensive posture was ordered. Local residents said that the 19th Street building had been remodeled several time. Flames lit up the early morning sky, visible for miles.   
Master streams, ordered by Deputy Chief Anthony Venezia, were set up which included two ladder pipes, a tower ladder and deck gun. Fire continued to roll around the void areas of the structure, and a collapse zone was established. The roof was burned off, and a portion of the top-floor wall, 19th Street side, came crashing down onto the sidewalk. 
Third and fourth alarms were sounded. The fourth alarm, at 5:41 a.m., brought Jersey City Engines 7 and 11, Ladder 3, Battalion 3 and the Field Training Officer (FTO) to the fire. As the sun rose over the city, there was still heavy smoke coming from the building and an additional part of the 19th Street upper floor area caved in.
With smoke still rising, multiple news helicopters hovered overhead, and the usual morning traffic problems would escalate to a traffic nightmare, which is not uncommon in this area. Hose lines were stretched across Kennedy Boulevard, a block from the scene, shutting down the major Hudson County artery. 
Reliefs were made a the scene, as all units were still committed to the fire, when the department changed shifts at 7:30 a.m. Jersey City companies also began to be released. A crew from the Gong Club brought cases of water to the command post and set up its canteen truck on the west side of Kerrigan Avenue. 
It was reported on the scene that one resident of 822-19th Street had suffered from burn injuries. The Red Cross was on location to assist the burned out residents. 
Chief of Department David Donnarumma said the 19th Street building would have to be demolished. The Kerrigan Ave. dwelling was not inhabitable, but did not need to be demolished. Investigators from numerous agencies began to show up as firefighters were still working to control the fire.  
Two major dwelling fires occurred on the evening of April 12th, and continued into the morning hours of the 13th in the regional First Battalion. The first, involving buildings on Eighth and Ninth Streets, Union City. As soon as multiple-alarm companies were at, or responding to, that fire, another fire that involved a row of wood-frame dwellings on Jane Street, Weehawken, was transmitted. Again mutual aid moved into North Hudson to either work at the fires or relocate to vacant houses from Bergen, Essex, Union and Passaic counties, as well as other Hudson County municipalities.
"As with the other fires, I can't say enough about our partners and how much worse these fires would have been without their assistance," Chief Donnarummas said.