Greg Prokopenko Was Dedicated to the Fire Service
By RON JEFFERS, New Jersey Editor | April 16, 2021 | NEW JERSEY
Story No. 041621114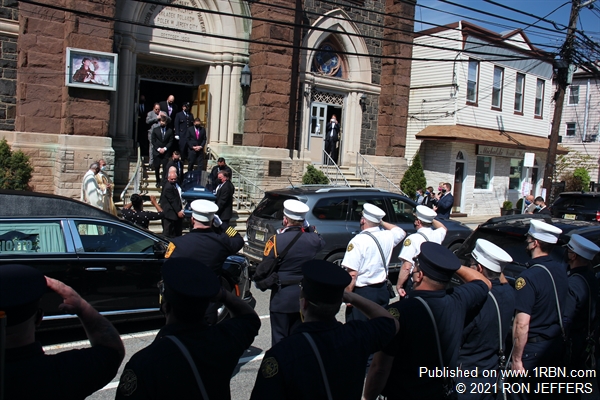 Photo by RON JEFFERSJersey City firefighters offer Supervising Dispatcher and Gong Club Life Member Greg Prokopenko a final salute on April 14th.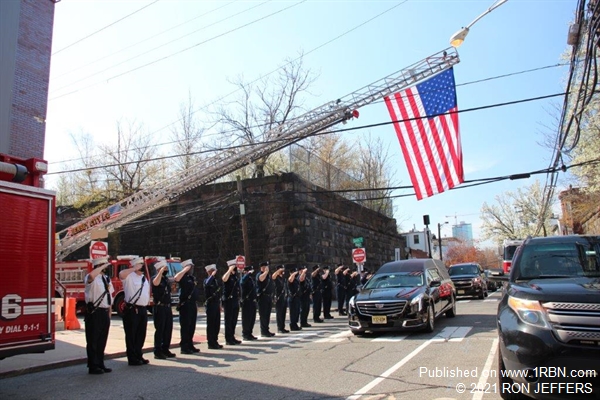 Photo by RON JEFFERS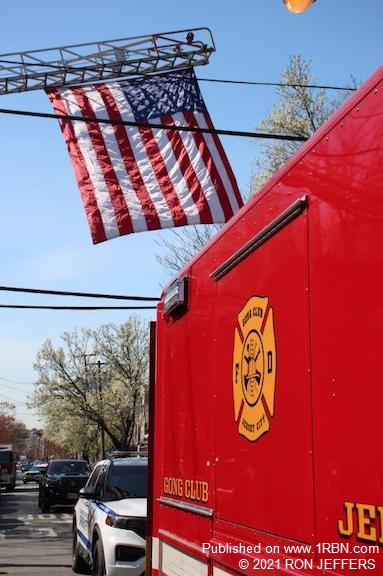 Photo by RON JEFFERS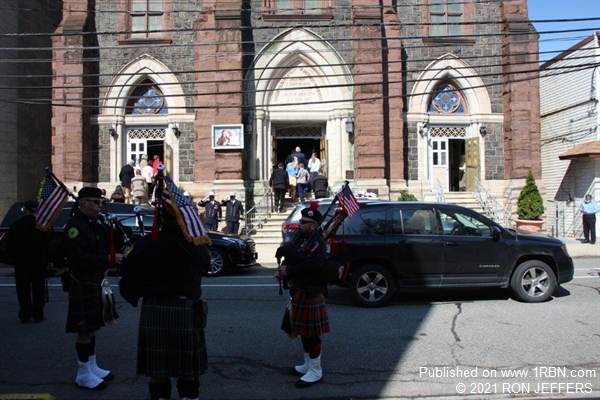 Photo by RON JEFFERS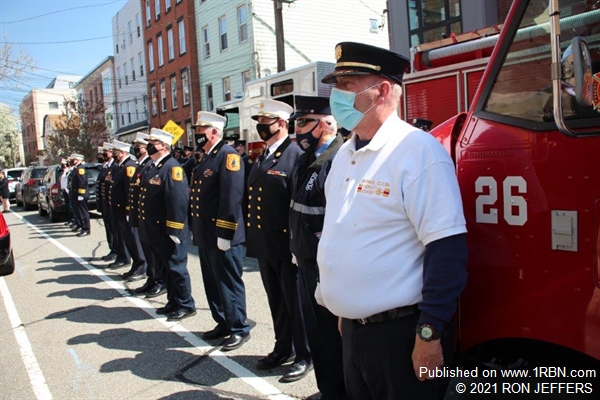 Photo by RON JEFFERS
He grew up in downtown Jersey City near the old firehouse that was the home of Engine Co. 6 and Truck Co. 2. As a kid, he would hang out at the firehouse, and he developed a love for the fire department. In later years, he would become a supervising dispatcher for the F.D.J.C. Greg Prokopenko passed away in April, due to complications from COVID-19.

When he was 17, Prokopenko's family moved to a home in the Heights section of the city, on Liberty Avenue. Living across the street was Fire Captain John Chiusolo, of Engine Co. 11, also located in the Heights. A friendship ensued with the captain and Greg would "buff" at the quarters of Engine 11 and Truck 7 on Lincoln Street.

While living across the street, he met the captain's daughter, Maria, and they began dating in the mid 1980's. The dating led to marriage.

With his continued interest in the fire service, Greg began working with his brother-in-law, Joe Chiusolo, at the Turnout uniform store, a few blocks away from Engine 11's firehouse. There, for about 10-years, he met all sorts of people in the fire, police and medical fields.

In 1999, after the Jersey City Fire Department began hiring civilian dispatchers, Prokopenko left Turnout to start a dream job with his local fire department as a dispatcher. There, he rose to become a supervisor.

In addition, Greg was a Life Member of the Gong Club. A group of firefighters, police officers and buffs that operate an emergency canteen truck that responds to multiple-alarm fires and other emergencies in the city and most of Hudson County.

The Jersey City Fire Department honored Supervising Dispatcher Prokopenko with a department run funeral procession. Officers and firefighters lined up in front of the church, on Monmouth Street, with Old Glory above, mounted at the tip of an aerial ladder. Bagpipes played and firefighters offered Prokopenko a final salute.

This article is a direct street report from our correspondent and has not been edited by the 1st Responder newsroom.