January, 2022/Ups, Page 2
By Ron Jeffers, New Jersey Editor | January 01, 2022 | NEW JERSEY
Story No. 121321110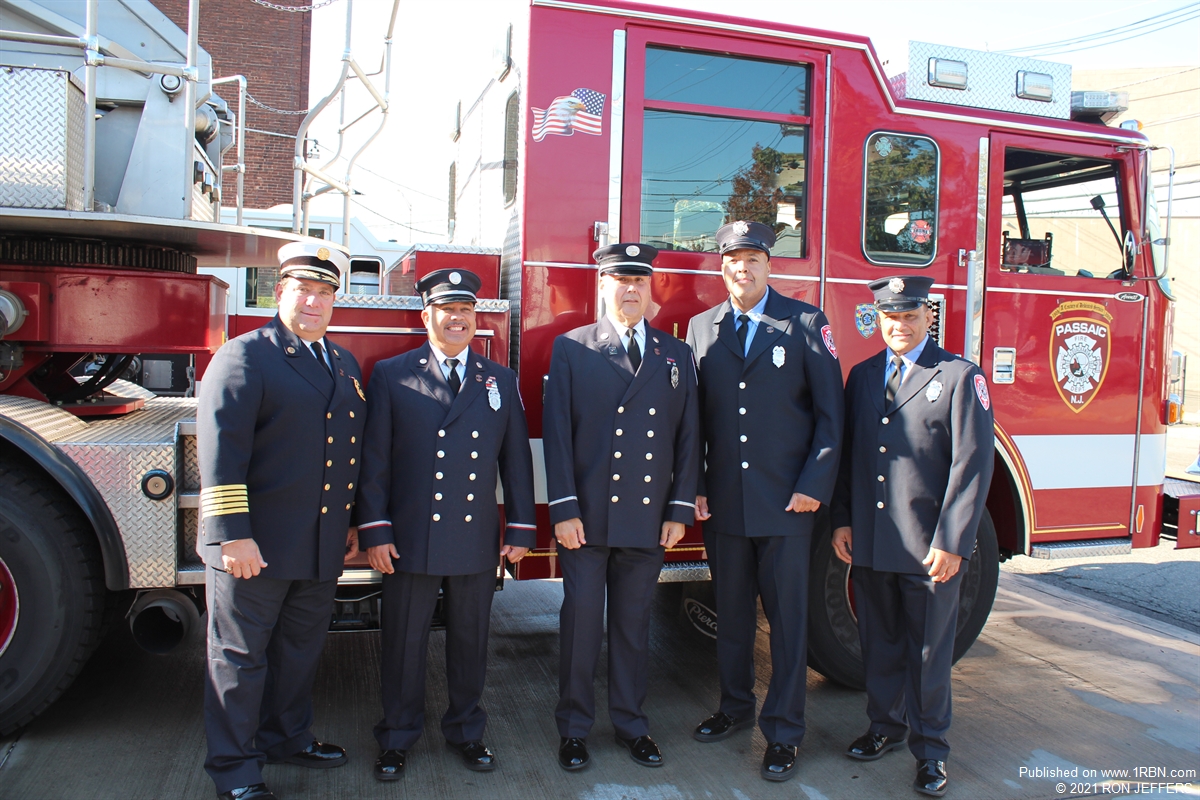 Photo by RON JEFFERSStanding with Passaic Chief of Department Patrick Trentacost Sr., left, are the department's newly promoted fire officers, after a ceremony at Fire Headquarters on November 9th. (L to R): Captains William Diaz, Ernesto Rodrigues III, and Lieutenants Bernie Lawson and Francisco Perez.
DOWNS: A dwelling fire on Oakmont Rd. in the Blackwood section of Gloucester Twp. killed two cats and left four residents displaced, Nov. 1st., police said.

UPS: On Nov. 7th members of Rutherford Engine Co. 2 attended a plaque dedication ceremony at their old firehouse on Park Avenue. The building is now home for Cafe Matisse. It was a firehouse for 30-years. The plaque was the culmination of multiple groups, and firefighters thanked the Rutherford Historical Preservation Committee who "went above and beyond to make this happen," according to Facebook. The plaque, honoring the old firehouse, is located in the entryway of the restaurant.

DOWNS: Fire consumed the attic area of a 2.5 story dwelling on Buena Vista Ave. in Hawthorne, Nov. 3rd. In addition, there was exposure problems and 3-alarms were sounded. Companies worked for three hours to bring the fire under control, authorities said.

UPS: NJ State Trooper Tyler Dalrymple was flagged down on Asbury-Broadway Rd. in Franklin Twp., Nov. 5th, by a man standing in the road and told the trooper that his friend might be inside of a burning home. The trooper entered the house and searched the smoke-filled structure. He located an unconscious woman in a second-floor bedroom and carried her out to safety. The Franklin Twp. F.D. responded and contained the fire, officials said.

DOWNS: In Hampton Township, police confirmed that two people were killed in a small plane crash in a wooded area near Kemah Lake. The flight was on its way to Sussex Airport from Essex County Airport, according to an FAA spokesperson.

UPS: David Russell, owner and president of Fire & Safety Services, LTD (South Plainfield) has been appointed President of Fire & Emergency Manufacturers & Services Association (FEMSA). This is a leading trade association for the fire and emergency services industry, representing over 140 companies that provide products and services for fire and EMS professionals all over the world.

DOWNS: A fire consumed a Camillo Dr. dwelling in Wayne on Nov. 11th. One resident was hospitalized for smoke inhalation, police Captain Dan Daly said.

UPS: Morristown firefighters arrived at a fire in a Harrison St. duplex, Nov. 15th, and rescued a senior citizen who had collapsed inside the building, and they extinguished the fire, acting Deputy Chief Nick Prizzi reported. EMTs from the fire bureau rushed the victim to Morristown M.C. for treatment of smoke inhalation, he said.

DOWNS: Two vehicles were destroyed by fire in an attached garage on Barbara Lane in Englewood Cliffs, Nov. 8th. The garage was also consumed by flames which spread to a more- than-5,136-square-foot home, officials said.

UPS: Firefighters rescued a dog while operating at a basement fire in an Alberta Dr. dwelling, in Saddle Brook, on Nov. 13th, officials said.

DOWNS: A construction worker was killed as the result of a partial building collapse at a W. Main St. building where a redevelopment project is underway in Bound Book, in November. Police say blocks of cinder block dropped when the structure's elevator shaft fell into the site, striking the worker. Local firefighters removed the victim from the 3rd floor and he was transported to a local hospital.

UPS: The Wallington F.D. thanked First Net and the National Volunteer Fire Council for donating pandemic-related supplies, according to Facebook. The supplies were distributed to the WFD/EMS and WPD. As part of an agreement, Wallington was able to share the supplies with the Carlstadt, East Rutherford and Rutherford fire departments.

DOWNS: A 3-alarm fire damaged five dwellings on the 800 block of East State St. in Trenton, Nov. 20th. Arriving firefighters found a fire in the middle of a row of three-story dwellings. Flames were seen on the second and third floors of the original fire building and extended via the cockloft into attached exposures, officials said.

UPS: Google Nest, manufacturer of the Nest Protect Smoke and CO Alarm, and the Leary Firefighters Foundation, have partnered for the 5th annual "Thank You Grant." In the spirit of the Thanksgiving holiday, the grant awards two deserving fire departments across the country with $25,000 grants for new Google technology and equipment. A New Jersey department was a 2021 winner. With the largest junior training program in their county that works with students ages 15-18 to train them for fire school, the Mendham F.D./Mendham Independent Hook & Ladder will benefit from this new technology grant.

DOWNS: A single-engine Cessna crashed while attempting to land at the Old Bridge Airport in Englishtown, Nov. 21st. The pilot escaped the crash with minor injuries, officials said.

UPS: On Nov. 21st., members of the Millstone VFD and Jackson Fire Station 56, a horse owner, horse trainers and a veterinarian teamed up using shovels, axes, straps and rigging to free a horse that was stuck in mud in the woods, officials said. The horse had been missing from a farm in Millstone Township for several days. A hunter found the horse. After the horse was freed, it was able to stand on his own and a stable path through the woods was created by using rubber mats the entire way out to keep the horse from sinking back into the mud.

DOWNS: Two pet cats were killed and another was missing due to a fire that raced through a Victor Pl. dwelling in Hawthorne, Nov. 21st. A family of five escaped the flames and smoke, and they were evaluated by EMS, officials said.

UPS: New firefighters in Summit are Sergio Villalobos and William Zagorski.

DOWNS: A woman died and two other residents were rescued when fire ripped through a Beach St. home in Cranford, Nov. 23rd.

UPS: Recent promotions within the Summit Fire Department include Paul Imbimbo to deputy chief, Ken Jenks to battalion chief and Michael Mammone to lieutenant.

DOWNS: A woman was injured after she jumped out of a second-floor window of a burning South Orange Ave. building, Newark, on Nov. 26th, officials said. The building later collapsed. The victim was taken to a local hospital and she was expected to recover.

UPS: Newly promoted deputy fire chiefs in New Brunswick are Hirya Haas, Michael Delutio and Chris Stellatella.

DOWNS: Firefighters operated at a large pole barn blaze on Tuckahoe Rd. in Monroe Twp., Nov. 24th. Numerous tankers were called in to provide a water source. According to Monroe Twp. EMS, one person was airlifted to a burn center for treatment. One firefighter was treated for a minor injury.

UPS: New fire captains in New Brunswick are: Mickey Sica, Jarret Dechert, Jake Bornheimer, Peter Ohliger and Anthony Jones.

DOWNS: One man was injured and about 50 displaced after a fire at the Hunter Hills apartment complex in Flemington, Nov. 22nd. Officials said one man was in critical condition and flown to a hospital for treatment.

UPS: New fire lieutenants in New Brunswick are: Dana Christianis, Theodore Wright, Robert Boyle and Donald Salzmann.

DOWNS: A fire tore through the Paramus Junior Baseball League field house on Nov.21st, burning trophies, equipment and other mementos. In addition, toys that were to be donated to the Bergen County Toys for Tots Foundation were lost, officials said.

UPS: On Nov. 28th, the Flemington-Raritan Rescue Squad and the Raritan Twp. Fire Company were dispatched to a report of a cat trapped in a heating duct inside the ceiling of a home in the Sun Ridge development in Raritan Twp., according to the squad's Facebook page. The cat had entered a central air vent where the grate had been removed for remodeling work. The cat apparently couldn't back up. The owner tried cat food to lure the pet out, with no success. Rescue Sgt. Steve Indoe used tools to open the ceiling and carefully open the metal duct, authorities said. The cat was then removed, without injury.

DOWNS: South Amboy firefighters found a Catherine Street dwelling heavily involved in fire when they arrived, Nov. 23rd. Two occupants were displaced, officials said.

UPS: Paterson firefighters Craig Puglise and Jeffrey Wanco assisted in the delivery of a baby in their ambulance, on the side of the road, after the infant began his entrance into the world, Dec. 2nd, officials said.

DOWNS: One Lafayette Street resident died in an overnight fire that involved three dwellings in Paterson, Dec. 4th. About 13 people were displaced as a result of the 4-alarm fire, officials said.

UPS: On December 6th, Joseph Alvarez was promoted to Chief of Department with the Maplewood Fire Department.

DOWNS: Twenty families were displaced as the result of a fire that involved the Crestwood Manor Apartments in Lakewood, Dec. 4th. Four units were destroyed, officials said.

UPS: In Brick Fire District 2, Laurelton Fire Co. 1 has moved into a new Midstreams firehouse. It has been called a major improvement over the small station that was originally on site, officials said. The building houses an engine and rescue along with 20 firefighters assigned to the house, all who live within the Midstreams/Princeton Avenue sections of Brick.

DOWNS: Strong winds engulfed a two-story dwelling on Fairmount Ave. in Newark, Dec. 7th, and quickly spread to four adjacent buildings, officials said. The Red Cross was assisting 27 people that were forced out of their apartments.

UPS: Steven Casiello has been promoted to fire captain in Maplewood.

DOWNS: Clifton firefighters were busy operating at a fire involving a wheat silo delivery system at Bay State Milling on Getty Ave., Dec. 3rd.

UPS: On November 9th, Passaic Mayor Hector Lora swore in new fire department officers at Fire Headquarters. Promoted to captain were William Diaz and Ernesto Rodrigues III. New lieutenants are Bernie Lawson and Francisco Perez. After reading the new officers qualifications the mayor added, "You are a blessing to our city."

This article is a direct street report from our correspondent and has not been edited by the 1st Responder newsroom.