December, 2023, UPS, page 2
December 01, 2023 | NEW JERSEY
Ron Jeffers, New Jersey Editor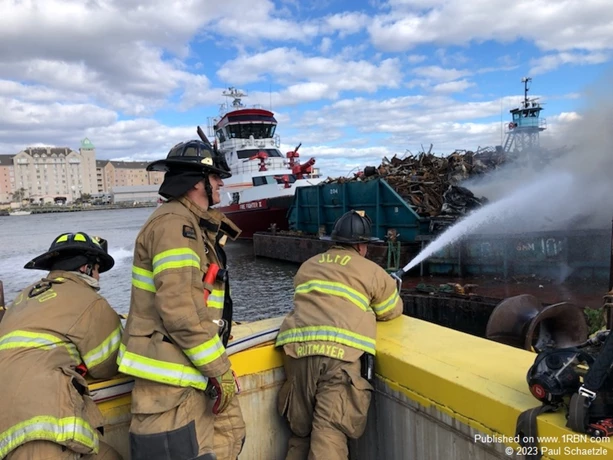 Photo by Paul SchaetzleJersey City firefighters wet down materials that were burning on a scrap metal barge, as an FDNY marine unit stands by, October 22nd.
This article is a direct street report from our correspondent and has not been edited by the 1st Responder newsroom.
DOWNS: Two people were killed as the result of a fire in a Grandview Ave. dwelling in Union, Oct. 1st. Firefighters worked desperately to save the pair trapped on the upper floor, but they perished in the fire, WABC-TV reported. High heat and other obstacles hampered firefighters, that included the collapse of the roof and second-floor. 
UPS: At the Jersey City FD Family Day, the Port Liberte Homeowners Association presented the Jersey City Fire Foundation with a generous donation. According to a Facebook post, the funds will assist in the purchase of a training door prop which will train city firefighters on entering buildings more efficiently. 
DOWNS: A 71-year-old man died in a fire involving a Poll Place dwelling in Edison, Sept. 30th. First responders found the unresponsive man in an upstairs bedroom, according to NJ.com. The victim was taken to JFK UMC where he was pronounced dead, police said.
UPS: For fire prevention month, the East Orange F.D. began a program distributing free smoke detectors for visually and hearing-impaired residents. The specialized alarms are installed next to the bed and alert people in the home by using a strobe light and a vibrating pad that is placed under the mattress or pillow. They are commonly referred to as a "bed shaker." When a traditional alarm sounds, it triggers the special alarm, according to WABC-TV. 
DOWNS: Fair Lawn firefighters responded to a mail truck fire in front of the main post office on Abbot Rd., around 4 a.m., Oct. 5th, according to News12.   
UPS: Valerie Aguirre and Matthew Ridge are the newly appointed firefighters in Westfield.
DOWNS: Officials were investigating a fire caused by a transformer that possibly malfunctioned or "blew" on the roof of the Macy's department store at the Paramus Park Mall, Oct. 1st. Heavy smoke covered the area as first responder units arrived, according to NorthJersey.com 
UPS: Hackensack officials have established a drone program to assist police, firefighters and EMTs, according to News 12. Officials say the drones will help speed up responses and help to document emergency and crime scenes.  
DOWNS: A fire damaged a basement room at at Washington School on Ridge Rd. in Lyndhurst, Sept. 16th.  The fire was brought under control in a half-hour, according to NJ.com.  
UPS: In October, students from Washington School in Lyndhurst paid the township firefighters a visit at their firehouse. Local firefighters battled a fire in the basement of their school on Sept. 16th. The visit was a combination fire safety class, plus the students had a chance to thank firefighters for their service. The school was unoccupied at the time of the fire. Assistant Fire Chief Paul Haggerty said the fire could have been much worse without help from the school smoke detectors. The students handed out gifts to the firefighters to thank them for saving their school. 
DOWNS: Firefighters found an unconscious woman in her Rennie Pl. apartment in Lodi, Oct. 13th. She was taken to Hackensack UMC where she later died, according to Garfield-Lodi Daily Voice. A preliminary investigation determined that the fire was accidentally set. 
UPS: New firefighters in Hoboken are: Vincent Libretti, Thomas Pettit, Rafael Flores, James Davis, Zachary Bascio, Nicole Barrow, Chris Pivinic, Kaylee Oliver and Joseph Rossano. 
DOWNS: The Pleasantville F.D. sent out a Facebook message in reference to missing property, in October.  They reported that a bell located at the rear of their firehouse went missing. The bell was made in 1909 by the Buckeye Bell Foundation and hung at the firehouse since that time. The post added: "No questions asked-we just want it to be returned as it is part of our history and we have plans of making a memorial of it." In an updated October report from NJ.com, two Pleasantville men were arrested and charged with stealing the bell from an alley in the rear of the firehouse. In a statement from local police, arrested were John Jordan II and Joseph Redd, after police executed a search warrant and located a portion of the bell. The bell now has significant damage, but the department still plans to finalize the memorial after it is repaired. 
UPS: During the Oct. 17th Cadlwell council meeting, volunteer Firefighters Raymond "Sully" Sullivan Jr. and James Intili Jr. were honored for their 50-years of service to the community. 
DOWNS: Approximately 50 storage units were damaged in a fire at a U-Haul facility on Black Horse Pike in Egg Harbor Twp., Oct. 19th, according to WTXT-TV. 
UPS: New Hackensack firefighters are: Anthony Alexander, Anthony Colantino, Ruben Ceballos, Corey Eyer and Charles Redstone IV. 
DOWNS: One person died as the result of a dwelling fire on Roosevelt St. in Paulsboro, Oct. 18th, according to KYW-TV.      
UPS: A newly appointed firefighter in Morris Township is Edward Duffy. 
DOWNS: A total of 37 chickens died in a shed fire on Triangle Rd. in Hillsborough, Oct. 21st, according to the Hillsborough Patch. First responders found the shed fully involved upon arrival.
UPS: New firefighters in New Brunswick are: Steve Berry, Devin Borke, Joseph-Anthony Giorgianni, Kendall James, Jose Jaquez, Anthony Joseph Jones Jr., Jonathan Ortiz, Michael Schultz, Kristian De-Arce Serrano and Brandon Smith.  
DOWNS: A fire on board a scrap metal barge had numerous agencies tied up for hours on Oct. 22nd. The barge was moored at Sims Metal's recycling facility in Jersey City. A Coast Guard Station New York response boat crew, along with Sector New York Prevention & Response teams, joined numerous area agencies including the Jersey City FD. The NJ Regional Fireboat Task Force dispatched vessels from Jersey City, Bayonne and North Hudson, plus FDNY vessels also turned out, and operated.