First Responder Model Show Returns for All to Enjoy
October 01, 2021 | NEW JERSEY
Ron Jeffers, New Jersey Editor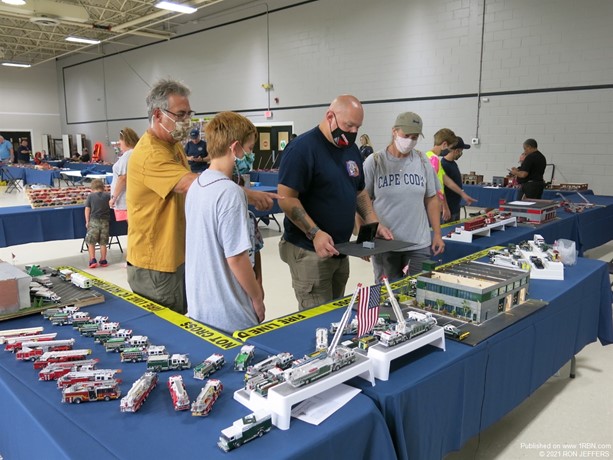 Photo by RON JEFFERSToy show organizer, Millburn Fire Captain Steve Jason, had a large display of his "Greenboro Fire Department" apparatus, firehouse and a fire scene at the North Jersey Fire Feast in Parsippany.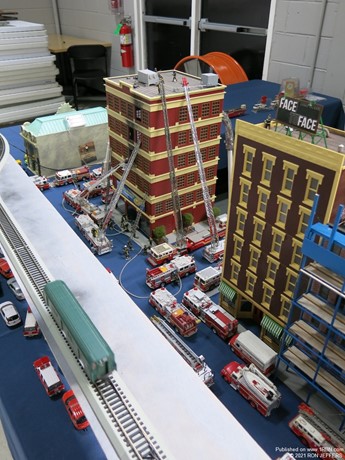 Photo by RON JEFFERSJoe Siciliano provided a display of a city fire scene involving the "Susquehanna Hat Company" building. Included, was a passing train on an elevated platform.
This article is a direct street report from our correspondent and has not been edited by the 1st Responder newsroom.
After an absence in 2020, due to COVID-19, scale model fire apparatus, EMS units and police vehicles "responded" to the PAL building, on Baldwin Road, in Parsippany for the 6th annual "North Jersey Fire Feast" show. In the past, this show was organized under the name of The Fraternal Order of Leather Heads of Northern New Jersey.

Twenty-one modelers displayed their collection of models and custom made replicas of emergency vehicles in 1:87, 1:64, 1:43 and 1:37 scales, according to the event organizer, Millburn Fire Captain Steve Jason. The captain had a large display, on several tables, of his own models.

Model builders and collectors, along with those who attended the show, came from New Jersey, New York, Maryland, Connecticut and New Hampshire.

In addition, a dozen emergency vehicles showed up for a mini-parade that ended in the PAL parking lot, where they were put on display for the young and old to inspect and enjoy. Maybe, some of the young participants will be encouraged to seek a career in public safety?

Due to all of the weather reports concerning the approaching tropical storm Henri, the number of participants and apparatus were lower than in past years. Luckily, the heavy rain didn't start until the show was over. According to news reports, Parsippany received 5.11 inches of rain.

Also participating at the show were vendors of fire service related products. This included firefighting equipment, patches, tee shirts, toys, magazines and books. Services such as First Net from AT&T and State Farm Insurance were also on hand.

Many of the models were either scratch built or modified from stock emergency and standard vehicle models that are produced and sold by the industry. "Kit bashing" is another term used.

Accurate miniature vehicles were on display depicting municipal apparatus from such venues as Chicago, Boston, Providence, San Francisco, New Jersey and the FDNY and NYPD. There was even a burning commercial building, with flickering flames behind windows, representing the Susquehanna Hat Company! It was assembled by Joe Siciliano.

These modelers, from various states, are close. During the show, they produced a birthday cake for modeler Steven Fleet, of Maryland.

Traveling down from upstate New York, retired police sergeant and past chief of the Morrisville, N.Y., FD., Steve Brody summed it up by describing the show as "excellent mental therapy".