NJ Marine Task Force Participates in USCG Celebration
October 01, 2022 | NEW JERSEY
Ron Jeffers, New Jersey Editor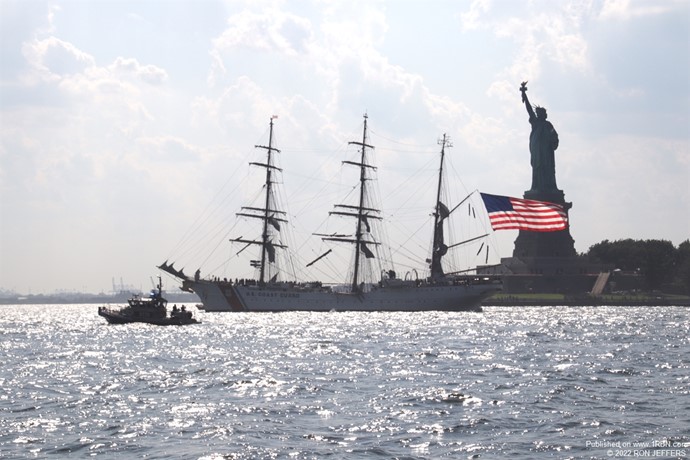 Photo by RON JEFFERSAs part of the August 4th Parade of Vessels, the USCG "Eagle" passed the Statue of Liberty.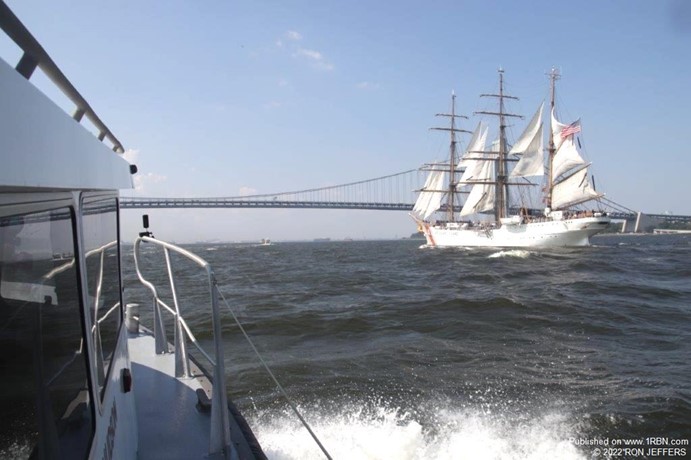 Photo by RON JEFFERSNorth Hudson Marine 1, left, was part of the NJ Marine Task Force vessels that escorted the USCG "Eagle" into New York Harbor.
This article is a direct street report from our correspondent and has not been edited by the 1st Responder newsroom.
Vessels that are part of the New Jersey Regional Fire Boat Task Force, joined with other vessels for a celebration during the United States Coast Guard's 232nd birthday, on August 4th.

Collectively, these municipal fire departments provide fire protection and other emergency services for over a 50-mile stretch of waterfront within the Port of New York & New Jersey.

A "Parade of Vessels" was held on this day to escort the USCG's Tall Ship, "Eagle" into the port area, with a stop at the Statue of Liberty.

Aboard the "Eagle" was Admiral Linda L. Fagan, Commandant of the USCG. She assumed her duties on June 1st. As commandant, she oversees all global Coast Guard operations and 42,000 active-duty; 7,000 reserve; and 8,700 civilian personnel; as well as the support of 21,000 Coast Guard auxiliary volunteers.

Admiral Fagan holds a Bachelor of Science in Marine Science degree, a Master of Science in Marine Affairs degree and a Master in National Resource Strategy degree.

The USCG "Eagle" is the seventh USCG cutter to possess the name in a proud line dating back to 1792. The ship was built in 1936 by the Blohm-Voss Shipyard in Hamburg, Germany, and commissioned as "Horst Wessel." Originally operated by Nazi Germany to train cadets for the German Navy, the ship was taken by the United States as a war prize, after World War II.

A permanent crew of eight assigned officers and fifty assigned enlisted personnel maintain the ship year round. They provide a strong base of knowledge and seamanship for the training of up to 150 cadets or officer candidates at a time. "Eagle" offers future officers the opportunity to put into practice the navigation, engineering and other professional theory they have previously learned in the classroom.

"Eagle" typically moors alongside the Thames River near the USCG Academy, in New London, Connecticut.

Vessels that participated escorting "Eagle" into the Port of New York and New Jersey from the New Jersey Task Force included: North Hudson (2), Jersey City, Bayonne, Edgewater, Perth Amboy and Carteret. The FDNY provided three vessels, including the "343" which provided a water display as "Eagle" entered the port. In addition, there were vessels from the USCG, NYPD, NJ State Police and Palisades Interstate Parkway Police.

Flying overhead were helicopters from the USCG, NYPD and NJSP.

As "Eagle" stopped in front of the Statue of Liberty, Mother Nature provided a strong wind that proudly displayed Old Glory, on the ship, with Lady Liberty behind her.