Union Township Reactivates a Ladder Company
September 01, 2021 | NEW JERSEY
Ron Jeffers, New Jersey Editor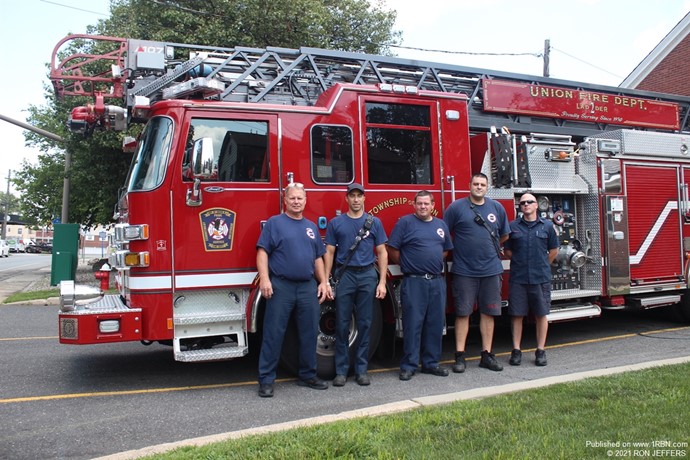 Photo by RON JEFFERSThe Union Fire Department now operates with two front-line ladder companies to protect this growing community. With Ladder 2 are, (L to R): Captain Paul McClung, and Firefighters Vincent Amato, Dan Norris, Chris Davitt and George Brophy. This was Captain McClung's last tour, on July 30th, before beginning his retirement.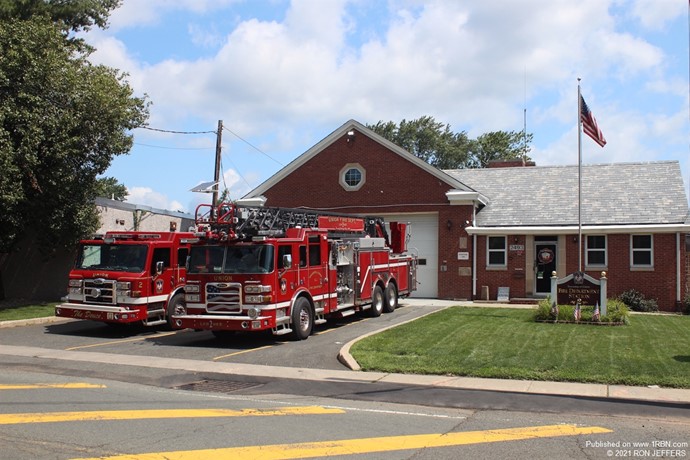 Photo by RON JEFFERSThe new Ladder Co. 2 operates out of Engine 2's quarters on Vauxhall Road.
This article is a direct street report from our correspondent and has not been edited by the 1st Responder newsroom.
Another growing New Jersey municipality has re-established a fire company that saw duty in the past.

Union Township has "over 58,000 nighttime residents," according to their website. In 9- square-miles, the Fire Department protects its residents, industry and many businesses. Also passing through town is Route 78, the Garden State Parkway, N.J. Routes 22 and 82, plus NJ Transit passenger and freight lines.

The Fire Department has over 100 career fire officers, firefighters and civilian employees; and, the U.F.D. possesses an ISO Class 2 rating. Local firefighters respond with the Urban Area Security Initiative (UASI) and Neptune/Foam Task Force, participating in large mutual aid incidents.

In June, the Union Fire Department re-activated a second ladder company. The municipality last had two ladder companies in front-line service in 1984. The single ladder that had operated a Fire Headquarters on Bond Drive was moved to Engine 2's quarters on Vauxhall Road and designated as Ladder 2. The second truck company is located at Engine 3's quarters on Morris Avenue, designated as Ladder 3. The department also has a reserve aerial ladder.

The opening of a second ladder company was done after a new group of recruits graduated and were added to the four tours. In front line service, the department now operates three engine companies, a squad company (fully equipped rescue-pumper), two ladder companies and a BLS ambulance.

In January, the Jersey City Fire Department re-established Engine Co. 1 in the ever-growing downtown area. This company was closed in 1991. According to the department's general order, Engine 1 is a fully equipped reserve engine that is placed in service whenever appropriate staffing is available, or during recalls. This department boasts over 650 members with manning of Engine 1 as a front-line engine on most tours.