The "Masked Singer" as a Fire Truck Fire & Safety Gets Their Largest Order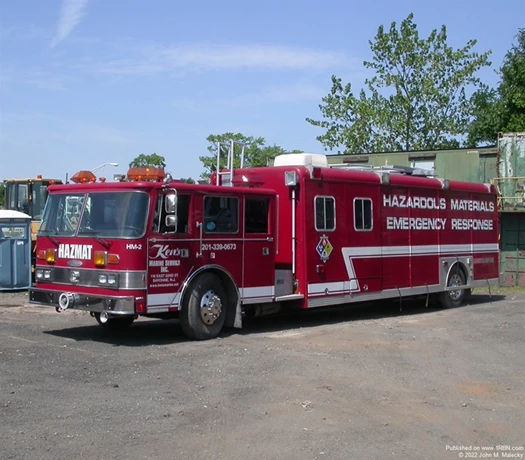 Photo by John M. MaleckyKen's Marine HM-2, '52 ALF/'85 Pierce '95 Ideal Beverage/'00RPI. See story for details.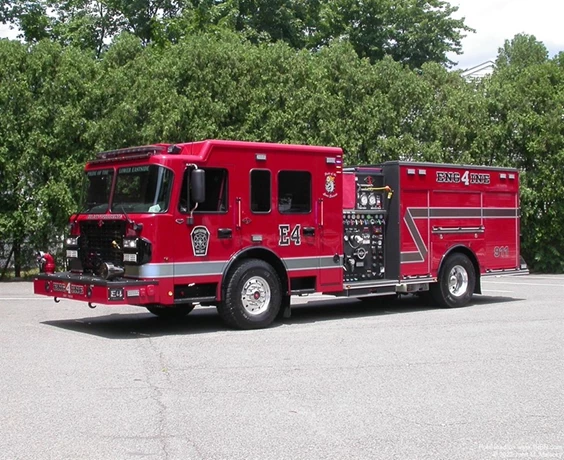 Photo by John M. MaleckyHawthorne E-4, 2022 Spartan ER, Gladiator 2000/750 with 6 kw generator. It was sold by Campbell Supply Co., LLC.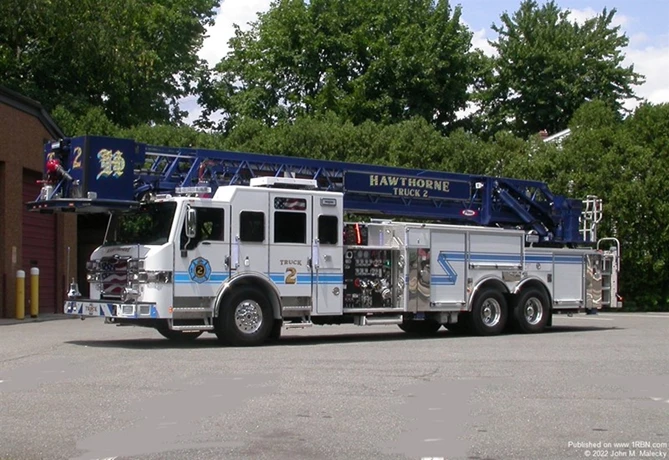 Photo by John M. MaleckyHawthorne Truck 2, 2020 Pierce Velocity 2000/300 with 100-foot platform. It was sold by Fire & Safety Services.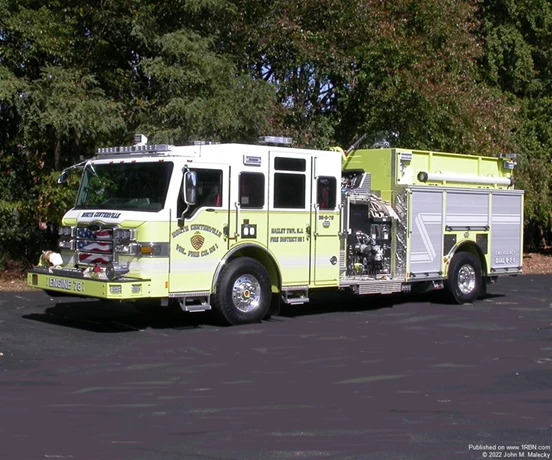 Photo by John M. MaleckyHazlet Township, N. Centerville FC E-39-2-78, 2019 Pierce Velocity 2000/750/20B and 10 kw generator. It was sold by Fire & Safety Services.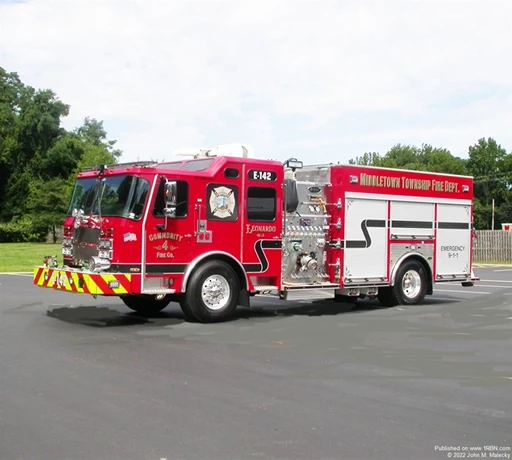 Photo by John M. MaleckyMiddletown Township, Community FC 4, 2021 E-ONE Typhoon 1750/780 with 6 kw generator. It was sold by Absolute Fire Protection.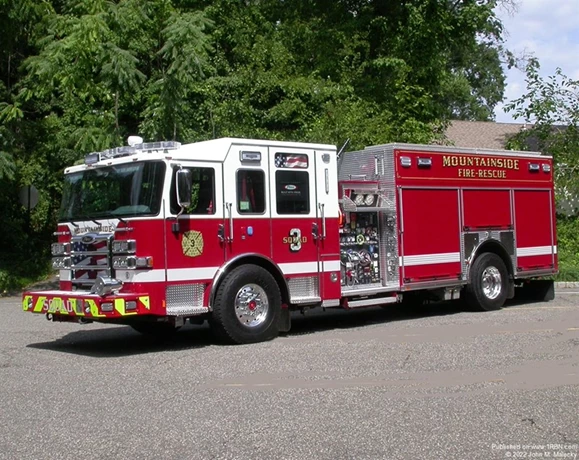 Photo by John M. MaleckyMountainside Squad 3, 2022 Pierce Enforcer 1500/750/25A. It was sold by Fire & Safety Services.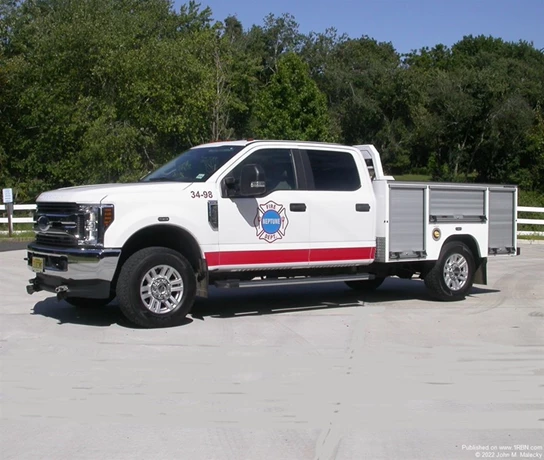 Photo by John M. MaleckyNeptune Township UT-34-98, 2019 Ford F-250/Duramab.
This article is a direct street report from our correspondent and has not been edited by the 1st Responder newsroom.
APPARATUS OF THE MONTH

By John M. Malecky September, 2022

THE "MASKED SINGER" AS A FIRE TRUCK
FIRE & SAFETY GETS THEIR LARGEST ORDER

As many know, the Masked Singer is a television program in which contestants (usually entertainers) masquerade in costumes and perform before an audience and a celebrity panel. The object is to finish in first place, which is voted on by the audience, and the panel then tries to guess who the entertainer is. The winner then removes the costume to reveal their true identity. This hazmat truck is a weak analogy of the program because it looks nothing like it started out to be. It is presently owned by Ken's Marine Service of Bayonne, a company offering hazmat clean up, tank removal, etc. in the New York City harbor and New Jersey areas. I say it is "presently owned" because at the time of this writing it is FOR SALE. That being written, here is the history. It started out as a 1952 American LaFrance "700 Series" 100-foot tiller in the Merion Fire Company in Ardmore, PA, outside of Philadelphia. In 1979, with permission of Fire Commissioner Joseph Rizzo, I photographed all but four of the major apparatus in the Philadelphia Fire Department. I then started photographing apparatus in the surrounding counties. I photographed the Ardmore tiller in 1979. In 1980 they bought a new tiller and eventually sold the 1952 to Huber Heights, Ohio. In Ardmore it was red in color. Coincidently in 1985 while attending the fire buff convention in Columbus, Ohio, I stopped at Huber Heights and found a yellow 100-foot tiller with a Pierce Arrow cab and discovered that this was the Ardmore truck. A few years ago I found this truck (as shown) at Ken's and saw the Huber Heights plate on it. This started my detective work which revealed that in 1995 Huber Heights had the ALF tractor frame extended by the Ideal Beverage Company and a body was installed to create a hazmat vehicle. In 2000, Peotone, Illinois bought the truck and had it repainted red and modified by a company named RPI. Ken's eventually bought the truck at an auction. Hence we have a tiller masqueraded as a hazmat!

In other photos this month we feature a Pierce Enforcer pumper from Mountainside and a Pierce Velocity pumper from Hazlet Township's North Centerville Fire Company. Next is a Spartan ER pumper on a Gladiator ELFD chassis at Hawthorne Fire Company 4 and a Pierce Velocity platform quint from their Fire Company 2. Next is an E-ONE Typhoon pumper from Middletown Fire Co. 4 (Community), and lastly a utility truck from Neptune Township which serves a variety of uses so they simply call it a "First Out Unit".

In dealer news, Fire & Safety Services has received the largest order in their history from one fire department. The City of Elizabeth (Union County) has placed an order for eight vehicles. Many of these vehicles had been destroyed when their headquarters was flooded in the Hurricane Ida storm. Others are part of scheduled replacement. They are as follows: two Pierce Arrow XT pumpers, a Pierce Arrow XT 100-foot steel aerial ladder, three Arrow XT heavy duty walk-in rescues (Rescue 1, Rescue 2 UASI and Special Ops), a Freightliner M2, 106/Pierce 4x4 medium duty non-walk-in rescue (Tactical Unit) and a Freightliner M2, 106/Skeeter 4x4 High Water Rescue Unit. Other Pierce orders are an Enforcer 100-foot Ascendant mid-mount tower for Haddon Township District 1, Westmount FC (Camden County) and an Enforcer pumper for Brick Township District 2, Laureldale FC (Ocean County). Pierce deliveries include an Arrow XT 105-foot aerial to the City of Clifton (Passaic County), an Impel 107-foot Ascendant aerial to Evesham Township (Burlington County) and a Velocity 100-foot mid-mount tower to Washington Township in Bergen County.

Campbell Supply Co., LLC has received the following Spartan ER orders: the first is for an LT, NXT 110 rear mount aerial quint for the Rahway FD (Union County). It will be on a Metro Star MFD chassis and have a Waterous CSU 1500-GPM pump, a 500-gallon water tank and a 6 kw Smart Power generator. It will be replacing a 2005, 95-foot rear-mount platform quint. It will be the first NXT 110 in the state. Next is for the Reliance FC in Woodstown of Pilesgrove Township (Salem County) who ordered a Star Series pumper on a Metro Star MFD chassis. It will have a Waterous CSU, 1500-GPM pump, 750-gallon water tank and a Harrison 15 kw generator. Other orders include a Kenworth tanker for West Tuckerton in Little Egg Harbor Township (Ocean County) and for Bayonne (Hudson County) a stock Extreme Duty pumper on a Metro Star chassis. They have delivered to Brick Township District 1 (Ocean County), an E.V.I. dive unit on a Spartan FC-94 chassis and to the South Old Bridge FC in Old Bridge Township (Middlesex County) a Star Series pumper on a Metro Star chassis.

VCI Emergency Vehicle Specialists reports the following ambulance deliveries: to On Time Ambulance in Roselle (Union County) an AEV DR90 stock remount on a Ford e-350 chassis; to the Hampton Lakes Emergency Squad in Vincentown (Burlington County), a Horton 623 stock remount onto a Ford F-550 4x4 chassis and to the Winslow EMS in Camden County Horton 523 on a Ford E-450 chassis.

Absolute Fire Protection has received the following E-ONE orders: for Bradley Gardens FC in Bridgewater Township (Somerset County), a Typhoon pumper with low hose bed and for Ridgefield Park (Bergen County) a Metro 100-foot rear-mount aerial. They have delivered to the Lincroft FC in Middletown Township (Monmouth County) a Typhoon rescue pumper with a Hale Qmax 2000-GPM pump with top mount panel, 750-gallon water tank and 30-gallon foam tank. They are presently prepping four Typhoon pumpers for the City of Newark (Essex County).

New Jersey Emergency Vehicles has delivered to the City of Clifton Fire Department (Passaic County), a P.L. Custom, Medallion, Type III ambulance on a Ford E-450 chassis. Also, they have delivered to the Hopelawn FC in Wood Bridge Township (Middlesex County) a Rescue 1 heavy rescue with a Spartan Gladiator chassis. It has a six seat cab and an 18-foot nine-inch aluminum body.