Jersey City Fire Department Receives ISO Class 1 Rating
July 01, 2022 | NEW JERSEY
Ron Jeffers, New Jersey Editor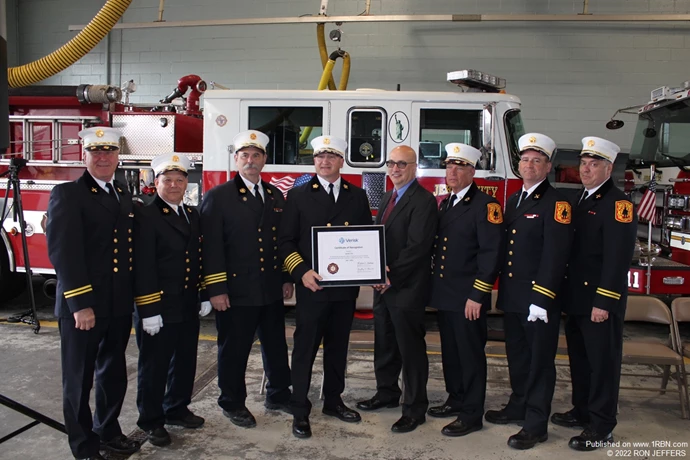 Photo by RON JEFFERSJersey City Chief of Department Steven McGill holds a Certificate of Recognition designating his first responders as a Verisk ISO Class 1 Fire Department. Also in attendance at the May ceremony were chief officers that worked hard to accomplish this goal.
This article is a direct street report from our correspondent and has not been edited by the 1st Responder newsroom.
Working hard to accomplish Chief of Department Steven McGill's goal, the Jersey City Fire Department has received a Verisk Company ISO Class 1 rating, and celebrated with a ceremony at the Summit Avenue firehouse on May 4th, which was also International Firefighter's Day. City officials, utility representatives and firefighters gathered to be commended by Kevin Kuntz, Vice President and Chief Engineer for ISO.

The Jersey City Fire Department, which celebrated its 150-year as a career department in 2021, is now in the top one percent of fire departments in the United States, according to the ISO. Mr. Kuntz stated that there are some 450 fire departments that possess a Class 1 rating. It can help lower insurance premiums for residents and businesses.

"We evaluate almost 39,000 fire protection areas across the country and just over 450 have achieved this Class 1 classification," Kuntz said. "It has special meaning to us because the ISO is a Verisk Company and our headquarters actually are in Jersey City. Our colleagues come to work knowing we're well protected."

Chief McGill said the department follows the standards set forth by the National Fire Protection Association (NFPA) and the American Waterworks Association. The Jersey City Fire Department has close to 700 uniformed members, protecting a growing city where the population is believed to soon reach 300,000. There are over 200 high rise buildings in the city, with many more on the drawing boards.

Retired city Deputy Chief Robert Cobb was a guest speaker. After his retirement, he went to work for the ISO and became National Director of Community Hazard and Mitigation. After McGill was sworn in as Chief of Department, he contacted the retired ISO director for advice. The chief wanted to know what was needed to accomplish a Class 1 rating.

"He was on a mission," Cobb said. He "made it happen". "Everybody was doing more of something."

Improvements and upgrades were accomplished. This included equipment, staffing, certified training, a new police and fire computer aided dispatch system, inspections, public outreach, water infrastructure and leadership from all levels of government.

It took some three years to accomplish, and now Chief McGill is the proud leader of an ISO Class 1 fire department. Class 1 logos are being printed and will be displayed on all fire apparatus and firehouse doors.