MADISON FD'S PRIDE & JOY TURNS 100-YEARS-OLD
By Ron Jeffers, New Jersey Editor | July 01, 2021 | NEW JERSEY
Story No. 042921103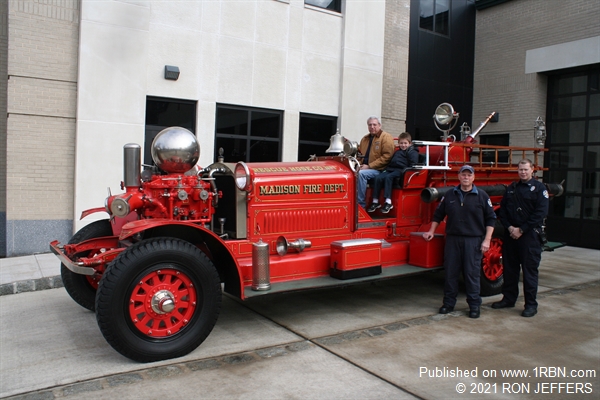 Photo by RON JEFFERSMadison firefighters with "Geraldine," the department's 1921 Ahrens Fox pumper, in 2013, after she came back home.
Firefighters in Madison maintain a profound respect for the history of their department and the members and fire apparatus that served before them. They protect some 18,000 residents with a combination career and volunteer fire department.

After a lightning strike in 1920, fire destroyed several barns and several horses were killed, including the owner's favorite. The owner was Geraldine Rockfeller Dodge. She was the youngest daughter of William A. Rockefeller, Jr. She married Marcellus Hartley Dodge, President of the Remington Arm's Company. In 1916, they purchased an estate in Madison. Geraldine had a great love of animals and her community, and she became a great benefactress of Madison and surrounding communities.

After the barn fire, it was determined that Madison's fire equipment was inadequate for that time period.

Geraldine offered to purchase a new pumper for the fire department. It was decided that a powerful Ahrens Fox "P" model pumper with a 1300-GPM pump would be built for Madison at the cost of $18,000. The new apparatus, known as Engine 1, was delivered in 1921. It arrived to a huge parade. This apparatus served Madison for over 40-years. It was placed into reserve status in 1952.

In later years, Geraldine purchased a 1941 Mack pumper (Engine 3) and a 1958 Mack pumper (Engine 2). She also contributed to the purchase of Ladder 1's 1930 Ahrens Fox. Geraldine was also responsible for the construction of the Hartley Dodge Memorial Building that opened in 1935 and served as a municipal complex and police and fire headquarters.

In 2021, Firefighter Joe Longo got together with Chatham resident, and apparatus buff, Pete Eisele. Longo made it known that he was trying to track down the 1921 Fox. Eisele, a member of The Antique Fire Association of NJ (AFANJ), began an investigation. In a few weeks, Eisele notified Madison firefighters that he had located the Fox in Ware, Massachusetts. It was privately owned, and an appointment was set up for local firefighters to look at their old rig.

Fire Chief Lou De Rosa and seven members of the department went on a road trip. The rig was in good running condition, and firefighters fell in love with this part of the M.F.D.'s history. The Fox was available for sale at a premium price.

Back home, a committee was established to raise funds that consisted of firefighters, local residents and members of the Madison Historical Preservation Committee. A month after the road trip, firefighters received permission to bring the Fox to New Jersey as a loan to help raise funds. The apparatus was brought back home via a flat bed truck courtesy of Eagle Towing of Whippany, with a "huge discount".

To be brief, fund raising events were held and a 501 not-for-profit account set up.

When the Fox was brought home, firefighters went right to work cleaning and polishing their new project. The committee was given permission to add "Madison Fire Department" lettering back on the rig, which was accomplished by local artist Ed May. He donated his time and materials.

The Ahrens Fox is now part of the Fire Department's roster as their pride and joy antique unit for all generations to appreciate.

This article is a direct street report from our correspondent and has not been edited by the 1st Responder newsroom.