Ridgefield Park Swears-In 2022 Fire Officers
December 14, 2021 | NEW JERSEY
RON JEFFERS, New Jersey Editor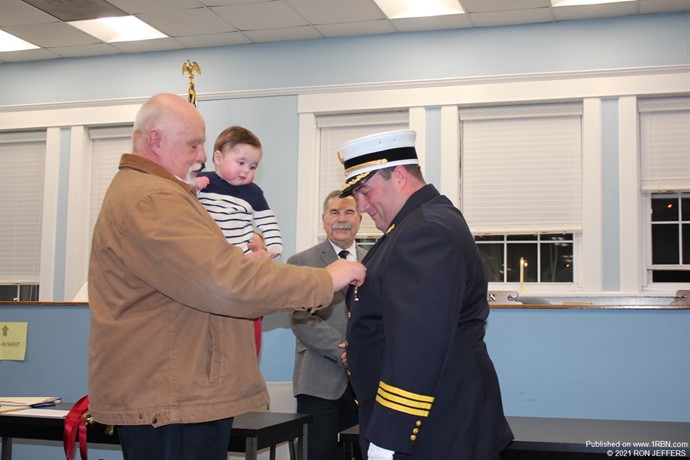 Photo by RON JEFFERSRidgefield Park Fire Chief John Antola, Jr., right, has his badge pinned on by his father, ex-Chief John Antola, as the chief's son, Luca, looks on, December 14th.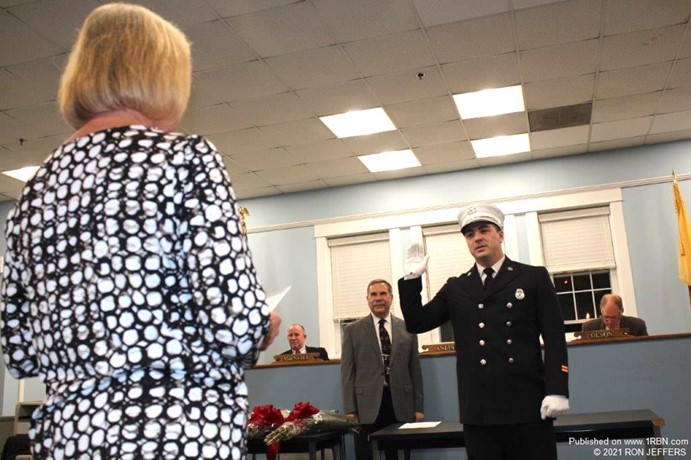 Photo by RON JEFFERSCaptain William Lynn is sworn in as 1st Assistant Chief.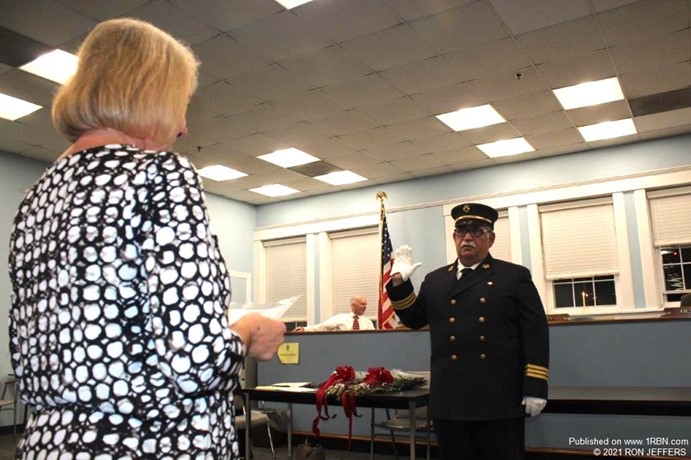 Photo by RON JEFFERSEx-Chief John Malool is sworn in as 2nd Assistant Chief.
This article is a direct street report from our correspondent and has not been edited by the 1st Responder newsroom.
RIDGEFIELD PARK, NJ - On the evening of December 14th, firefighters, municipal officials, families and friends gathered at Village Hall for the annual ceremony to swear in new fire department officers that involved six fire companies.

Chief of Department John Antola, Jr., who was later sworn in as chief for 2022, read his annual report, and recommendations to improve fire protection, to the Board of Commissioners. The department has experienced advanced training, officer development and seven new members have joined. In addition, eight members have completed swift water rescue and boat operation training. The chief added that those firefighters have made several rescues. Chief Antola thanked his outgoing assistant chiefs.

Mayor Anlian thanked the officers and firefighters for their service, their efforts, and keeping Ridgefield Park safe. As a new mayor, he became more aware of how much time and effort volunteer firefighters donate to the community. He added, not just in training or operating at fires, but also serving Ridgefield Park in general.

"It takes a certain kind of person," to be a volunteer firefighter, Mayor Anlian said. "The time you take is really impressive."

The mayor also thanked family members for allowing their loved ones to serve in the Ridgefield Park Volunteer Fire Department.

The new chief officers are: John Antola Jr., Chief; William Lynn and John Malool, assistant chiefs. The captains are: Jacob Zardoya, Engine 1; Anthony Galasso, Engine 2; David Zillante, Engine 3; James Caroselli, Engine 4; Brian O'Grady, Ladder 1; Sean Rodriguez, Truck 2.

First lieutenants are: Chris Santana, Engine 1; Mike Flynn, Engine 2; Joseph Kvilesz, Engine 3; Richard De Pena, Engine 4; Brian Nevins, Ladder 1; Chris Locarno, Truck 2.

Second lieutenants are: Richard Fuchs, Engine 1; Andreas Faciolince, Engine 2; Mike Morrell, Engine 3; Sylvan Mack, Engine 4; Mark Alberque, Ladder 1; Luis Cruz, Truck 2.