Firovac Celebrates 35th Anniversary with Plant Expansion
By DAVID SCHLOSSER, Senior Correspondent | October 20, 2020 | OHIO
Story No. 102020118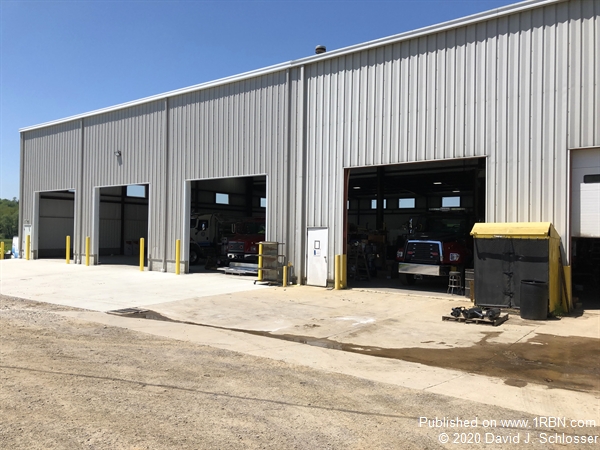 Photo by David J. SchlosserThe 7725-square-foot addition includes three bays capable supporting multiple production builds.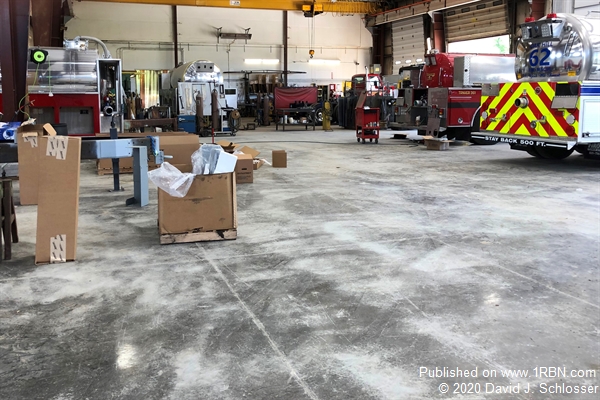 Photo by David J. SchlosserShop floor shot of the production bay.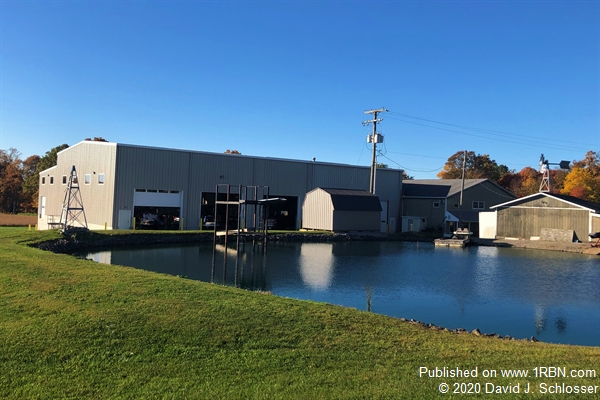 Photo by David J. SchlosserThe new addition and pump test pond at the Firovac Plant.
Apple Creek, OH - Reberland Equipment and its Firovac fire apparatus division are celebrating milestone anniversaries in 2020 with a plant expansion which added three new production bays to the existing facility. The 7,725-square-foot addition increased the size and number of the assembly bays where Firovac fire apparatus bodies are assembled and mounted as well as additional space for staging of customer specific components. The addition also features state of the art production bays and is accessible to overhead cranes which are used for body mounting. The first expansion was completed in 1995 and with the new addition, the total is now five production bays capable of supporting multiple builds per bay.

Reberland Equipment was founded in 1975 by Larry and Becky Reber after Larry decided on a career change after working in the dairy industry for many years. Reberland Equipment's beginning are tied to the agricultural market, which has grown substantially to include national sales for Claas farm equipment, and the production of vacuum tankers for industrial customers and the oil fields. It's this second market that launched the company's entry into the fire service in 1985 when a couple firefighters from the New Pittsburgh VFD located in Western Wayne County stopped in the shop to inquire about a tanker for the fire department that could use a vacuum system to load and dump its water loads. They were working in the oil fields and were familiar with the Reberland brine trucks. Reberland Equipment had a reputation for building robust tankers and they wanted to have one built for the fire department. A few weeks later, a 1971 International Loadstar chassis arrived, and the first Firovac Tanker was laid out and built. It carried 1500-gallons of water and utilized a vacuum pump to load and dump water. This truck was officially known as #1 and served the department until it was retired in 2004 and later reacquired by Larry and is now part of the company's collection.

Over the years, Firovac has refined the design, improved the performance of their tankers, and have patents on many of their features. They were instrumental in working with the NFPA to update NFPA 1901 specifications to recognize vacuum fire apparatus as zero loss tanker/tenders. This means that the tanker, or tender for those west of the Mississippi, is credited with 100% water delivery compared to the 90% load supplied by conventional tankers. In addition, the company produces several models ranging from the basic Raven model tanker, to the Hawk model tanker, and finally, the Eagle QP Pumper-Tanker series with capacities from 1000 to 3500-gallons. Popular options include fire pumps ranging from 250gpm - 1500gpm, remotely operated monitors, bumper turrets, and ground sweep nozzles.

All Firovacs feature high performance vacuum pump systems which are capable of loading and dumping water at a rate of 1000-gpm and ability to lift loads up to 29 vertical feet above the water level. Units in Alaska and northern regions feature high performance pump heaters to insure operation in areas prone to sub-zero operation. Firovac Tankers are currently serving in Canada and coast to coast from Florida to Washington and New Mexico to Alaska. In addition to tankers, Firovac also builds brush trucks, pumpers on request, and patented high-performance low-level strainers. Firovac also refurbishes trucks, performs pump repairs, and remounts.

In Wayne County, Ohio, 18 of the 20 tankers representing 15 fire departments run Firovac units; an example of the "Firovac effect." In addition to Wayne County, there are several more located in departments that border the county, and one thing is for certain, water supply is not an issue. Whenever a Firovac is delivered, it's only a matter of time before surrounding departments purchase units of their own and form the nucleus of an effective water delivery system that has been proven to outperform conventional tankers/tenders at a rate of 2-1.

In Wayne County, the water movement task-force is so efficient at delivering water that departments and fire service professionals regularly visit to study their operation. Over the past 35-years, Firovac has grown from a small regional builder producing three trucks per year to a national builder who builds 20 trucks per year with over 250 Firovac Tankers built to date. They are a regular exhibitor at the FDIC and attend shows and conventions across the country with their demo units.

If you are ever in Apple Creek, stop by the facility at 5963 Fountain Nook Road, check out these high-performance tankers, and say hello to Larry and Becky, who are still guiding the company after 45-years.

This article is a direct street report from our correspondent and has not been edited by the 1st Responder newsroom.