Smoke Showing from Coshocton Home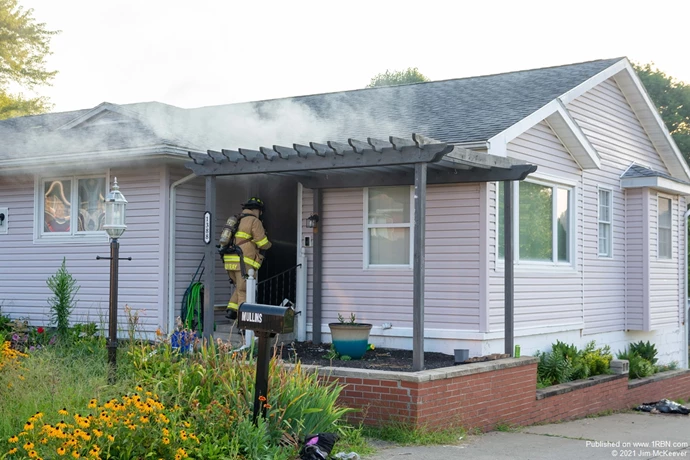 Photo by Jim McKeeverSmoke showing from the eves of the home.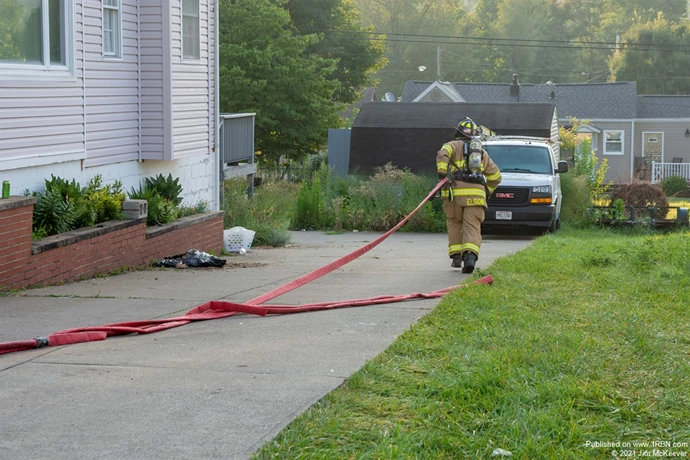 Photo by Jim McKeeverStretching a hand line to the rear of the home.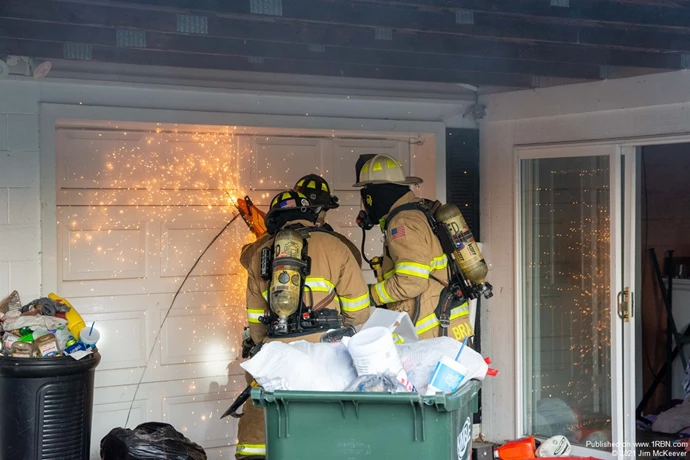 Photo by Jim McKeeverCutting through the garage door.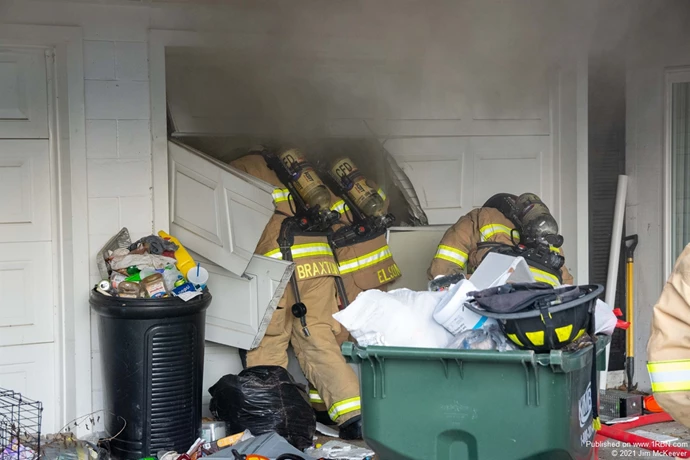 Photo by Jim McKeeverMaking entry to the basement garage.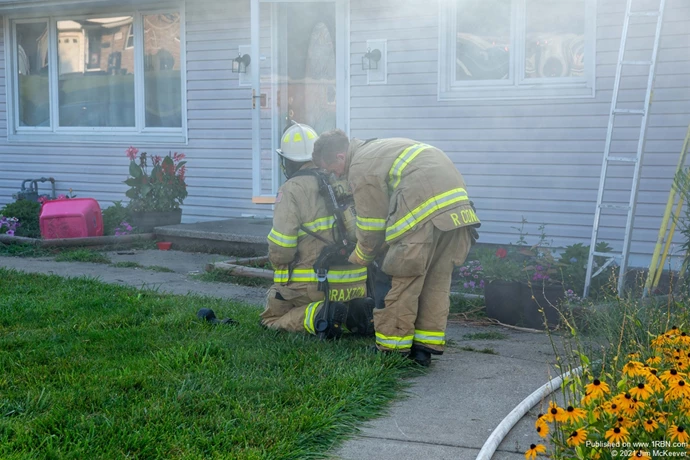 Photo by Jim McKeeverOne of Coshocton's Captains getting a fresh air bottle.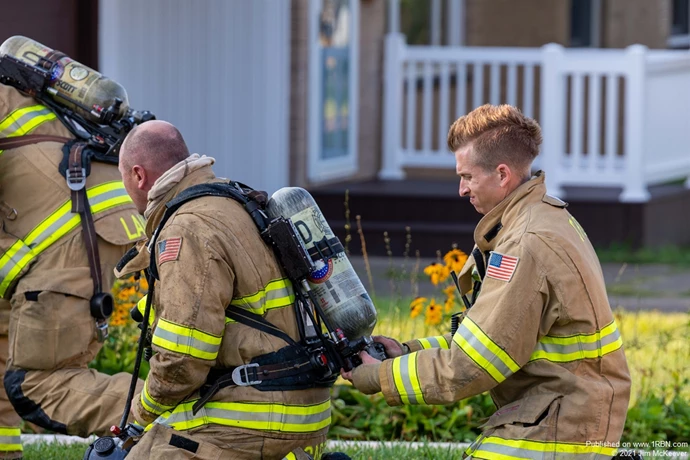 Photo by Jim McKeeverAnother firefighter getting a new air bottle.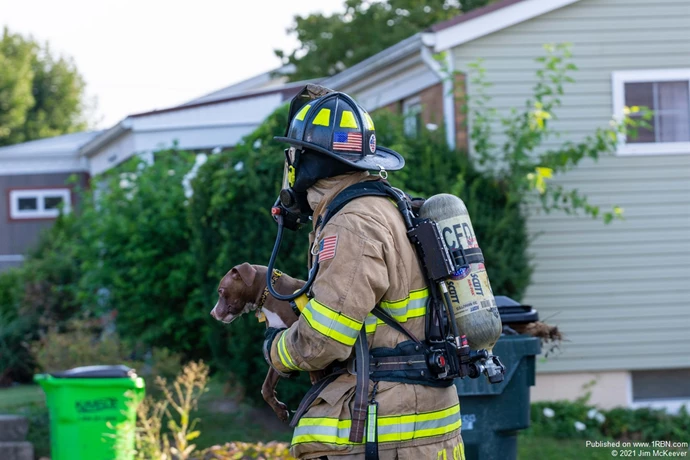 Photo by Jim McKeeverFirefighter bringing out one of the four rescued dogs.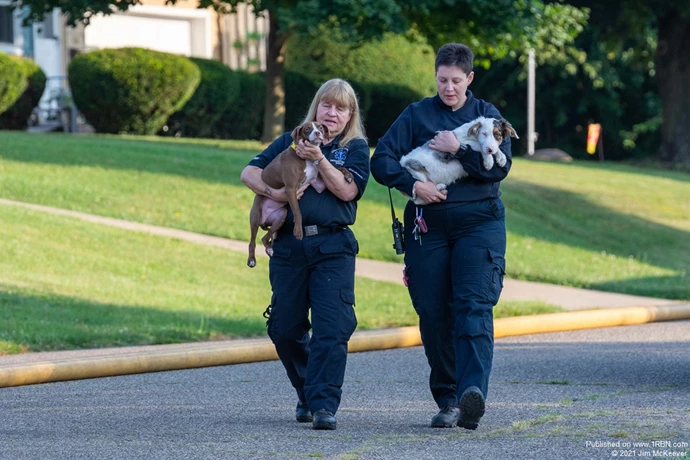 Photo by Jim McKeeverEMS returned two of the four dogs to the homeowner.
This article is a direct street report from our correspondent and has not been edited by the 1st Responder newsroom.
COSHOCTON, OHIO - On August 5, 2021, shortly after 7:00 am, theCoshocton FD was paged out to a reported home fire in the 1300 block of S. 13th St. in Coshocton. Ladder 302 and Engine 304 went en route to the fire.

Upon arrival, fighters found smoke coming from the eves of the home. After a quick investigation, it was determined it indeed to be a working fire,and an all call was put out to bring in off duty personnel. In the meantime, firefighters had begun stretching hand lines to the front and rear of the home.At the rear and under the home was a two car garage. Firefighters used a cutting saw to open the door for access to the fire. With the door open firefighters could get to the fire that had already burned a hole through to the first floor.

The homeowner informed the firefighters that he had four dogs and they were still in the house. They were later found alive and taken to the EMS truck for some oxygen therapy.

After finding some more fire in a crawl space and putting it out the fighters had contained the fire with only a few hot spots to take care of.

Assisting on scene were the Coshocton County EMS, Coshocton County Sheriff's Office, and the Salvation Army for rehab.