Humid September Afternoon Takes Toll on Jersey City Firefighters
September 04, 2022 | NEW JERSEY
RON JEFFERS, New Jersey Editor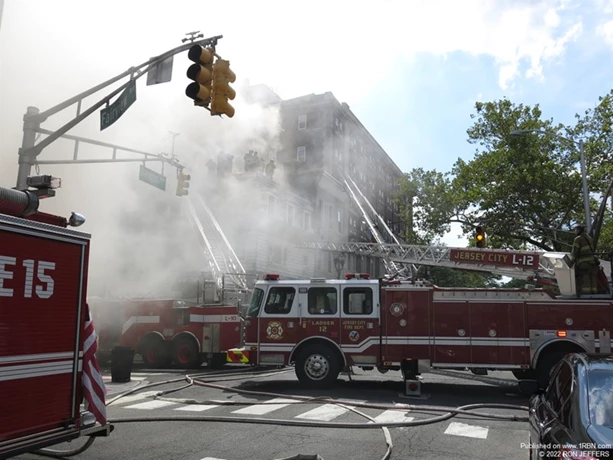 Photo by RON JEFFERSA stubborn 3-alarm fire in two Bergen Avenue buildings took a toll on Jersey City firefighters on a very humid September 4th and displaced 28 residents.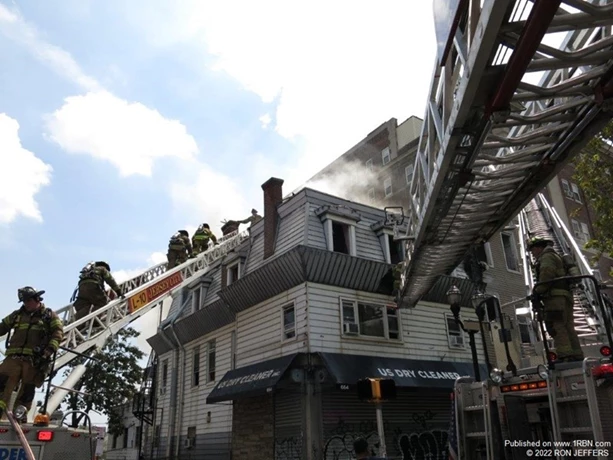 Photo by RON JEFFERSThree aerial ladders were set up at the corner of Bergen & Fairview for egress.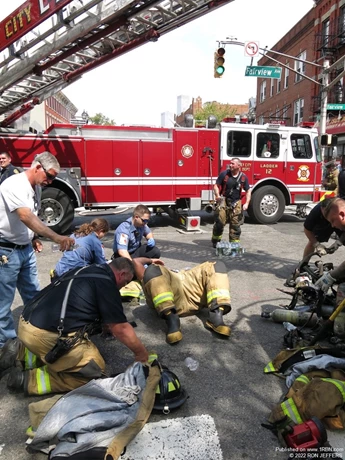 Photo by RON JEFFERSHeat and humidity plus heavy turnout gear takes a toll out of firefighters battling a stubborn fire.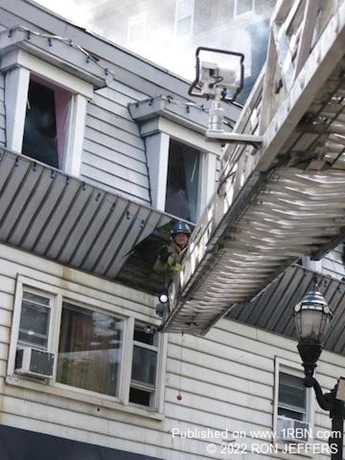 Photo by RON JEFFERS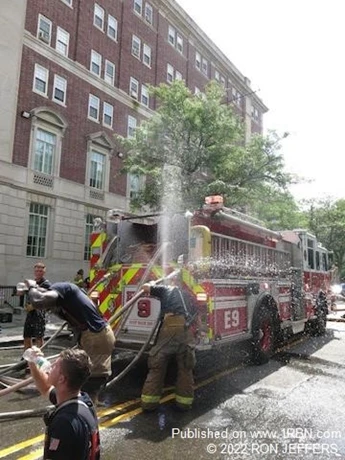 Photo by RON JEFFERS
Photo by RON JEFFERS
This article is a direct street report from our correspondent and has not been edited by the 1st Responder newsroom.
JERSEY CITY, NJ - With the temperature in the 80's and high humidity, Jersey City firefighters went to work battling a fire that involved (two) three-story wood-frame mixed occupancy buildings on September 4th.

Around 12:43 P.M., it was reported that a civilian alerted members of Engine Co. 9, at the Bergen Avenue firehouse, of a fire a few blocks south of them at the corner of Fairview Avenue. Engine 9 radioed in the alarm for a working fire, as they looked South. Captain George Conroy and his crew then turned-out. At the same time, 4th Battalion Chief Michael Nickerson was passing by and flagged down by pedestrians. He notified Fire Dispatch of a working fire, now in two buildings, and transmitted the 2nd alarm.

The attached fire buildings contain dwellings above a dry cleaners and a mini market and deli. According to an interview by News-12 New Jersey TV, Chief of Department Steven McGill said that the fire most likely started on the second-floor between the buildings.

Firefighters began opening up walls and ceilings, knocking down flames, but the fire continued its spread to the cockloft, and eventually through the roof. A heavy volume of fire was visible from the roof with a thick column of black smoke, visible for miles.

As firefighters radioed in their fire progression and suppression reports, Deputy Chief Anthony Della Rosa special called two additional engine companies. This was later followed by the transmission of a 3rd alarm.

Firefighters cut numerous holes in the roof tops, as ladder companies positioned three aerial ladders in the intersection with their ladders raised to the structures for egress.

After working for a period of time, numerous firefighters came back to the street to remove their gear and get a bottled water and cold towels from both neighbors and the Gong Club canteen. They rotated their operations and rehabilitation.

Firefighters began winning their battle with the fire, but it was reported that seven members were taken to the hospital for treatment of non-life-threatening injuries. Twenty-one adults and seven children were displaced and assisted by the Red Cross, according an O.E.M. official.