Troy Police Arrest An Alleged Arsonist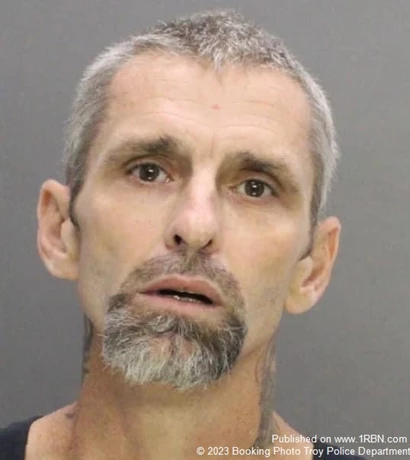 Photo by Booking Photo Troy Police Department George W. Leque, also known as George Brundige and aged 44 from Troy, has been taken into custody. Leque is now facing an array of charges including 2nd Degree Arson, two counts of 3rd Degree Arson, 2nd Degree Burglary, 3rd Degree Criminal Mischief, 4th Degree Criminal Possession of Stolen Property, 3rd Degree Identity Theft, and 7th Degree Criminal Possession of a Controlled Substance.
This article is a direct street report from our correspondent and has not been edited by the 1st Responder newsroom.
Troy Police Arrest An Alleged Arsonist That Has Ripped Havoc In The Past Several Weeks
 
Troy Police officers arrested George W. Leque (a.k.a. George Brundige) August 14, 2023 after recognizing the individual wanted by the detective bureau. Detectives began investigating several suspicious fires several weeks ago and,with assistance from community members who provided surveillance video to police to be able to used to identify the suspect. The video footage from the community members was provided to the Troy Police Department which after a thorough investigation led to the suspect's arrest in Lansingburgh yesterday.  
The alleged suspect is facing multiple charges for several incidents that he is alleged to have perpetrated throughout Troy. These incidents include setting intentional fires and stealing various items from parked & unoccupied vehicles. George W. Leque was arraigned this morning in Troy City Court and remanded to the Rensselaer County Jail. The investigation will continue in order to determine if the defendant is potentially involved in any other recent incidents throughout the city of Troy.
 
George W. Leque, also known as George Brundige and aged 44 from Troy, has been taken into custody. Leque is now facing an array of charges including 2nd Degree Arson, two counts of 3rd Degree Arson, 2nd Degree Burglary, 3rd Degree Criminal Mischief, 4th Degree Criminal Possession of Stolen Property, 3rd Degree Identity Theft, and 7th Degree Criminal Possession of a Controlled Substance. These charges encompass a range of serious allegations that will be addressed within the legal process. Assistant Chief of Police Steven Barker stated "The defendant is alleged to have committed several incredibly serious offenses over the course of several days and his capture is the direct result of an exhaustive investigation that led to the discovery of additional crimes of theft. It is another example our community will not stand for those that willingly act in a manner that puts others in danger. The case will be prosecuted by the Rensselaer County District Attorney's office."
 
Assistant Chief of Police Steven Barker asked  the public "If you have any information regarding an ongoing investigation please consider contacting our Detectives at (518) 270-4421 or report online at Troypd.org."