Trash Fire "Shocks" Plantation Firefighters
By JOEL GORDON, Correspondent | July 24, 2020 | FLORIDA
Story No. 080520104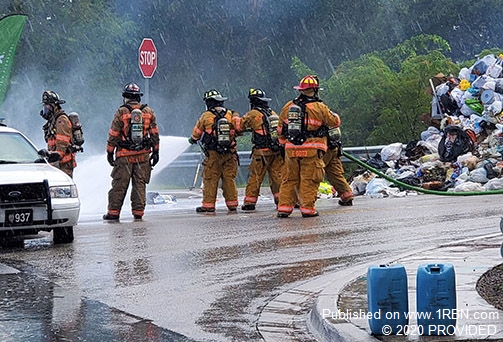 Photo by PROVIDEDShocking experience: Plantation Firefighters assisted by the Sunrise HazMat team lay a foam blanket on a large quantity of pool shock began smoking in the back of a trash truck. The product, which was contained in two large trash bags, gave off sparks and caught fire when water was applied to it.
Plantation, FL - On July 24th at approximately 3:30 P.M. the Plantation Fire Department was dispatched to a trash fire at the 200 Block of South Flamingo Road at the entrance to Publix. A Waste Management Sanitation truck dumped a load of trash that was smoking.

Engine 62 arrived and advised they had light smoke coming from the trash pile and were beginning extinguishment. Within moments the officer advised something in the trash was sparking and flared up.

The crew immediately backed away and requested a Haz Mat response. They also identified a large quantity of a yellow powder in two large trash bags as the source of the sparking and flare ups.

Although the crew held back on any additional water the material continued to react. Sunrise Fire Rescue's Haz Mat Team responded and immediately identified the material as pool shock. They indicated they have had several incidents where the "Super Shock" mixes with oily substances and begins to heat up. Applying water causes an incendiary reaction.

In coordination with Sunrise, Plantation's firefighters separated the material from the rest of the trash and applied large quantities of AFFF foam, which eventually slowed the reaction.

Firefighters also secured the storm drains to protect runoff from entering the canals. After about two hours the scene was secured and turned over to Waste Management for cleanup. No injuries were reported and traffic was only partially affected.

This article is a direct street report from our correspondent and has not been edited by the 1st Responder newsroom.