San Diego Fire-Rescue Sees New Tiller Arrive
By BOB GRAHAM, Correspondent | July 17, 2020 | CALIFORNIA
Story No. 071720105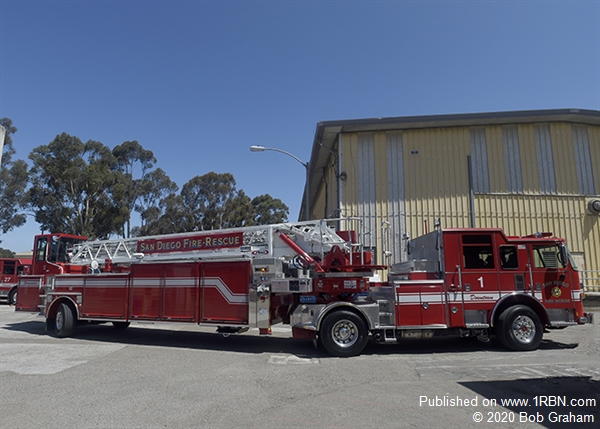 Photo by Bob GrahamSan Diego Fire Rescue Truck 1 heads out for crew training.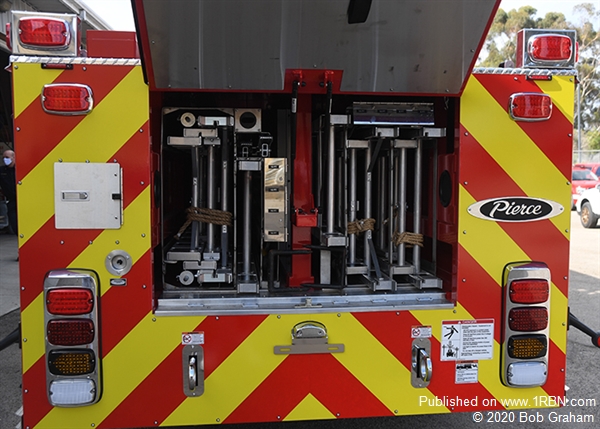 Photo by Bob GrahamNew ladders tied down and no license plate, it doesn't get any newer than that.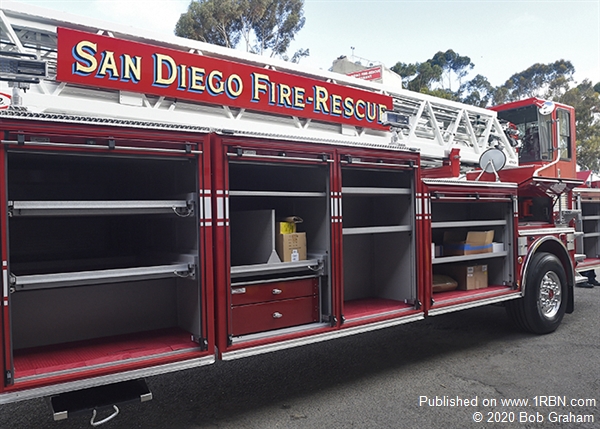 Photo by Bob GrahamStorage bays will be configured to match what works on the tiller Truck 1 will replace.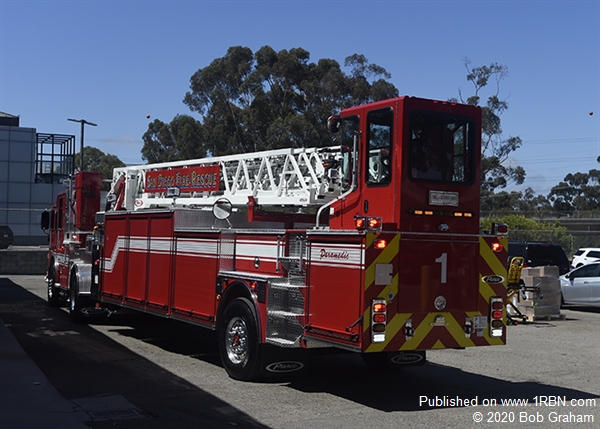 Photo by Bob GrahamWith chrome, aluminum and LED lighting, Truck 1 is eye candy.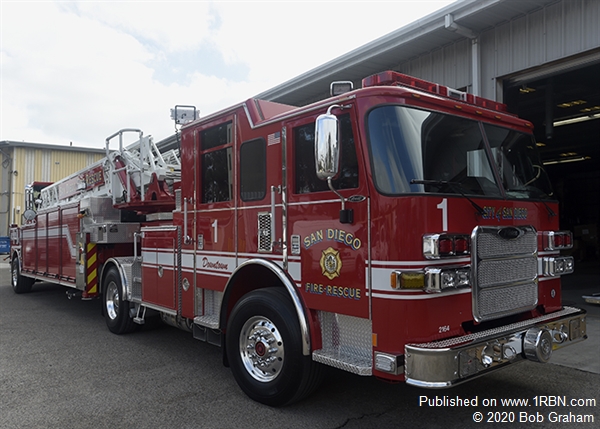 Photo by Bob GrahamTruck 1 is shorter by about 6 feet than the rig is will replace.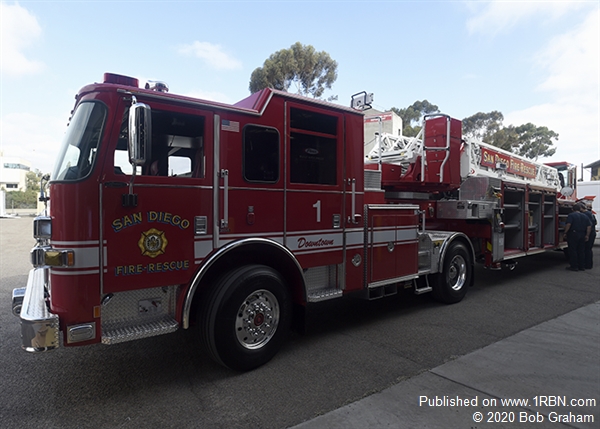 Photo by Bob GrahamSan Diego Fire-Rescue adds the neighborhood an apparatus serves to the rear door.
Wednesday morning saw the arrival of San Diego Fire-Rescues newest apparatus Truck 1, arrive at their logistics facility to begin the process of installing all the equipment necessary for operation. Truck 1 is a Pierce tiller, destined for service at Station One, known as the Big House, in downtown San Diego.

One thing that is very apparent about SDFD's fleet is uniformity. Utilizing Pierce for their Class 1 Engines and Trucks, the rigs are set up for uniformity. A firefighter can climb aboard any rig in their fleet and feel right at home, not having to relearn when duty calls at different stations. This process has been in place for many years, and the impact is readily apparent when several rigs are lined up for or on scene at an incident. Brush apparatus are on International or Freightliner cab and chassis, with Freightliner replacing the International rigs. Support vehicles are from Ford.

Innovation is another SDFD specialty. As the new Truck 1 is put together for service, equipment storage will be matched to the existing Truck 1 so it will match what the truckers at Station 1 have found works best. As far as what Pierce has built into the tiller, LED lights are everywhere, and make a statement even during the day. The white stick is bathed in red LEDs at night, with the final few feet illuminated by blue LEDs, which makes for easy positioning and placement by the engineer during an incident.

Aluminum plating is everywhere, saving weight and adding to the eye candy effects. It's obvious a lot of planning went into the paint scheme and aluminum placement for not only practicality but also curb appeal. Analyzing lessons learned in downtown San Diego, the tiller was built to be about 6 feet less in length than its predecessor, which, when coupled with the weight saving aluminum, makes it much easier to maneuver on downtown streets. There is also no pipe and fixed mount monitor on the stick. Lessons learned called for the use of a removable monitor which can be quickly mounted and fed by a hose when needed. Scabbards eliminate firefighters carrying roof tools up and down the ladder, instead they are waiting at the top of the stick.

A sister vehicle to Truck 1 is under construction and will see duty at Station 35, which serves a district packed with multi-story business locations and condominiums.
This article is a direct street report from our correspondent and has not been edited by the 1st Responder newsroom.