High Rise Fire Displaces 23 Residents
By RON JEFFERS, New Jersey Editor | July 07, 2021 | NEW JERSEY
Story No. 070921104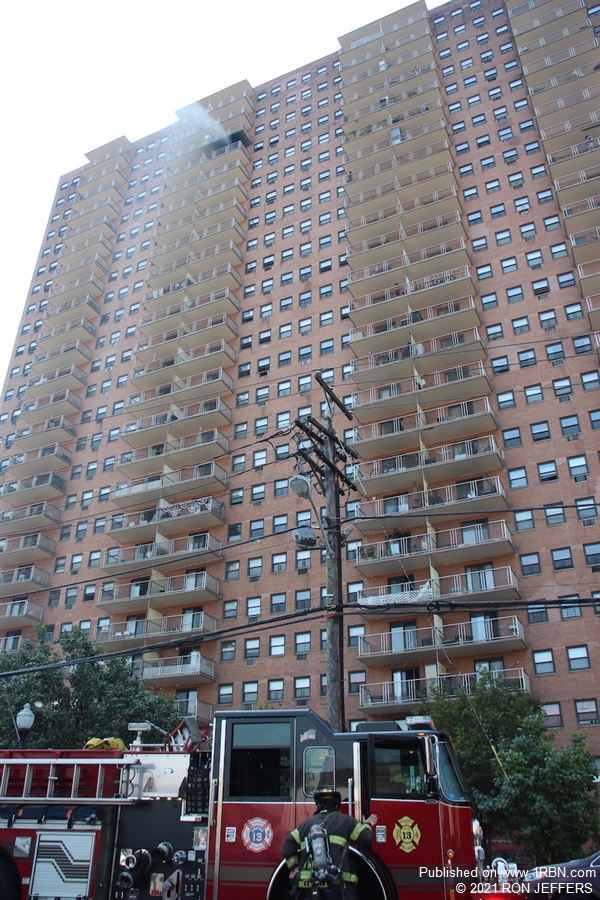 Photo by RON JEFFERSNorth Hudson Engine Co. 13 arrives at the West New York high rise fire, as interior members conduct hydraulic ventilation from the 23rd floor fire apartment, July 7th.
WEST NEW YORK, NJ - With the morning featuring a humid 88 degrees, North Hudson firefighters were dispatched to a smoke alarm activation in a high rise at 5701 Boulevard East, around 10:00 A.M., July 7th. When Second Battalion Chief Robert Morrison arrived, he observed heavy smoke coming from a 23rd floor balcony and ordered the 3 engine and one truck AFA assignment to be filled out to a fire assignment.

The building involved is called Excel on the Hudson and extends from Boulevard East to Park Avenue. The fire was on the Park Avenue side, where part of the assignment reports to. As B.C. Morrison exited his vehicle, he observed, and reported, a man standing in the smoke on the balcony.

The four members of Tower Ladder 3 entered the apartment, closed the door, and crawled passed the flames, making a quick primary search, and then to the balcony. They assisted the occupant to the balcony of the next apartment by knocking down a light weight partition. Firefighters closed the balcony door, depriving the flames of oxygen, before Engine Co. 9 advanced a hose line into the apartment. Tower Ladder 3 members then entered the adjacent apartment with the victim, and to safety, according to responders.

The woman in the adjacent apartment assisted firefighters by letting them use the area for staging and rehab, as there was an elevator malfunction in the building. She also supplied firefighters with several cases of water that she had in stock for the summer weather.

A second-alarm was struck, by Deputy Chief Dave Donnarumma, for additional resources. Incoming units were told to bring spare air bottles up to the scene.

West New York spokesman Grant Ludmer said the occupant was hospitalized for smoke inhalation and minor burns, plus four firefighters were treated at the scene for minor injuries. He added that 23 residents were displaced from 10 apartments.

According to Mayor Gabriel Rodriguez, the fire started from a cooking accident inside of the apartment.

This article is a direct street report from our correspondent and has not been edited by the 1st Responder newsroom.