A Special Promotion Day for the Paterson F.D.
By RON JEFFERS, New Jersey Editor | July 06, 2020 | NEW JERSEY
Story No. 070620103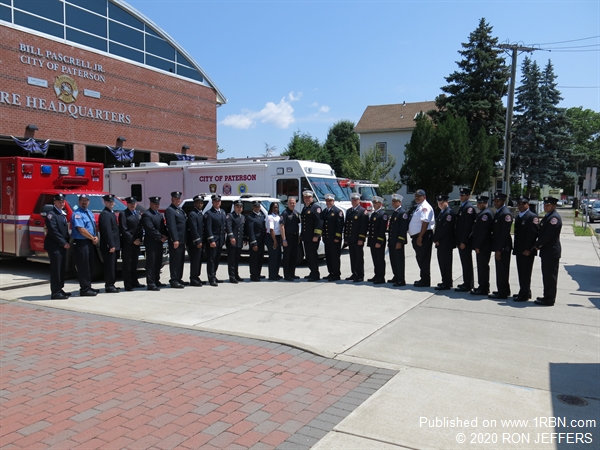 Photo by RON JEFFERSMembers of the Paterson FD that were promoted stand in front of Fire Headquarters with Director Jerry Speziale and Chief of Department Brian McDermott, on July 2nd.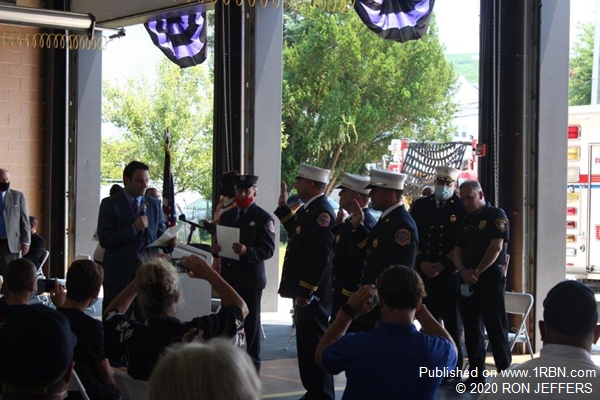 Photo by RON JEFFERSNew deputy chiefs take their oath administered by Mayor Sayegh.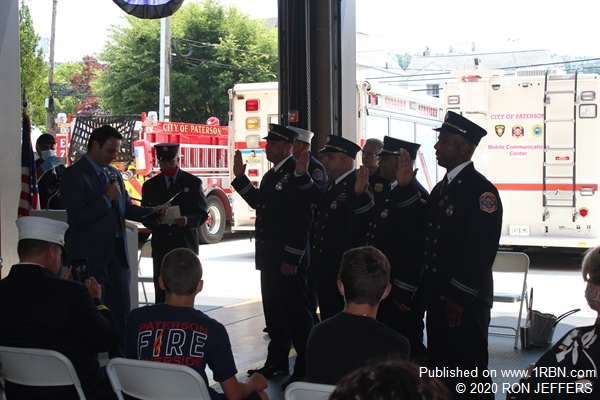 Photo by RON JEFFERSFour new battalion chiefs take their oath.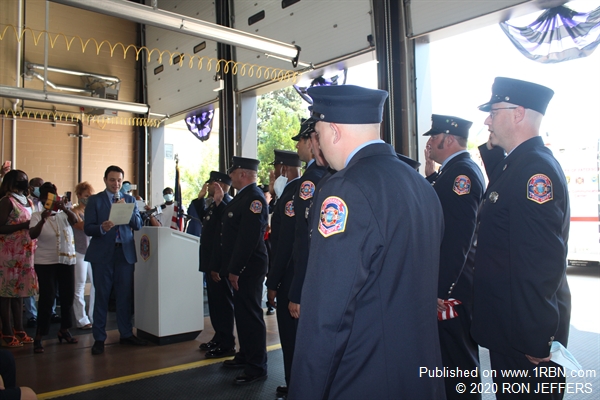 Photo by RON JEFFERSEleven firefighters received their captain's bars.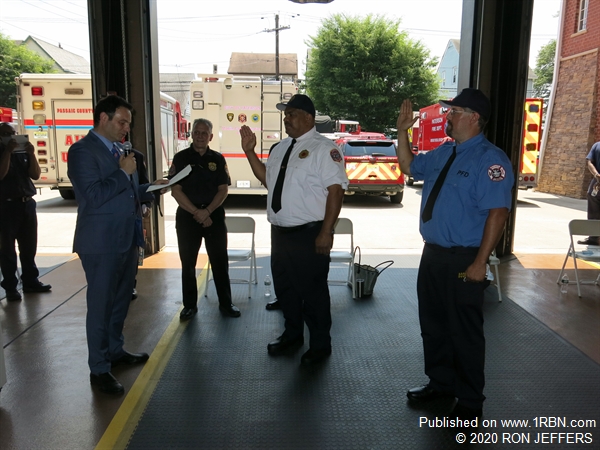 Photo by RON JEFFERSDuring the Paterson FD's July 2nd ceremony, Antonio Diaz, a COVID-19 survivor, (in white shirt) was promoted to Chief of Fire Apparatus. Christopher De Blass, right, was promoted to Supervising Mechanic-Fire Apparatus.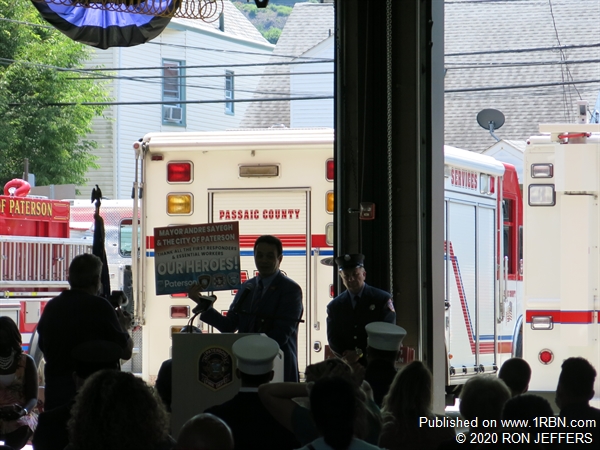 Photo by RON JEFFERSPaterson Mayor Andre Sayegh holds up an "Our Heroes" sign, during the Fire Department July 2nd promotional ceremony, that will be placed around the city.
Paterson, NJ - Firefighters, city officials, families and friends gathered at Fire Headquarters, July 2nd, for a promotional ceremony that was extra special for the 205-year-old department, and the state's third largest city. A traditional rank was returned, new positions established, plus a COVID-19 survivor was promoted.

The assistant chief rank restored with the promotion of Gabriel Aboyoun to that rank in addition to his Office of Emergency Management responsibilities.

The department members were sworn in to their new ranks by Mayor Andre Sayegh, a COVID-19 survivor. The mayor praised Chief of Department Brian McDermott. He mentioned that the chief ordered enough PPE in January to address the pandemic, and having enough to donate PPE to St. Joseph's Hospital.

"I salute our Chief who represents Profiles in Courage," Sayegh said. He continued, "I'm proud of our Paterson Fire Department because of our responses during the pandemic." The mayor noted that the department's operations were featured in a "New York Times" article.

The new deputy chiefs are: William Bucher, Orlando Rodriguez and Alejandro Alicea. Newly promoted battalion chiefs are: Frank Liscio IV, Arthur Woods, Jose Castro and Michael Hall.

Before the new captains were sworn in, Chief McDermott reminded them that they have entered their first step in a supervisory role. They now give orders-not take them.

"Get out there and be a leader," he said. "Make decisions, work hard."

The new captains are: Jonathan Salmond, Steven Ali, Harrison Holmes, Robert Zeidler, Ricardo Vargas, Jesus Garcia III, Sonny Gotay, Kenneth Beekman, Sean Duffy, Michael Mauro and Matthew Campagna.

In communications, Edith Anderson was named Chief Operator. The fire alarm dispatch office will soon move to another city building that will also contain police communications.

Chief McDermott informed the audience that the Fire Department shops will be taking on the expanded responsibility of city vehicle repair-minus police and DPW vehicles. With these added responsibilities, Antonia Diaz was promoted to Chief of Fire Apparatus and Christopher De Blass named Supervising Mechanic of Fire Apparatus. It was an extra special day for Diaz, who is a COVID-19 survivor.

During his speech, Public Safety Director Jerry Speziale informed the members that, "Great leaders are inspirational people."

This article is a direct street report from our correspondent and has not been edited by the 1st Responder newsroom.