BCFES Employee of the Quarter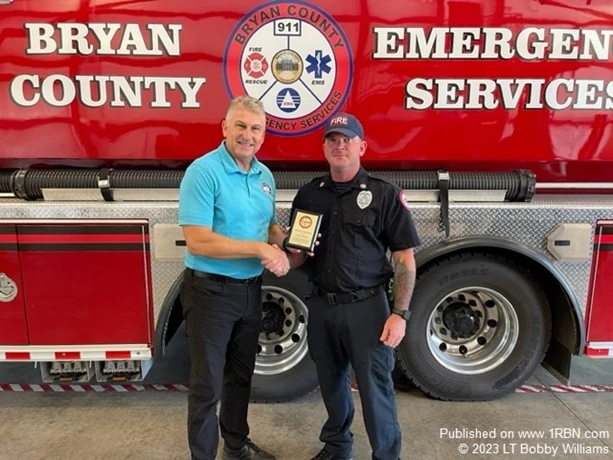 Photo by LT Bobby WilliamsChief Howell & FF/EMT Kake Lipsey
This article is a direct street report from our correspondent and has not been edited by the 1st Responder newsroom.
TIME FLIES! WOW it's time for the 2nd Quarter…coming soon!
"Employee of the Quarter"
1st Quarter of 2023
Firefighter/EMT Jake Lipsey has been named the "Employee of the Quarter" for the 1st Quarter of 2023.
"FF/EMT Jake Lipsey has been an outstanding employee since his hire date in October this past year, and in my opinion has absolutely crushed the first quarter of 2023.  In his short amount of time here, he has completed his Relief Driver Qualification and is now in charge of his own Engine, taken and completed his NPQ FF2 (self-taught/study), attended GFA Pressurized Container, obtained NAEMT TECC and has joined the Rescue Task Force.  He is self-driven when looking for ways to improve himself, his shift, and the department.  Jake is a dependable asset who is willing to do any task asked of him.  FF/EMT Lipsey has expressed interest in our upcoming Paramedic school to which he's been selected as a candidate.  He exhibits great patient care and has a solid medical foundation to which I know will help him excel in medic school.  He always has a positive attitude and has a great shift rapport.  I look forward to more great things from this individual."
FF/EMT Jake Lipsey is a definite asset to BCFES and we congratulate him on a JOB WELL DONE!!!!