"It's John Wayne Time," in Weehawken
April 12, 2023 | NEW JERSEY
RON JEFFERS, New Jersey Editor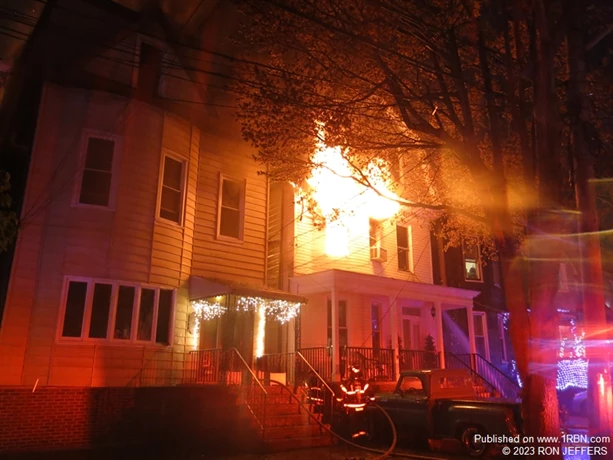 Photo by RON JEFFERSNorth Hudson firefighters from four companies held their own to protect exposures as flames raced through two Jane Street dwellings in Weehawken, with help coming from a distance due to another multiple-alarm fire a mile away in Union City, April 12th.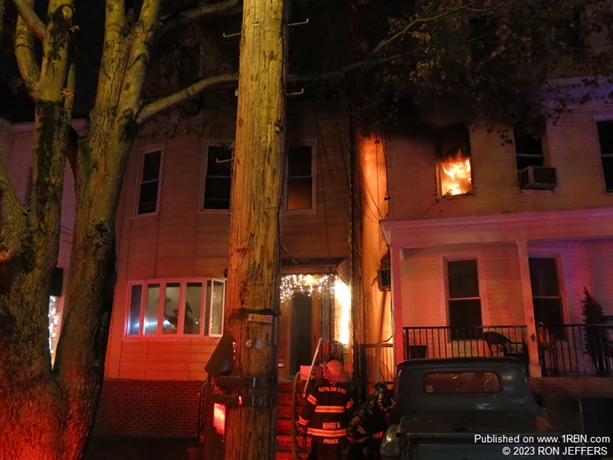 Photo by RON JEFFERSHeavy black smoke began to pour out of the second-floor windows as flames quickly spread through two Jane street dwellings.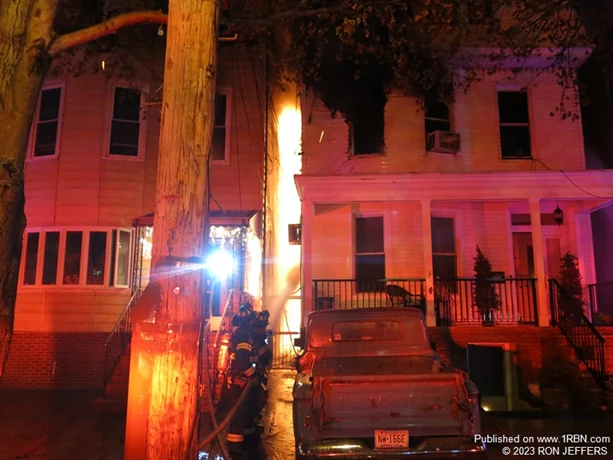 Photo by RON JEFFERSLimited manpower worked on the fire until help could arrive, from a distance, at this Weehawken fire, with most North Hudson regional companies committed to  a fire in several buildings a mile away in Union City, April 12th.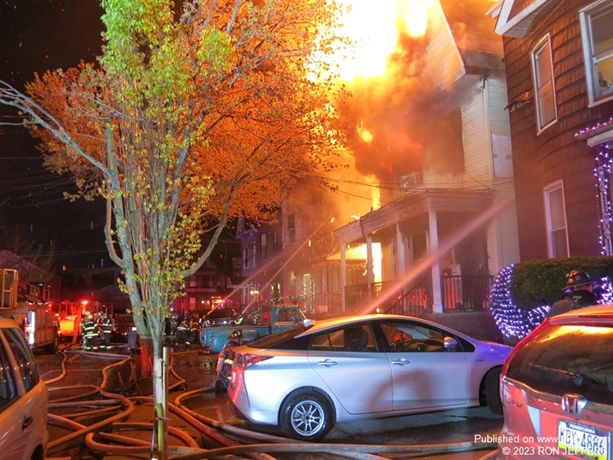 Photo by RON JEFFERSFirefighters worked on exposure protection as mutual aid companies began to roll in.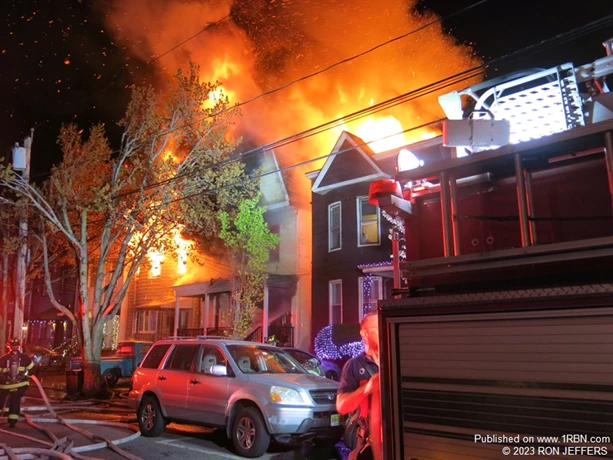 Photo by RON JEFFERSFlying embers and radiant heat added to the problems that faced firefighters on Jane Street, Weehawken, April 12th.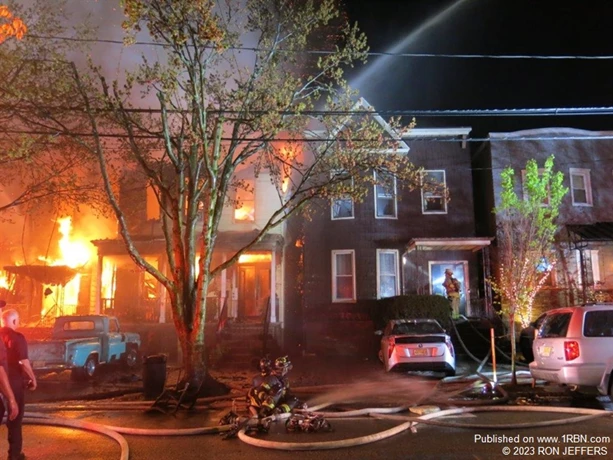 Photo by RON JEFFERS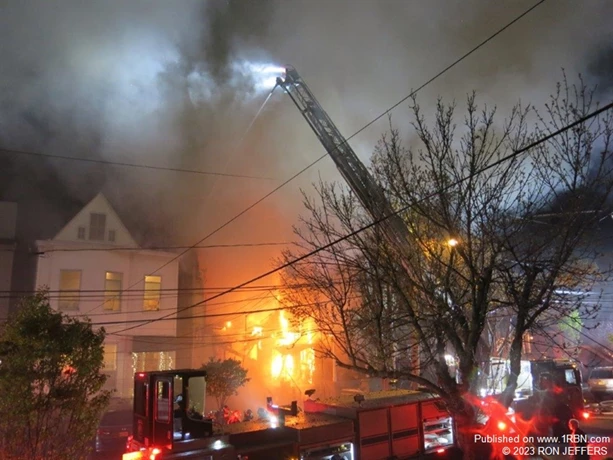 Photo by RON JEFFERS
This article is a direct street report from our correspondent and has not been edited by the 1st Responder newsroom.
WEEHAWKEN, NJ - Two major fires occurred almost simultaneously in the North Hudson Regional Fire & Rescue's First Battalion on the evening of April 12th, that rapidly involved numerous occupied buildings, putting a stress on firefighters and dispatchers. Briefly, the First Battalion exists between the Lincoln Tunnel cut, south to the Jersey City line. Both incidents went to working fire assignments and a second-alarm quickly. More alarms would follow.
The first fire was reported on the 400-block of Ninth Street, Union City, at 10:36 p.m. Upon arrival, companies redirected to the 400-block of Eight Street where the fire origin was found. The rear wall of a two-story wood-frame dwelling, attached to five others, was showing heavy fire. Lines were stretched and truck work commenced.
Due to radiant heat, the rear wall of a Ninth Street dwelling ignited. Some companies were redirected to Ninth Street to quell that blaze. By now, a third-alarm was struck. Additional alarms, with mutual aid, would follow. Besides 416 Eighth Street, fire did travel to 414, 418 and 412. 
When the initial alarm for Ninth Street was transmitted, a Union City police sergeant was racing down Palisade Avenue to the fire. On the part of Palisade Avenue that borders with Weehawken, a woman jumped in front of his radio car to stop him. She reported a fire on her side of the street. The sergeant saw flames and called it in.
The original alarm for the Weehawken call, described as a "modified assignment" by the dispatcher, was sent to Dodd Street, at 10:39 p.m. Engines 3 and 5, Squad 10, Ladder 4 and Battalion 2 were dispatched. Fire was showing from Dodd Street; however, that was the rear of dwellings that were lit up that face on the 200 block of Jane Street. Companies headed around the block.
Heavy fire was consuming the rear of two dwellings, with flames racing through the interior to the Jane Street side. The two-and-a-half wood-frame dwellings were separated by small alleyways in the densely populated area. Hand lines were set up to protect exposures, which were severely threatened. Flying embers were also rolling over the neighborhood. A second-alarm was transmitted by Battalion Chief Adrian Prunes, but help had to come from a distance due to the other fire, with mutual aid companies headed for both locations.
B.C. Prunes and the members of the three engines and truck company got water on the exposures and held flames at bay until help could arrive. Radiant heat was felt in the street where Ladder 4 was positioned. Residents of homes on the north side of the street got their garden hoses out to wet down their property.
This sight was reminiscence of a scene from the movie "Backdraft." As a factory building was burning, the second due firehouse had been shut down by city officials. Help was coming from a distance. While getting water, the engine chauffeur radioed to his lieutenant, " Sorry, John Wayne time. You're on your own, boss!" 
In time, Kearny firefighters from Engine 1, Tower 2 and Deputy Chief Ed Agnew approached the fire buildings. Jersey City companies came in on Dodd Street and stretched lines through alleyways to attack the fire from the rear.   
With more alarms sounded, companies that responded to Jane Street included Jersey City Engines 7, 11, Ladder 3, Battalion 3; Hoboken Engine 1, Ladder 1, Battalion 1; Bayonne Engines 6, 7, Ladder 3; Belleville Engine 2; Bloomfiled Engine 3; Montclair Truck 1; and the Hackensack Mask Service Unit. 
With additional manpower, more hand lines were placed into operation and Engine 3's squirt device was set up and used. Ladder 4 backed up from some overhead power lines, and their ladder pipe provided another master stream. Squad 10, hooked up to a hydrant at Jane and Hudson Avenue, placed a deck gun into operation.
The two original fire buildings were heavily damaged by fire with neighboring dwellings also receiving damage.  Fifteen residents were displaced, according to North Hudson Chief of Department David Donnarumma. 
On Eight Street, 22 people were displaced, according to the chief. The Red Cross had personnel at both scenes to assist the residents. The Gong Club set up its canteen truck on Palisade Avenue, Weehawken. 
During this period, fire companies either worked at fires or re-located to vacant firehouses from the counties of Bergen, Essex and Passaic. This was somewhat of a "rerun" for some of the fire companies. On the morning of February 8th, five-alarm fires involving commercial and mixed occupancy structures in both West New York and Union City brought in a heavy mutual aid assignment to North Hudson.  On December 1st, 2022, a 4-alarm fire in a large West New York apartment house and a 5-alarm explosion and fire in Union City, back-to-back, also brought in numerous mutual aid fire companies from several counties.