Chemical Fire in North Bergen
By RON JEFFERS, New Jersey Editor | February 16, 2021 | NEW JERSEY
Story No. 021721109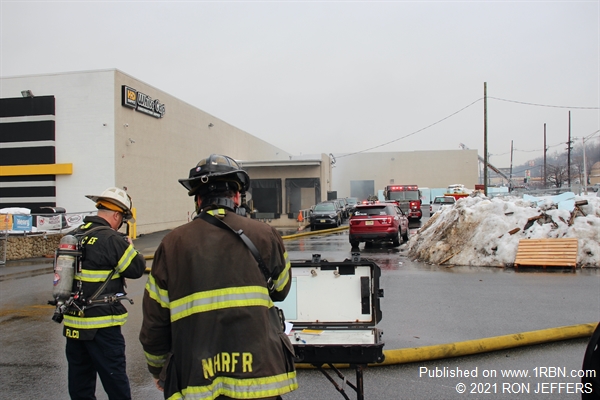 Photo by RON JEFFERSA command post was quickly set up as firefighters cautiously size up the fire condition at a North Bergen supply company fire on February 16th.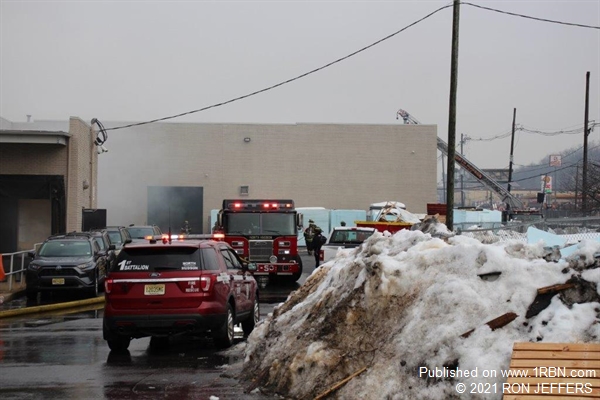 Photo by RON JEFFERS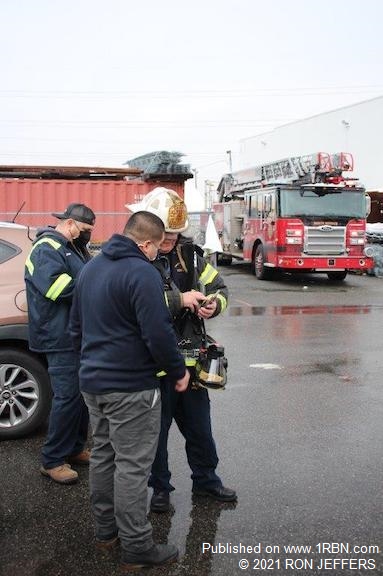 Photo by RON JEFFERSNorth Hudson Deputy Chief Mike Falco interviews company employees to identify products stored inside the warehouse.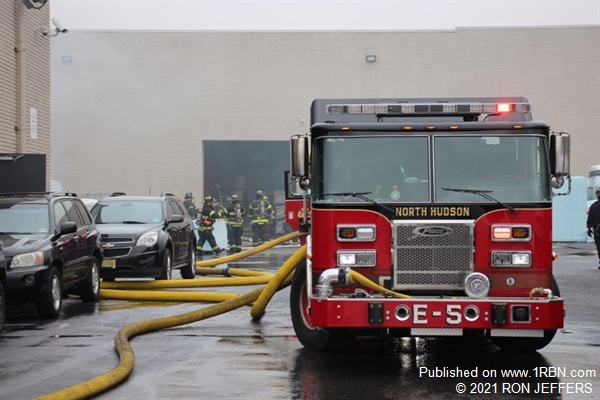 Photo by RON JEFFERS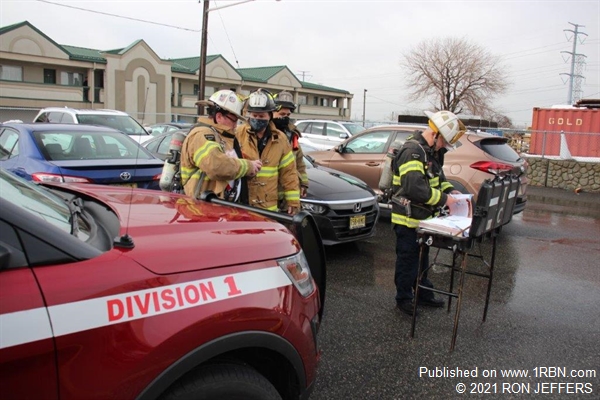 Photo by RON JEFFERSJersey City 3rd Battalion Chief Rich Gorman, left, with haz mat officers, and North Hudson Deputy Chief Mike Falco, looking up information on chemical materials.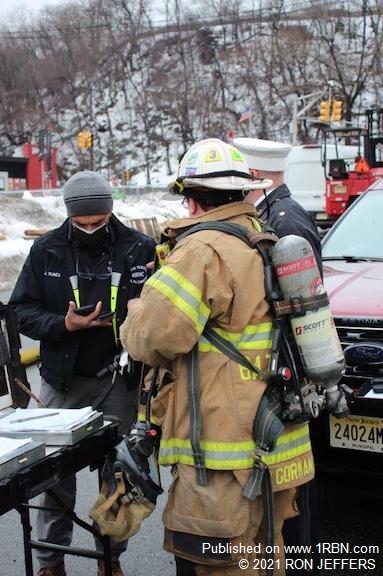 Photo by RON JEFFERSA member of the Hudson Regional Health Commission, left, arrived at the scene and received information from Battalion Chief Gorman.
North Bergen, NJ - North Hudson firefighters responded to a reported fire, with hazardous materials involved, at White Cap Construction Supply along the 1500 block of Tonnelle Avenue, February 16th.

Fire units were dispatched at 10:05 A.M., with Fire Control reporting to the responding units that the business informed them of chemical materials inside the structure. Smoke was protruding from a large bay door and sprinklers were in operation when they arrived.

Firefighters conversed with employees to identify products in the structure that were believed to be burning, at the command post that was quickly set up near the entrance to the property. Deputy Chief Mike Falco ordered a second-alarm and special called the Jersey City HazMat unit to the scene.

"Highly flammable chemicals" were said to be involved. Firefighters located two pallets of material that were burning inside the building. Sprinklers kept the fire in check and several hand-lines were stretched and put into operation. In addition, long stretches of large diameter hose were dropped between pumpers and Squad 2 hooked up to a fire hydrant on busy Tonnelle Avenue. The southbound lanes of the road, also known as US Routes 1 & 9, were shut down for emergency apparatus.

Jersey City HazMat 1 and 2 responded to the scene, under the command of 3rd Battalion Chief Rich Gorman, and assisted in chemical identification as well as taking air quality readings.

No injuries were reported. North Bergen EMS stood by at the scene, and a crew from the Gong Club set up their canteen truck on Tonnelle Avenue. They also supplied bottled water at the command post. The Department of Environmental Protection and Hudson Regional Health were notified of the situation.

The fire was declared under control shortly after 11:00 A.M.



This article is a direct street report from our correspondent and has not been edited by the 1st Responder newsroom.