Hudson County Fire Departments Receive Standpipe Training
February 12, 2021 | NEW JERSEY
Story No. 021221100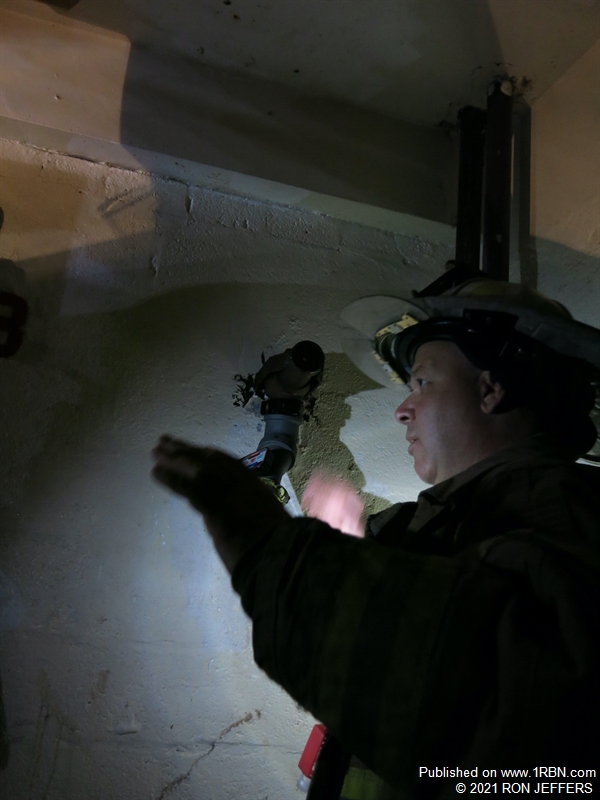 Photo by RON JEFFERSJersey City Deputy Chief Robert Daly goes over newly issued equipment during a high rise drill with Hudson County firefighters in a vacant Montgomery St. project building.
Hudson County is the smallest county in the state of NJ and the fourth most populous among NJ's 21 counties. As of 2019, approximately 672,000 residents occupy 46-square-miles, which equates to 14,555 people per-square-mile, making Hudson the most densely populated county. Many of these residents live in multiple dwellings greater than seven stories. Jersey City alone has over 200 hi-rise buildings, with over 15 hi-rises exceeding 500-feet in height. Due to these challenges the Jersey City Fire Department has increased their response to a report of smoke or fire in a hi-rise building to 4 Engine Companies, 4 Ladder Companies, 1 Hi-Rise Unit, 1 Rescue Company, 3 Battalion Chiefs and 1 Deputy Chief.

Hudson County is protected by eight fire departments, six of which are career and two are volunteer. Each department has their own operations to meet the needs of their communities. Hi-rise firefighting is very complex and labor intense. With the influx of these new hi-rise buildings there was a need to standardize equipment, operations and response plans within the county.

With the assistance of a State Homeland Security Grant Program (SHSP), funded through the Hudson County Working Group (HCWG), standpipe equipment was purchased to equip all 49 front line engine companies within the county. This new equipment included 2'' hose with 2 ½' couplings, smooth bore nozzles, digital standpipe flow meters, new standpipe equipment bags and various tools and adapters. The goal of this project was to standardize hi-rise firefighting equipment in Hudson County.

During the months of October and November, the Jersey City Fire Department hosted standpipe training at the vacant 10-story Montgomery Street housing projects. Jersey City Deputy Fire Chief Robert Daly, assisted by retired Kearny Fire Chief and current Hudson County Mutual Aid Coordinator Steve Dyl, conducted a street class on the newly issued equipment. Engine companies from throughout the county fire departments rotated on all tours assembling at this location for a four hour standpipe training session.

Training included understanding various threads, adapters and stretching 2" hose from a standpipe outlet on the 5th floor up the 6th floor. Companies were able to flow water, which enabled participants to understand GPM flows and nozzle reactions. By flowing water in an actual high rise, participants were able to become proficient in understanding the information provided by the digital standpipe flow meter. Water supply was delivered by one engine hooking up to the nearby fire hydrant and laying an LDH supply line to an engine company supplying the standpipe on the first floor of the former apartment complex.

Additionally, "High Rise Orientation" classes were held at the quarters of Secaucus Engine Co. 4 and Ladder Co. 1, where classroom space is available. These classes were given by retired Jersey City Deputy Fire Chief Mike Terpak, who is now a national speaker on fire safety topics. In all, some 120 fire officers and firefighters participate in these training sessions.

In early 2021, "Command and Control for High Rise Firefighting" is planned for all fire officers in the county. This will be followed up by "Strategy and Tactics for High Rise Firefighting" later in the year and 2022. Additional practical operations at Montgomery Street are planned for 2021.

Inter-operable challenges in Hudson County include various hose threads among the eight fire departments. Currently there are four different hydrant steamer threads, two different 2 ½'' threads with half of the departments using New York Corp and half using National Standard Thread. Additionally, there are two different 1 ½' threads with seven departments using National Standard Thread and one using an FDNY 1 ½"thread. Through previous SHSP grant funding, all engine companies throughout Hudson County were supplied with hydrant wrenches and adapters to enable them to open and connect to every hydrant in the county.

Hudson County fire departments have recognized some of the many challenges that are facing their departments and are using grant funds to overcome these issues. The members of the Hudson County Fire Departments welcomed the training with great enthusiasm and were eager to respond to the challenge.

This article is a direct street report from our correspondent and has not been edited by the 1st Responder newsroom.