FIRE MARSHAL WAS LOVED AND RESPECTED BY ALL
August 31, 2023 | NEW JERSEY
RON JEFFERS, New Jersey Editor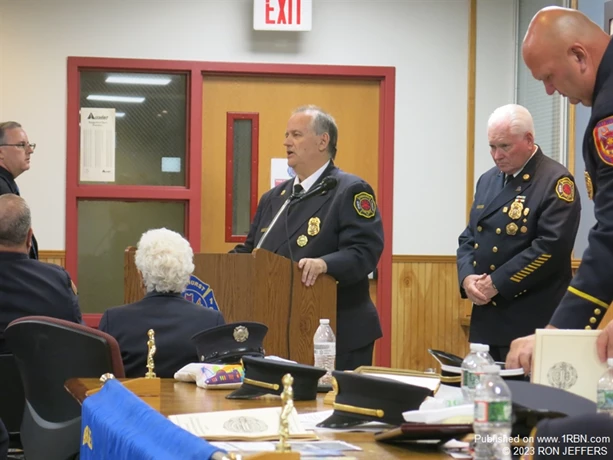 Photo by RON JEFFERSBergen County Fire Marshal Bryan Hennig, center, concludes the June 2nd meeting of the NJ & NJ Volunteer Firemen's Association after he was sworn in as the organization's new president.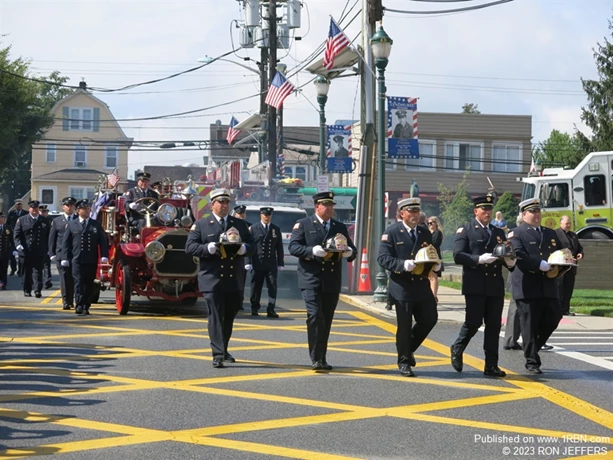 Photo by RON JEFFERSLyndhurst firefighters carry five helmets assigned to Bryan Hennig, that were part of his fire service responsibilities, as the fire marshal is transported to the firehouse in the department's 1920 American LaFrance antique.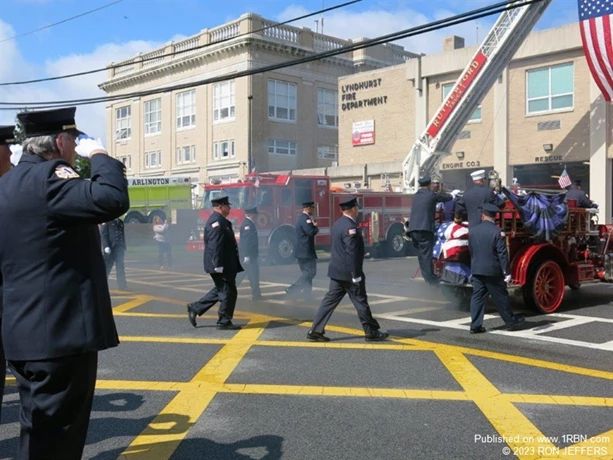 Photo by RON JEFFERS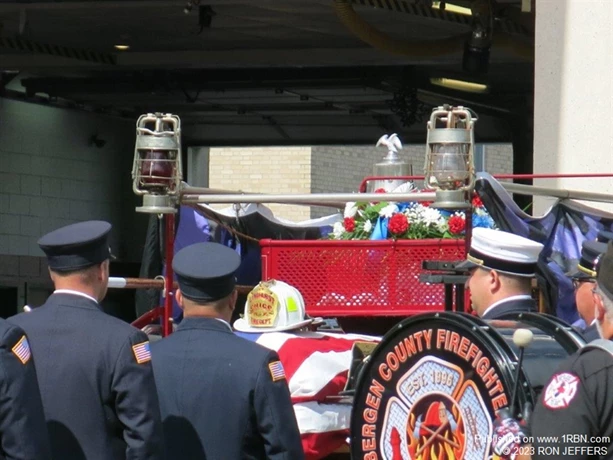 Photo by RON JEFFERS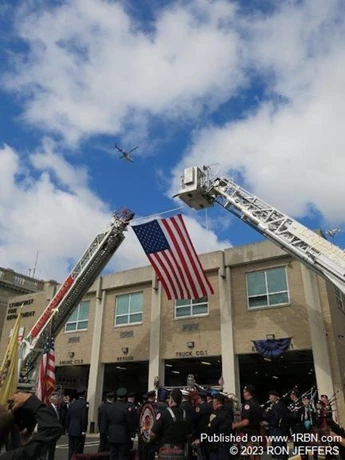 Photo by RON JEFFERS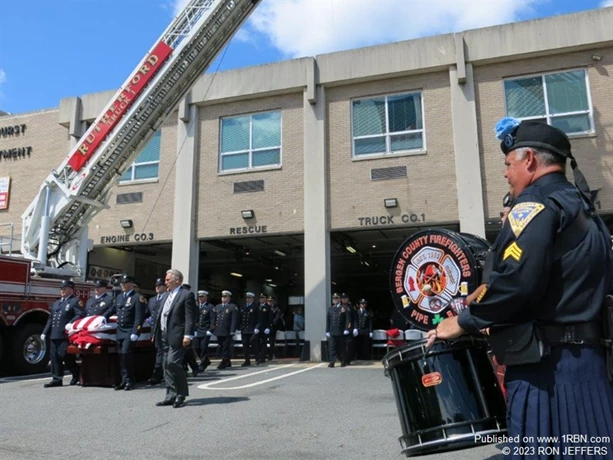 Photo by RON JEFFERS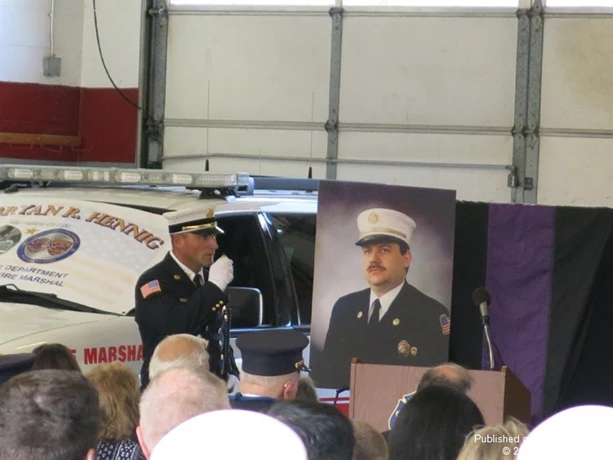 Photo by RON JEFFERS
This article is a direct street report from our correspondent and has not been edited by the 1st Responder newsroom.
On June 2nd, Bergen and Rockland County firefighters and fire officials assembled at the Lyndhurst firehouse for the NJ & NY Volunteer Firemen's Association convention meeting. At this assembly, Bergen County Fire Marshal, and LFD ex-fire chief, Bryan Hennig, 62, was sworn in as the organization's new president.
On the morning of August 30th, area firefighters, local and county officials, family and friends assembled at the same firehouse. Only this time, it was to pay their respects to the well-loved community leader who lost his battle with cancer.
Bryan took his last ride in the department's 1920 American LaFrance engine through the township, from the funeral home, to the firehouse. His brother firefighters marched in front of the antique apparatus holding five of his helmets. These helmets represented only part of Bryan's responsibilities that involved the Township of Lyndhurst and the County of Bergen. 
Words uttered at his memorial included: mentor, professional, leader, gentleman. During an emotional memorial service, his fire service colleagues added remarks such as: he was the glue that kept older and younger generations together, a heart as big as the Grand Canyon, born to serve, and Bryan was the tree over Bergen County with branches that reached out. 
Bryan was the county's fire marshal for the past 9-years, as well as a Bergen County mutual aid fire coordinator.  He served as chief of the Lyndhurst Fire Department in 1994, he was an instructor, and he organized the LFD's 125th anniversary celebration. Hennig was also a past president of the South Bergen Fire Chief's Association. 
Marshal Hennig was a historian with a love for his town and fire department, as well as other Bergen County municipalities. He constantly conducted research on the area's past. Bryan was also a collector of firematic memorabilia, searching eBay. If he located, and won the bid, for a piece of a Bergen County fire department's history, he would present that item, as a gift, to a representative of that particular department.  
Bergen County Executive James Tedesco III, a volunteer firefighter and ex-chief himself, said Hennig was dedicated to the well-being and safety of his community. "He made Lyndhurst and Bergen County a better place for all of us," he added. He treated people with respect. "People will remember how you made them feel."                  
Bryan Hennig has left a big void in Lyndhurst and Bergen County. He will be missed. That was evident by the attendance, and emotional comments, at his memorial.