50th Anniversary of the TV Show EMERGENCY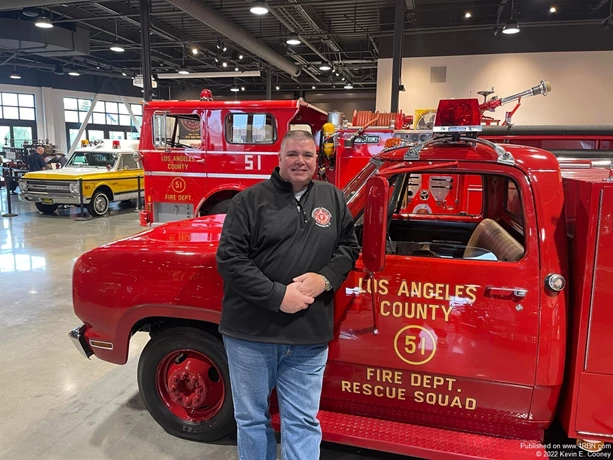 Photo by Kevin E. CooneyBoth Squad 51 and Engine 51 with ambulance in background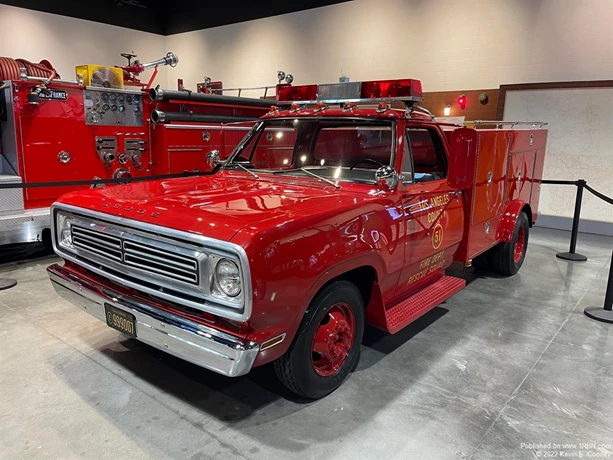 Photo by Kevin E. CooneySquad 51 -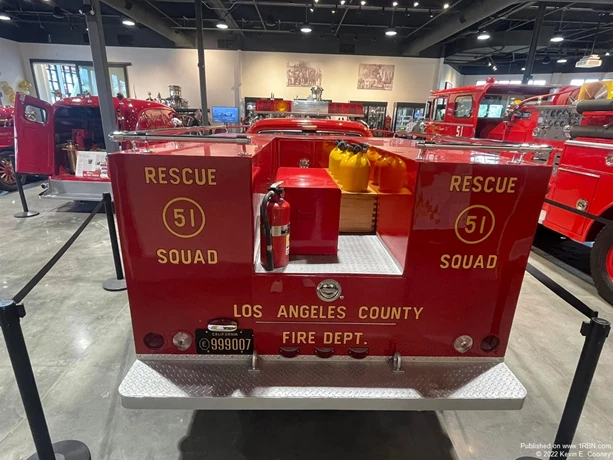 Photo by Kevin E. CooneySquad 51 -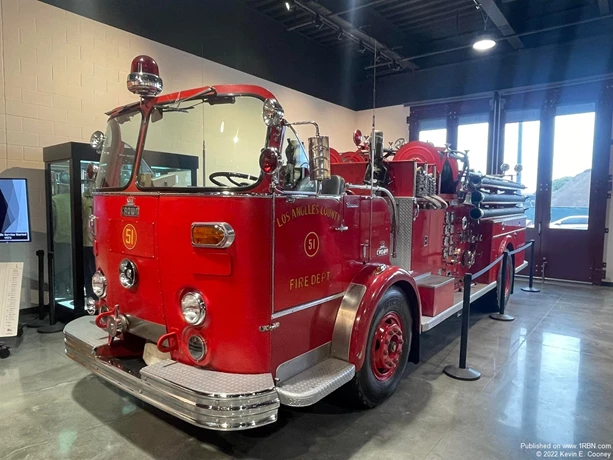 Photo by Kevin E. CooneyOriginal Engine 51 - Crown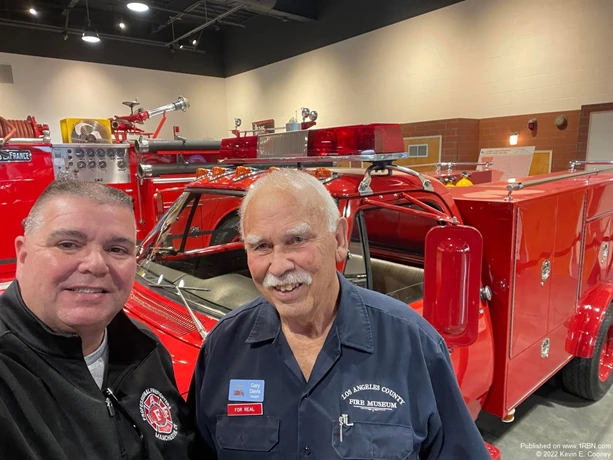 Photo by Kevin E. CooneyOn (right) Retired LA County FF/PM, Gary David. One of the original CA FF/Paramedics # 3, 1969. He also served on the set as a Technical Advisor. Notice name tag - FOR REAL - indicating he was a real FF/PM.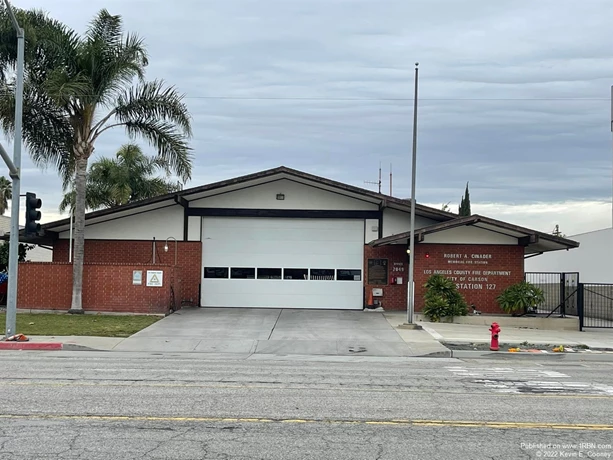 Photo by Kevin E. CooneyStation 51 - actually 127. Original Station where much of the filming was done.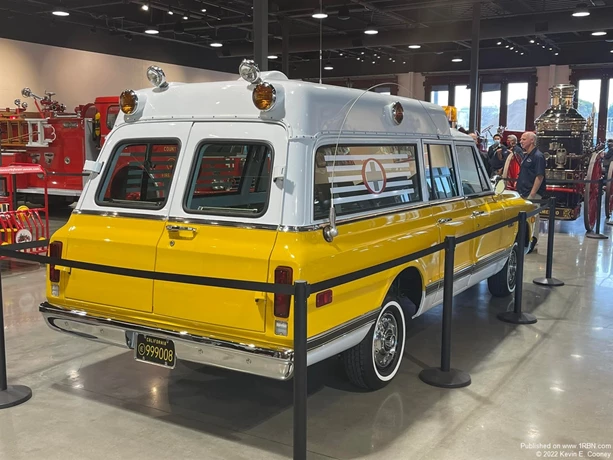 Photo by Kevin E. CooneyOne of the original ambulances used in the filming. Just restored and unveiled on Friday, January 14, 2022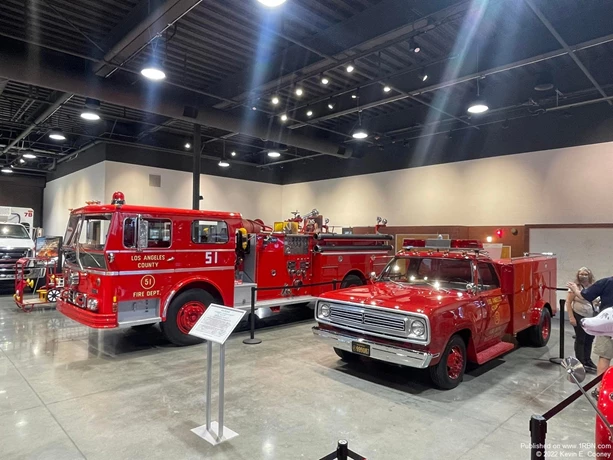 Photo by Kevin E. CooneySquad 51 and Engine 51 (Ward LaFrance)
This article is a direct street report from our correspondent and has not been edited by the 1st Responder newsroom.
On January 15, 2022 the LA County Fire Museum opened its doors on the 50th Anniversary of the TV Show EMERGENCY. While the large planed event was postponed due to covid, the Museum and Station 51 (127) were open.

EMERGENCY! January 15,1972-January 15, 2022

Emergency! was an American television series that combines the medical drama and action-adventure genres.
It was a joint production of Mark VII Limited and Universal Television.
It debuted on NBC as a midseason replacement on January 15, 1972, replacing the two short-lived situation comedy series "The Partners" and "The Good Life", and ran for a total of 122 episodes until May 28, 1977, with six additional two-hour television films during the next two years.
The series stars Kevin Tighe & Randolph Mantooth as two fictitious LACoFD fire fighters specially trained as paramedics and in the Los Angeles metropolitan area.
The duo formed Squad 51, a medical and rescue unit of the Los Angeles County Fire Department.
They worked under the supervision and authority with the fictional Rampart General Hospital medical staff (portrayed by Robert Fuller, Julie London and Bobby Troup, Ron Pinkard), and with the then fictional LACoFD Station 51.
Emergency! was created and produced by Jack Webb and Robert A. Cinader, who had also created the police dramas Adam-12 and Dragnet.
Harold Jack Bloom is also credited as a creator; Webb does not receive screen credit as a creator.
In the show's original TV-movie pilot, Webb was credited only as its director.
The series aimed to be a realistic portrayal of emergency medical services (EMS) at the time.
Pioneering EMS leader James O. Page served as a technical advisor, and the two main actors underwent some paramedic training.
The series aired at a time when ambulance coverage in the United States was rapidly expanding and changing, and the role of a paramedic was emerging as a profession.
The series is credited with popularizing the concepts of EMS and paramedics in American society, and even inspiring other states and municipalities to expand their services.
The show is also widely created with inspiring a generation into the emergency service in some capacity.
The show's fans are even credited with saving lives, based on some of the techniques they saw on the show.
Emergency today remains an inspiration for many even now, some 50 years later.