Growing City Adds Two Fire Companies
September 01, 2022 | NEW JERSEY
Ron Jeffers, New Jersey Editor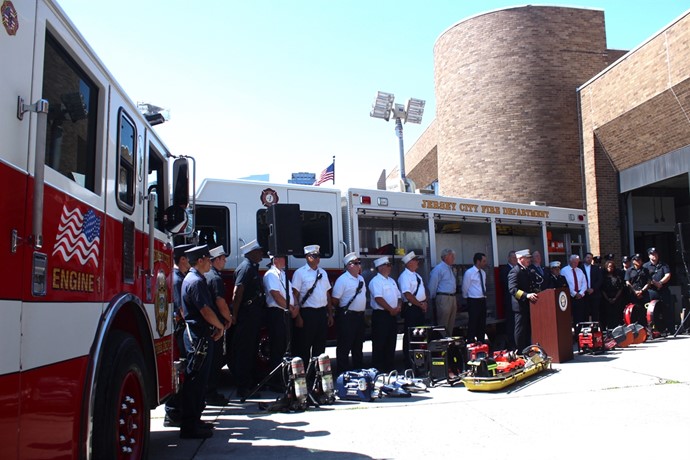 Photo by RON JEFFERSJersey City Chief of Department Steven McGill, along with firefighters and city officials, announce the opening of Engine Co. 1 and Squad Co. 1 to the media at Fire Headquarters, June 30th.
This article is a direct street report from our correspondent and has not been edited by the 1st Responder newsroom.
With the population approaching 300,000 and some 240 high rise buildings, and many more either under construction or planned, the Jersey City Fire Department has organized two additional full-time companies to its roster. The openings came with a ceremony at Fire Headquarters on June 30th.

The new units are Engine Co. 1 and Squad Co. 1. Engine Co. 1 was re-opened in January, 2021, as a part-time unit that saw duty when shift manpower was sufficient. This was on a trial-basis, and the company was open more than it was closed. Engine 1 is assigned to the Newark Avenue firehouse, downtown.

The city closed four fire companies in 1991 due to economic conditions.

"Jersey City is experiencing one of the largest renaissances in our history, and on the city-level, we are taking the steps necessary to safeguard our growing community," said Mayor Steven Fulop, at the ceremony. "Our goal is to provide our firefighters with the best possible equipment, training and resources they need to do their jobs safely and effectively, while providing essential fire protection to our residents and community," he added.

The new companies have been assigned refurbished apparatus to meet current needs and extend their service to the city.

Squad 1, a 2006 Spartan/Rescue 1 vehicle, was originally obtained through an Urban Area Security Initiative (UASI) federal grant, and it operated as a mass care response unit. The apparatus was modified by Rescue 1/PL Custom and it is now described as a "multi-task" unit.

A torque box area was assembled to carry a full ladder company compliment of ground ladders. In addition, the rig carries a full compliment of rescue tools and mass care equipment.

Squad 1's new equipment was on display at the ceremony. It has the latest battery-operated tools rather than the standard gas powered equipment, including power saws and exhaust fans. Part of Squad 1's duties will be the Rapid Intervention Crew (RIC) at fire scenes.

Currently, on a report of a high rise fire, the department dispatches four ladder companies as part of the first-alarm response. Squad 1 will replace the fourth ladder on these runs.

Squad 1, located at the Marin Boulevard fire house, downtown, has also been described as the "tenth ladder (squad) company." According to the order, it shall respond to alarms in former Truck Co. 1's (disbanded in 1991) original district. Other duties include being deployed as a UASI medical care response unit.

Jersey City also operates with a rescue-pumper assigned as Squad Co. 4, on Communipaw Avenue. Currently, Squad 4 has been assigned a former spare engine. A new rescue-pumper has been ordered. Squad 1's former white vehicle now sports a white-over-red paint scheme.

In April, the Jersey City Fire Department received a national Insurance Service Organization (ISO) rating of Class 1.

"We continue to make sure our citizens are as safe as possible," said Chief of Department Steven McGill.