Fire Captain and Grandfather Image Honored
By Ron Jeffers, New Jersey Editor | May 01, 2022 | NEW JERSEY
Story No. 041122102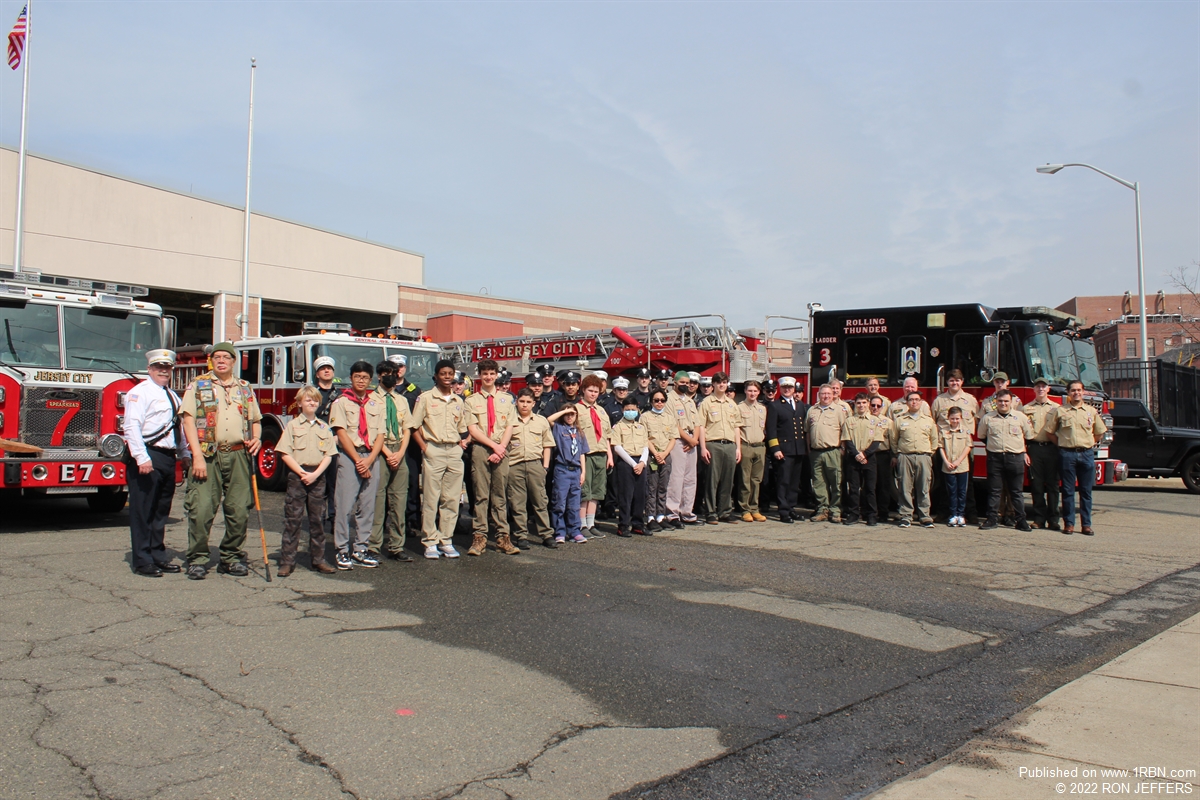 Photo by RON JEFFERSBoy Scouts of Jersey City Troop 466 and Third Battalion firefighters line up after dedicating a plaque to the late Fire Captain and Scout Master Louis Cappelluti at the Summit Avenue firehouse, March 19th.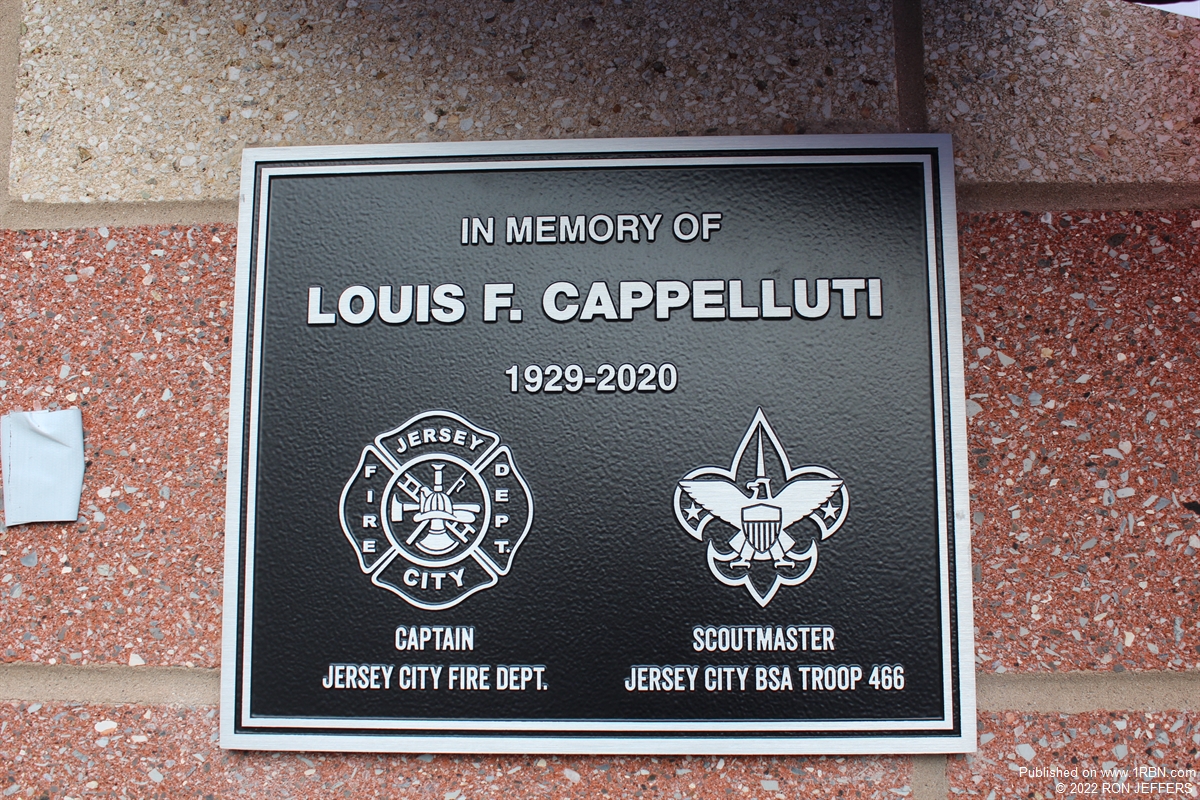 Photo by RON JEFFERS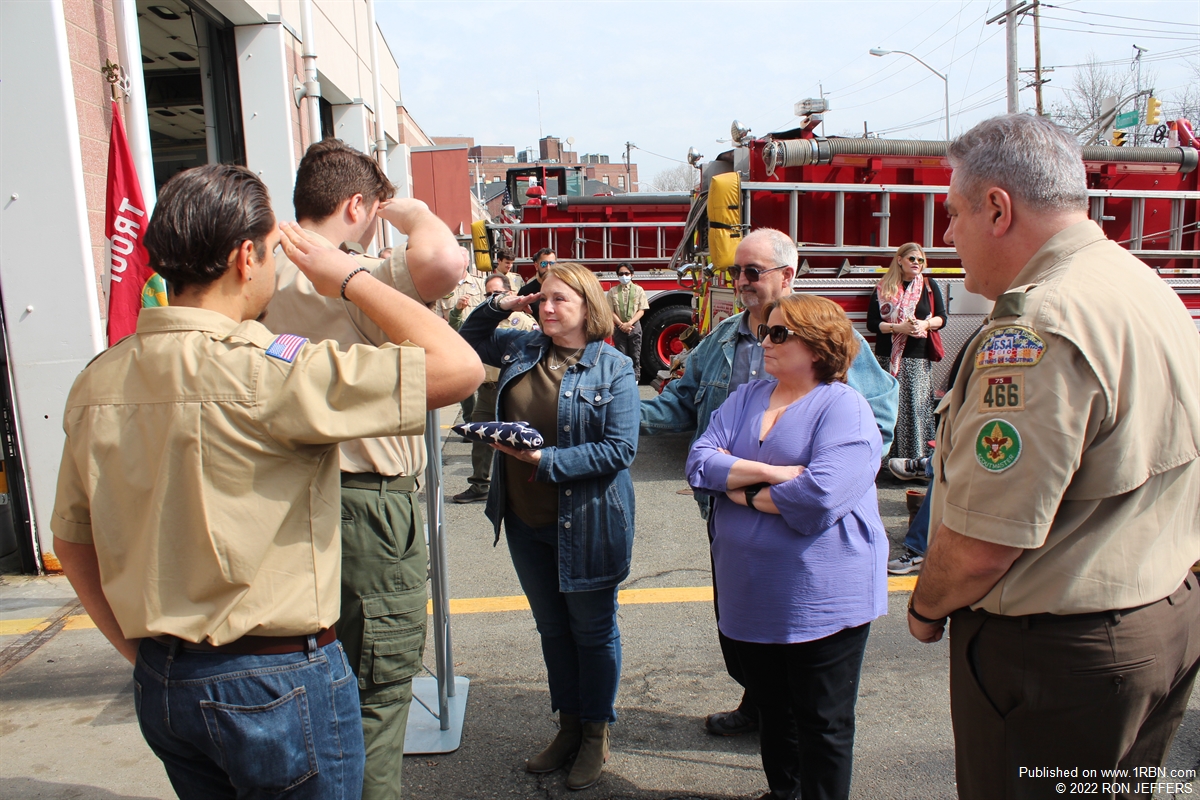 Photo by RON JEFFERS
The late Captain Louis F. Cappelluti, of the Jersey City Fire Department, touched many lives, both on the job and off. On the morning of March 19th, family, friends, firefighters and boy scouts assembled at the Summit Avenue firehouse to honor the man who dedicated years of service to the community.

Captain Cappelluti, who passed away in 2020, was the captain of Engine Co. 7, at the Summit Avenue quarters. In addition, he served as the Scoutmaster for Jersey City Boy Scouts of America Troop 466 for 45-years, ending in 2017.

On this cloudy morning, a plaque dedicated to the captain's memory was unveiled on the front of the firehouse. Current Scoutmaster Rich Peters welcomed the impressive turnout of people for the ceremony.

"Peters said Captain Cappelluti was concerned, in keeping the boys safe. He was there almost like a grandfather." Peters added, that he taught moral values and to be a good person.

Peters thanked Chief of Department Steven McGill and 3rd Battalion Chief Rich Gorman for their assistance, making the ceremony possible.

When hearing of the project, B.C. Gorman said, "We were on board. Nothing is more important than the Brotherhood of the Fire Service, and the second family of the Fire Service. We have that both, here."

Retired city Firefighter Larry Cureton remembered Captain Cappelluti from his rookie days at the fire school. "I stayed safe remembering what he taught us," he said. Cureton added, "He had a big heart. I'll always love him."

A former scout gave an emotional speech of how his dad couldn't be around and the captain, "was like a grandfather to me." "He was an amazing man."

As the sun began to peek through the clouds, Scoutmaster Peters said it was time to unveil the plaque. Two scouts did so, followed by standing ovation of the assembly.

The plaque is now part of the firehouse that is the home of Engine Companies 7 and 18, Marine Land Unit (MLU), Ladder 3 and the Chief of the 3rd Battalion.

This article is a direct street report from our correspondent and has not been edited by the 1st Responder newsroom.