HOBOKEN "WAR YEARS" FIRE VICTIMS REMEMBERED
May 01, 2023 | NEW JERSEY
Ron Jeffers, New Jersey Editor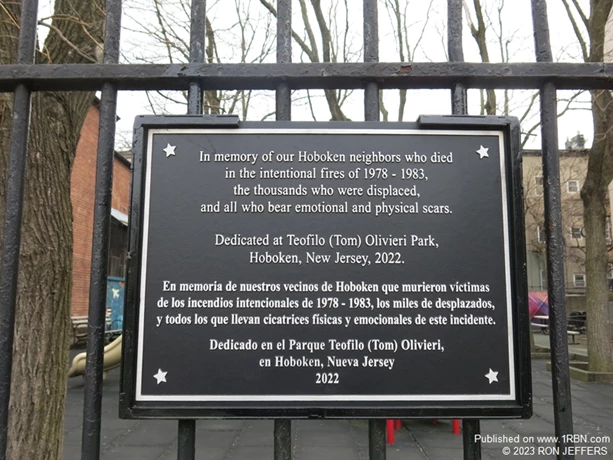 Photo by RON JEFFERSA plaque is now on display at a Willow Avenue park to commemorate the 56 lives lost in Hoboken fires between 1979 and 1982.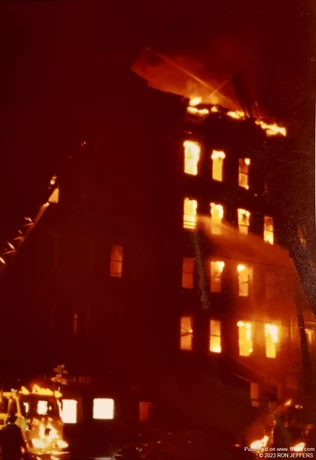 Photo by RON JEFFERSA 1979 multiple-alarm fire at 131 Clinton St., Hoboken, took the lives of 22 residents and displaced many more.
This article is a direct street report from our correspondent and has not been edited by the 1st Responder newsroom.
In the 1970's, the city of Hoboken was known as a tough blue-collar city with waterfront docks and ship yards, factories, local delis and shops; and, where everyone knew each other in their respective neighborhoods. 
During the late 1970's and into the early 1980's, in what was known in the fire service as part of the "War Years", Hoboken was also known for its fire tragedies. A series of multiple-alarm fires destroyed many buildings and took many lives between 1979 and 1982. An estimated 56 people were killed and thousands were displaced during that time. 
Most of the fires were determined to be arson in a speedy gentrification of the Mile-Square-City. 
"The demand for high-end apartments, the high number of rent-controlled buildings and weakened rent control rules are believed to be the impetus for fires, historians say," in a Jersey Journal article. "Drive tenants out, renovate, re-rent at higher price. Repeat." No one was ever charged for arson.
A 1979 fire that involved an occupied multiple dwelling at 131 Clinton Street took the the lives of 22 residents and 130 were displaced. Many of these fires started overnight and many started in the public hallway. Fire and smoke rose through the tenement hallways like a chimney. 
Some burned out tenements were in such a dangerous shape that demolition crews came in to tear down the buildings while searches were being conducted for bodies. Heavy equipment dropped debris in the middle of the street for a detailed search for missing victims. 
On the afternoon of March 12th, local officials and firefighters assembled at Tom Olivieri Park, on Willow Avenue. A Hoboken Fire Victim's Memorial Project plaque was unveiled that commemorates the 56 lives that were lost in the city fires of that time. 
In addition, the fires are subject to an exhibit, by photo-based artist and arts educator, Christopher Lopez, at the Hoboken Historical Museum.