THE WINDSORS BUT NOT FROM GREAT BRITAIN
March 01, 2023 | NEW JERSEY
John Malecky, Correspondent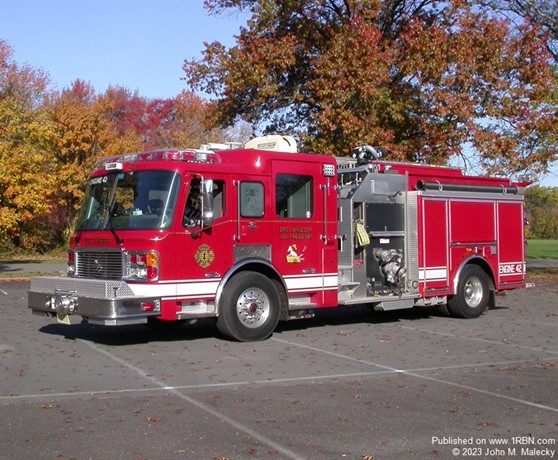 Photo by John M. MaleckyEast Windsor E-42, 2008 ALF Eagle 2000/750/25 with 12.5 kw generator.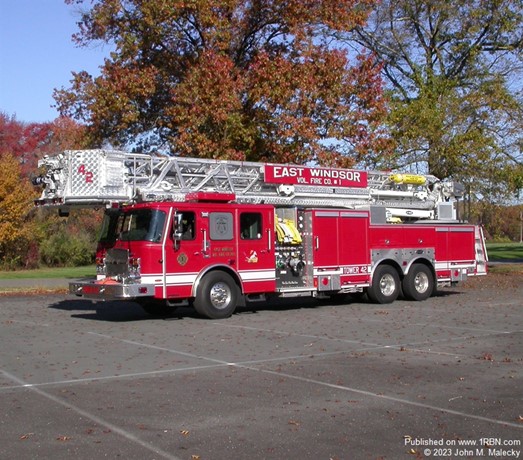 Photo by John M. MaleckyEast Windsor Tower 42, 2019 E-ONE Typhoon 2000/500/100-foot and 8 kw generator. Sold by Absolute Fire Protection.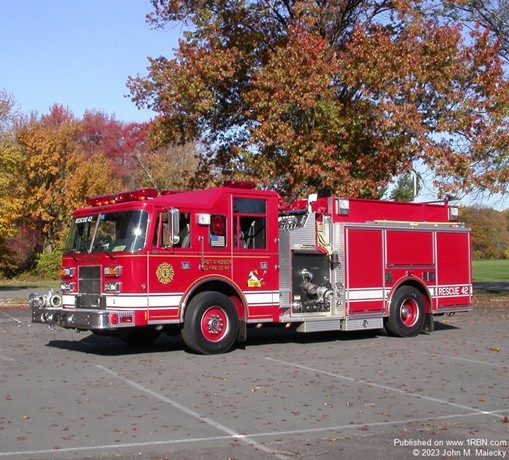 Photo by John M. MaleckyEast Windsor Rescue 42, 1998 Pierce Saber, 1250/750/30 with 6 kw generator. Sold by Fire & Safety Services.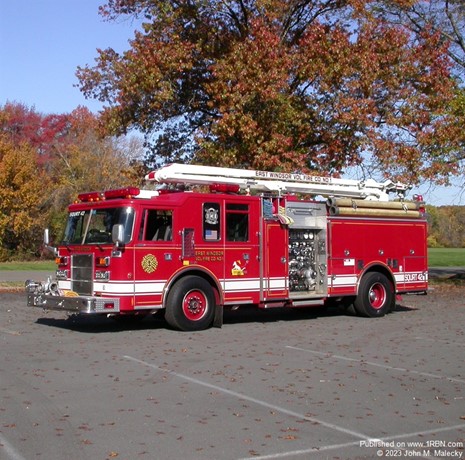 Photo by John M. MaleckyEast Windsor Squrt 42, 1994 Pierce Dash 2000/750/30 with 54-foot Squrt and 10 kw generator. Sold by Fire & Safety Services.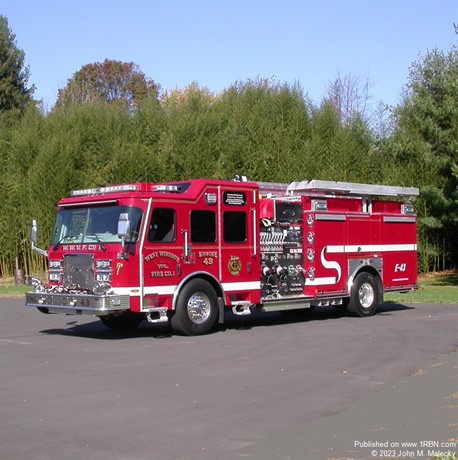 Photo by John M. MaleckyWest Windsor E-43, 2022 E-ONE Cyclone 2250/530 and 3.6 kw generator. Sold by Absolute Fire Protection.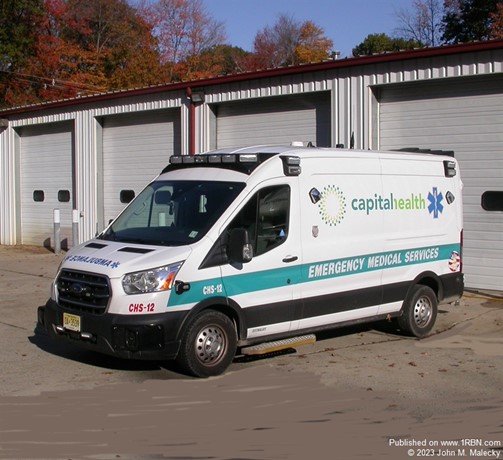 Photo by John M. MaleckyCapital Health Systems, CHS-12, 2020 Ford Transit/Malley Type II, sold by New Jersey Emergency Vehicles.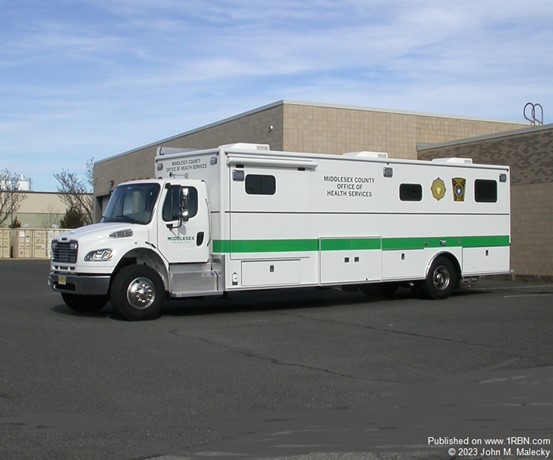 Photo by John M. MaleckyMiddlesex County OHS, Medical Exam Unit, 2022 Freightliner M2/EVI with 20 kw generator. Sold by Campbell Supply Co., LLC.
This article is a direct street report from our correspondent and has not been edited by the 1st Responder newsroom.
APPARATUS OF THE MONTH,  April 2023
By John M. Malecky                                                           
THE WINDSORS BUT NOT FROM GREAT BRITAIN
This month we are featuring most of our vehicles from the townships of East Windsor and West Windsor in Mercer County. A year ago we featured two units from East Windsor FC 2. This month we are covering East Windsor FC 1. Two of these pumpers are expected to be replaced by one vehicle in the future. In the photos, Engine 42 is a 2008 American LaFrance Eagle pumper, Tower 42 is a 2019 E-ONE Typhoon HP 100 platform quint, Rescue 42 is a 1998 Pierce Saber pumper and Squrt 42 is a 1994 Pierce Dash pumper with 54-foot articulated waterway.  Next we go to West Windsor where we show Engine 43, a 2022 E-ONE Cyclone pumper with a large pump which replaced an engine with the same size pump. If you check out the Little Big Guys for this month you will see West Windsor's Brush 43. Completing our photos for the month is a 2020 Ford Transit/Malley Type II ambulance. which is assigned to the East Windsor Township Rescue Squad building,  a volunteer station in front of the company 1 fire station. The last photo is of a Medical Examination Unit from the Middlesex County Office of Health Services. It is a non-emergency vehicle used to provide medical examinations and service to poor/low income neighborhoods throughout the county. It has a 30-foot body with two slide out examining rooms with sinks and running water, a wheel chair lift, lavatory, medical freezer and refrigerator, Big Foot stabilizing system, large awning, climate control and a power Tech 20 kw Quiet Enclosed diesel generator. It has a Freightliner chassis and EVI body.
We have learned that the East Rutherford VFD (Bergen County) has three Sutphen custom apparatus on order. A Monarch rescue pumper has recently been added to an existing order of an SL75 aerial and an SPH 100 platform. Features of the rescue pumper include a Hale Qmax 2000-gpm pump, 1250-gallon water tank, Akron bypass foam system and 30-gallon foam tank.
In dealer news, Absolute Fire Protection has made the following E-ONE deliveries: Blairstown Township (Warren County) received a Typhoon stainless steel 1500/1000 pumper, Plainsboro (Middlesex County) received a Peterbilt 567 stainless steel 2250/3250 pumper/tanker and Mantoloking Boro (Ocean County) received a MV 8, mini pumper on a Ford F-550 chassis.     
Fire & Safety Services has received the following Pierce orders: for the East Vineland FC in Buena Vista Township (Atlantic County) an Arrow XT heavy duty rescue pumper; for Seaville (Cape May County) an Enforcer PUC pumper; for Lakewood and for Toms River Township District 1 an Enforcer pumper each (both Ocean County). Pierce deliveries include to the City of Brigantine (Atlantic County) a stock Enforcer 100-foot mid-mount platform and to the Independent FC in East Brunswick Township an Enforcer pumper and to Applegarth in Monroe Township a stock Freightliner M2, 106/Pierce 1250/3000 pumper tanker which has a 30-gallon foam cell and a 10-inch dump valve with swivel. Both are in Middlesex County.
Seagrave Sales & Service has sold a pumper to the West Berlin Fire Company in Berlin Township (Burlington County). Specs include a Marauder stainless steel 141-inch cab, 10-inch raised roof, Cummins L9, 450 hp diesel engine, Meritor axles, 18-inch extended liftable and towable front bumper, 25-inch cab access compartments, Waterous CMU 2000-gpm two-stage pump, 500-gallon "L" tank, stainless steel pump module and pump plumbing, stainless steel 176-inch full depth rescue body, stainless steel conventional compartment doors, through-the-tank ladder storage, 20-inch coffin compartments, FRC LED scene lighting, front and side receiver tubes, Harrison 3.6 kw Stinger hydraulic generator, Hannay booster reel and a 207-inch wheelbase.
Campbell Supply Co.,LLC has received an order from Millburn (Essex County) for a Spartan/LTC mid-mount platform. Specs include a Gladiator MFD chassis with 10-inch raised roof cab, Cummins X-15, 605 hp diesel engine, Hale 2000-gpm pump, 300-gallon water tank and 93-foot platform. They are prepping for the Commissioners of Fire District 1, Franklin Township (Somerset County) a Spartan Metro Star MFD, extreme duty pumper with 10-inch raised roof cab, Waterous 1500-gpm pump and 750-gallon water tank. They have delivered to the Port Authority of NY and NJ (for the Washington Bridge) a Spartan Star pumper/tanker. Specs include a Metro Star MFD chassis with 10-inch raised roof cab, Cummins X-12, 500 hp diesel engine, Hale 1500-gpm pump, Foam Pro 3012 system, 2500-gallon water and 300-gallon foam tanks.
New Jersey Emergency Vehicles has delivered to the Lyndhurst Police Emergency Squad (Bergen County) a P.L. Custom Classic Type 1 ambulance on a Ford F-550 chassis with 170-inch module.  
VCI Emergency Vehicle Specialists has made the following Horton ambulance deliveries: a 553 each on Ford E-450's to the Lakewood EMS (Ocean County) and Pattenburg Rescue (Hunterdon County). Also a 553 on Ford E-450 remount to the Hampton Lakes Emergency Squad (Burlington County), a 603 on a Ford F-550 to Hampton Township Fire & Rescue (Sussex County) and a 453 on a Chevrolet G3500 to University Hospital in Newark (Essex County).