First Responder Holiday Joy Despite the Virus
By Ron Jeffers, New Jersey Editor | February 01, 2021 | NEW JERSEY
Story No. 010421108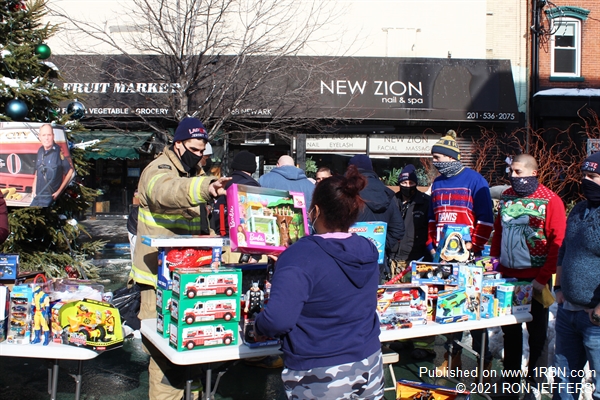 Photo by RON JEFFERSA poster with the late Jersey City Captain Mark Lee, left, watching over the toy drive in his name, on Newark Avenue, December 19th.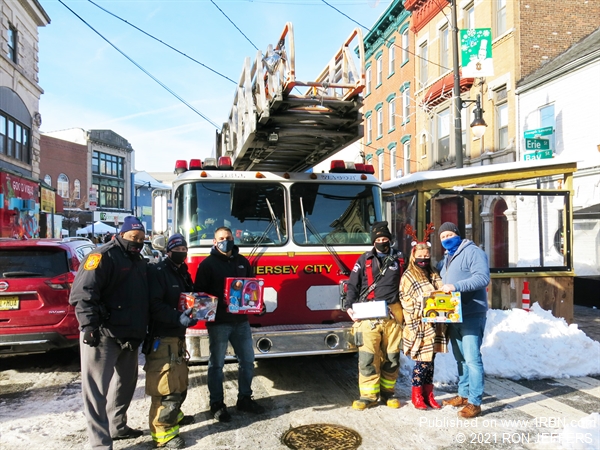 Photo by RON JEFFERSMembers of the Captain Mark Lee Memorial Toy Drive at one of their distributions sites in December. (L-R): Retired Jersey City Firefighter Larry Cureton, Captain Michael Anzivino (Ladder 11), FF Mark Lee Jr. (Engine 10), probationary FF Michael Cahill (Ladder 11), Mrs. Cheryl Lee, and Captain Chris Fodera (Engine 10).
First responders took a beating in the "non-year" of 2020 answering numerous medical calls, decon preparations and getting deconned, quarantine, and some gave the ultimate sacrifice. This, in addition to the numerous other calls for service, saving property and lives. Despite it all, New Jersey first responders continued their tradition of bringing some holiday cheer to to their respective communities.

Due to social distancing and many other rules, the holiday details were different, but went on in many localities. The new rules included drive-by's and outdoor gift giving. Holiday cheer in so many locations, and too numerous to mention all.

The owner of Iconic Barber, in Glen Rock, Casey Terramolla, collected hundreds of toys for about three weeks for Paterson firefighters to give out to local children, after hearing about a holiday toy drive by a city firefighter. A retired Paterson firefighter filled his pickup truck with toys that Terramoccia and his staff had collected from his generous clientele. The Paterson F.D. members held a "Gift Giving First Responders Motorcade" on Dec. 23rd.

There were drive-by gift distributions in places like Ridgefield. Paulsboro first responders conducted a drive-by holiday parade passed a local hospital.

In Newark, Santa Claus climbed up an aerial ladder to see pediatric patients from outside their windows at Newark Beth Israel Medical Center & Children's Hospital of New Jersey. St. Nick was joined by former New Jersey Devils players Bruce Driver and Grant Marshall as well as the team mascot. Devils hats and other gifts were delivered to patients and front-line healthcare workers.

Englewood firefighters teamed up with the State Police and the Kisses for Kyle Foundation to visit a city family with a child battling cancer.

Garfield firefighters learned that a displaced family of four, due to a recent major fire in nearby Passiac, were relocated to Garfield. Firefighters made contact with the social worker who placed them in Garfield and arranged a visit from Santa to to see them on December 23rd. Through donations, they acquired toys for three children, clothes, a new purse and wallet for mom and over $1500 in grocery cards, clothing cards and a check of donations received from numerous families that was matched by Garfield Co. 3. Company 1 transported Santa for the visit.

Since 1985, members of Jersey City Engine Co. 10 and Ladder Co. 12 have collected toys for local, underprivileged children, in order for them to have a Christmas. That tradition has carried on as members retired and younger firefighters continued the work. For some 27-years, Captain Mark Lee, of Engine 10, led the FDJC Christmas drive. He put his heart into his work. He was friendly, selfless, and a man who enjoyed Christmas, his family, his job and helping others.

Captain Lee died in 2014 due to complications from his many hours spent at Ground Zero after the 9/11 attack at the World Trade Center.

Captain Lee's wife Cheryl and his son, Firefighter Mark Jr. of Engine Co. 10, took over and became the new force behind the toy collection and distribution to needy families in the city.

Toys were collected this year by firefighters and friends, but due to COVID-19 there was no wrapping party, and distribution of toys was done over December weekends in various parts of the city. Some special personal visits were done during the week to families that could not make it to a distribution location.

One of the Captain Mark Lee Memorial Toy Drive distribution sites was located along the Newark Avenue pedestrian walk, near Bay Street and the Gong Club quarters, on December 19th. Parents and children, in a social distance line, approached the firefighters bearing gifts to pick out a favorite toy to take home. The street was filled with little, happy faces on the sunny and chilly Saturday morning. The toys were distributed in front of a city Christmas tree all decorated in the middle of Newark and Bay. On the tree was a large poster of Captain Lee in front of Engine 10. He was also looking down from Heaven with approval and knowing that the Christmas drive continues. Cheryl Lee enjoyed walking around welcoming and talking to children and their parents as they waited in line for their turn to choose a gift.

Parents, leaving with a gift, were overheard describing Jersey City firefighters as,"They're the best."

During Christmas tours of fire trucks and Santa and his helpers across the state, parents were heard saying, "Thank you!".

All of the state's first responders, that worked in a most difficult year, who brought joy to those in need, are all The Best.

This article is a direct street report from our correspondent and has not been edited by the 1st Responder newsroom.