Two People Killed in Upper Macungie Dump Truck Rollover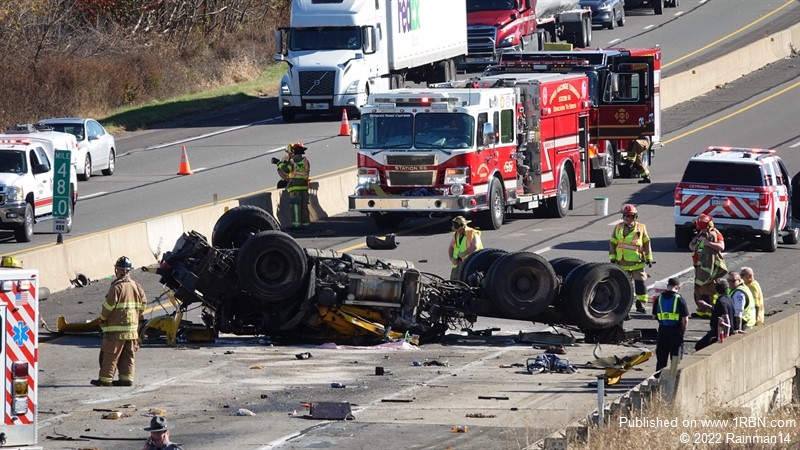 Photo by Rainman14The cab of the dump truck ended up overturned after the dump bed struck an overpass, killing both occupants.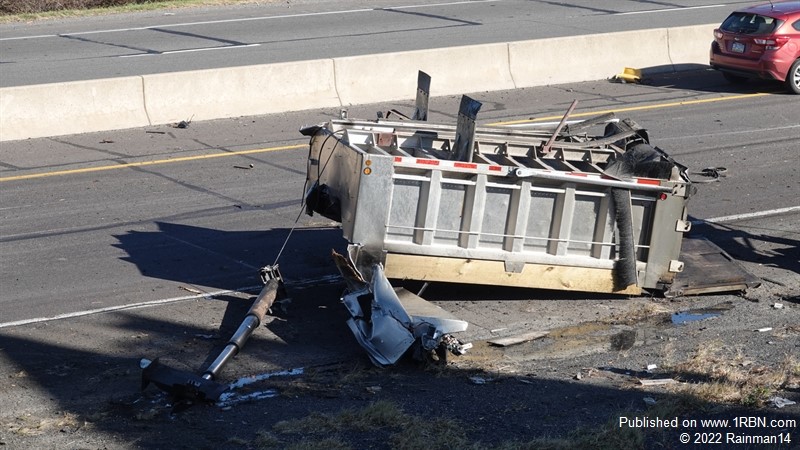 Photo by Rainman14The dump bed became disconnected from the cab after it struck the overpass.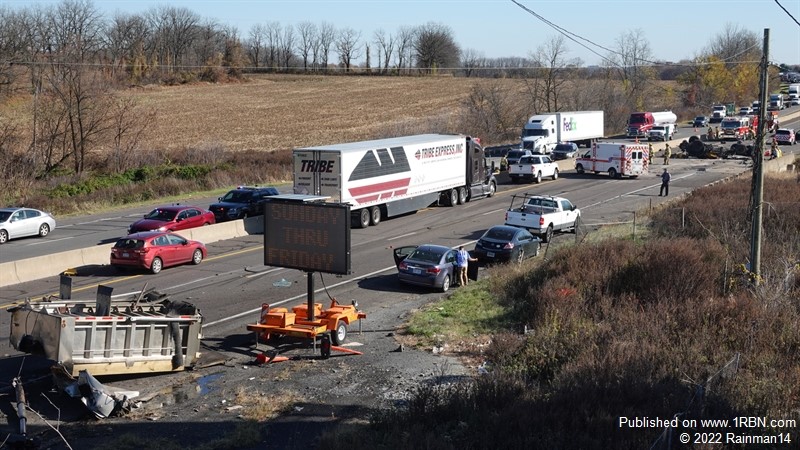 Photo by Rainman14The full scene of the accident spanned hundreds of feet.
This article is a direct street report from our correspondent and has not been edited by the 1st Responder newsroom.
UPPER MACUNGIE TWP., PA - At 9:52 A.M. on November 7th, all three Upper Macungie Township fire stations, along with Weisenberg Fire Co. Engine 5111, were dispatched to I-78 Eastbound at Mile Marker 48 for a reported MVA with entrapment. Multiple callers reported a dump truck that rolled multiple times with an occupant trapped inside. Callers also reported that the cab of the vehicle was disconnected from the chassis.

With traffic completely gridlocked, incoming companies were advised to stage at Route 100 and prepare to come in the wrong way down the highway. EMS arrived and reported heavy entrapment. With the report from EMS, a second heavy rescue was requested and all units were advised to come westbound in the eastbound lanes.

Fogelsville Fire Co. Engine 811 arrived in the westbound lanes and crews jumped the barrier to begin work on the vehicle. 5102 confirmed a dump truck that was on its roof, and that they were unable to make contact with the occupant. 5102 assumed command and recalled the second rescue after determining that the occupant was Class 5. Several fire police units were utilized to close down I-78 for an extended period of time.

Trexlertown Fire Co. Rescue 2541 and Upper Macungie Station 56 Inc. Engine 5611 arrived on scene and stood by with the other companies until the victim could be recovered. A heavy wrecker was requested to assist with the recovery. Crews also treated a large fuel spill from the vehicle. Several hours into the incident, a second occupant was found in the vehicle and they were also determined to be a Class 5.

The interstate was closed for several hours until investigation and cleanup of the incident was complete. A Pennsylvania State Police investigation determined that the dump bed was in an up position and struck the Adams Rd. overpass, causing the truck to rollover and the dump bed to be disconnected from the cab. The truck was towing a trailer with skid steer that also became detached. No other vehicles were involved in the accident.