Three Alarms Called at Mahanoy City Row Home Fire
By JC KRIESHER, Senior Correspondent | November 21, 2020 | PENNSYLVANIA
Story No. 120120101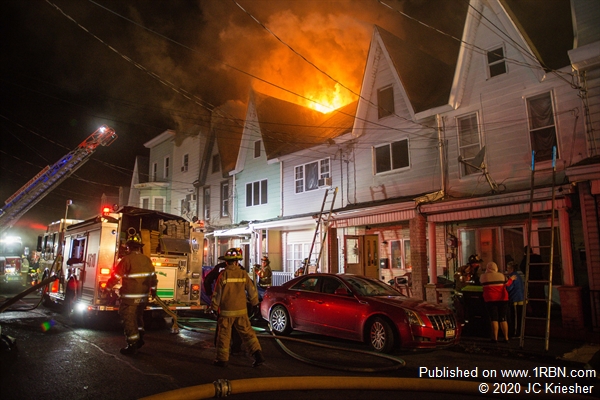 Photo by JC KriesherFlames escape from the roof while smoke pushes from multiple addresses on East Pine St. in Mahanoy City. The fire escalated to a third-alarm.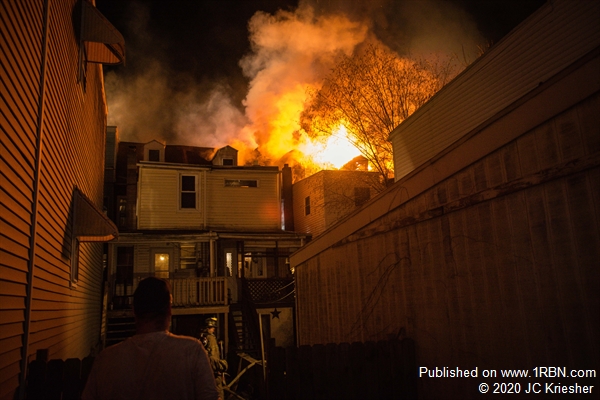 Photo by JC KriesherFlames quickly spread to multiple homes.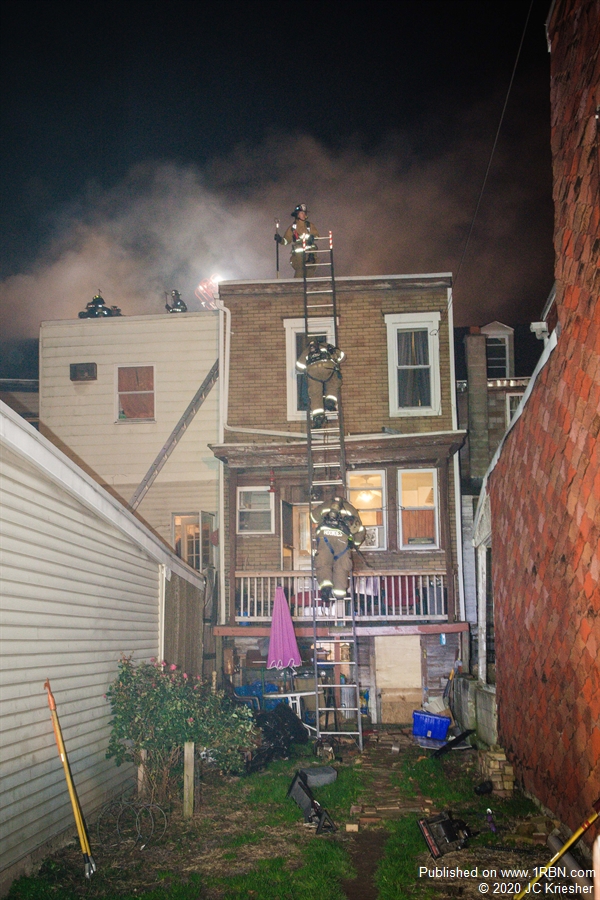 Photo by JC Kriesher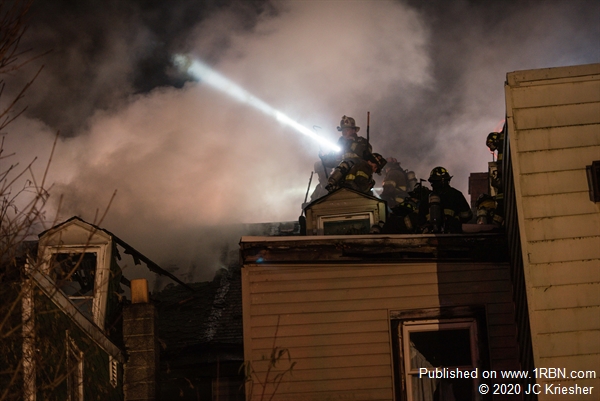 Photo by JC Kriesher
Mahanoy City, PA – At 6:35 P.M. on Saturday, November 21st, Schuylkill County 9-1-1 sent out the first alarm assignment to the 700 block of East Pine Street in Mahanoy City for a reported house fire.

First responding units were advised of a report of smoke pouring out of a house in the 700 block. Police arrived on scene and confirmed a working fire to the rear in the middle of the block of around 20 rowhomes.

Engine 48-10 arrived to take the address on Pine Street, where smoke was pushing out of multiple residences throughout the line of rowhomes, and secured water from a hydrant with Engine 48-15. Engine 48-12 and Tower 48-20 took the rear of the row on Market Street, where they secured a water supply. Ladder 48-25 took the West side of the row on Pine Street.

A Rapid Intervention Team from Englewood was dispatched as crews began to stretch on the fire. A second-alarm was then struck a few seconds later.

The second-alarm included Frackville, Shenandoah (Columbia and Rescue Hook & Ladder), Ryan Twp., Girardville, Tamaqua Rescue, RIT from Pottsville and Rehab from L&L in Carbon County.

Engine 64-10 laid in from 6th and Pine while Tiller 64-25 went to the Market Street as Tower 48-20 repositioned to Pine Street. Ground ladders were thrown on both sides of the row and crews went to the roof to begin trenching.

At 6:51 P.M., Chief 48 transmitted a third-alarm. The third-alarm included Altamont, Hometown, Ringtown, McAdoo, Minersville Fire-Rescue and Hazle Township. As additional units began to arrive on scene they were directed to form a manpower pool in the front of the row on Pine Street.

Crews stretched additional lines into the exposures as the roof crews opened up. Homeowners could be seen removing sentimental belongings from further down the row, as it was still unsure how far the fire would travel.

Once the roof was opened up, the interior crews made good headway and the fire was brought under control approximately an hour after the initial alarm.

The American Red Cross was requested to the scene to help the multiple families that were displaced, as nearly 10 homes were damaged by smoke, fire, or water.

A State Police Fire Marshal was requested to respond to aid with the investigation.

Second and third alarm crews began to be released after 8:00 P.M., with all units clear of the scene by 10:00 P.M.
This article is a direct street report from our correspondent and has not been edited by the 1st Responder newsroom.