5 Alarm Wind-Driven Fire Consumes Multiple Structures in Mystic Harbor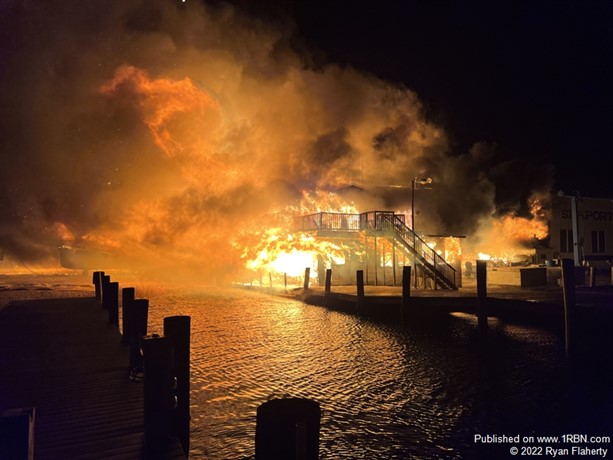 Photo by Ryan FlahertyFirst arriving crews battled multiple buildings fully involved under ferocious wind conditions.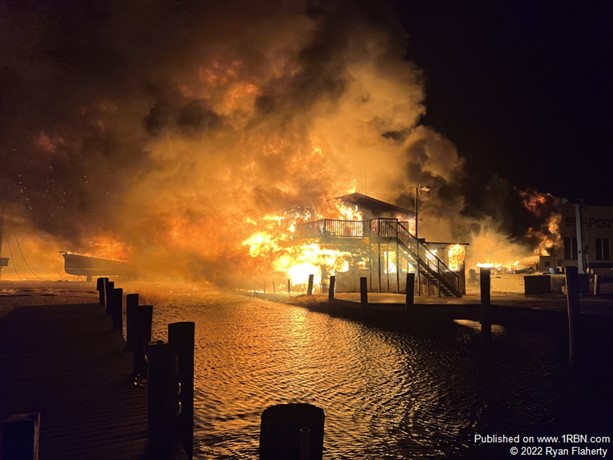 Photo by Ryan FlahertyThe fire immediately consumed everything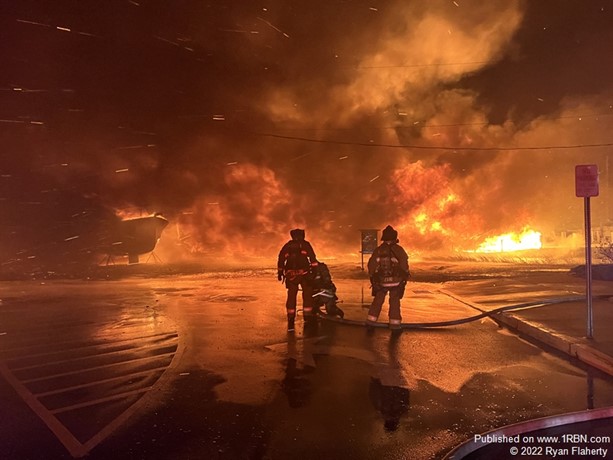 Photo by Ryan FlahertyFirefighters setting up a blitz fire.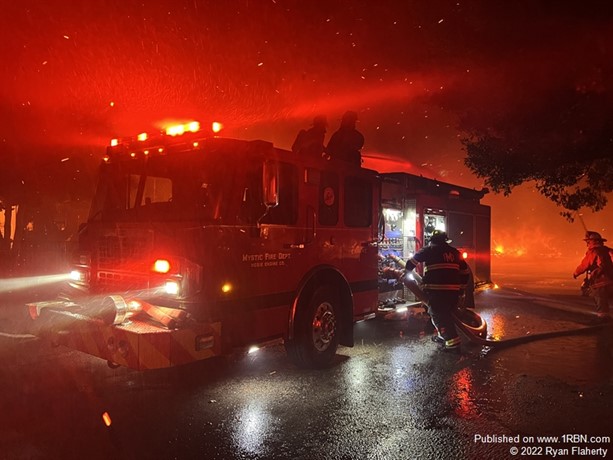 Photo by Ryan FlahertyFirst due Mystic Engine 51, a 2019 Spartan/Marion which has a 500 gallon tank and 1,500 gallon per minute pump.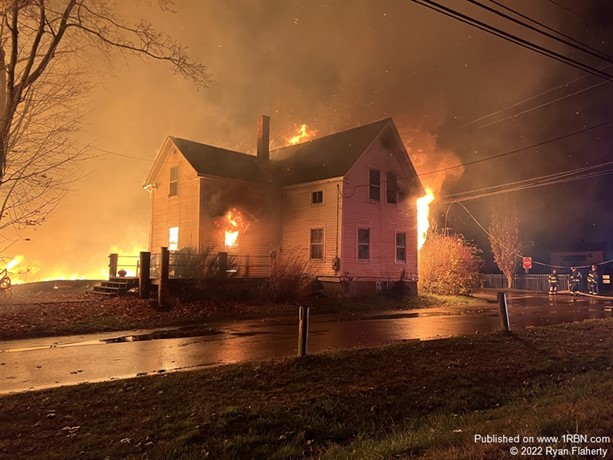 Photo by Ryan FlahertyPeople escaped this home just before it caught fire.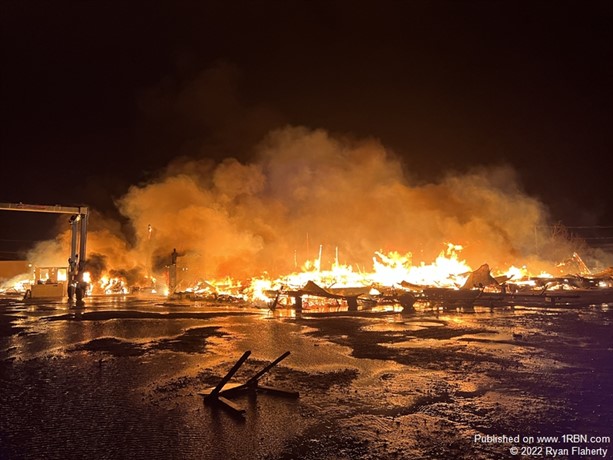 Photo by Ryan FlahertyMost of the buildings completely collapsed by the end of the night.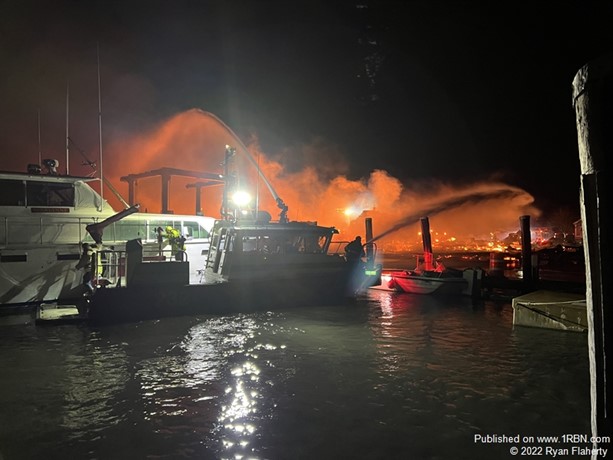 Photo by Ryan FlahertyMystic's fire boat.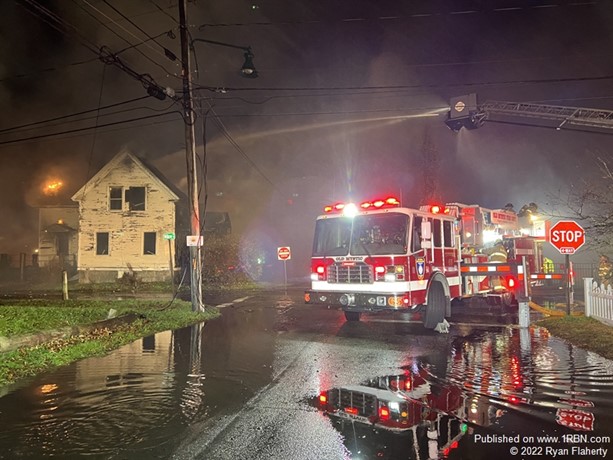 Photo by Ryan FlahertyOld Mystic Tower 65 with Groton Truck 15's platform above them.
This article is a direct street report from our correspondent and has not been edited by the 1st Responder newsroom.
MYSTIC HARBOR, CT - At 8:57 P.M. on Sunday, November 27th, the Mystic Fire Department was dispatched to 2 Washington Street at the Seaport Marine building for flames coming from the structure.

Groton Fire Alarm said they were receiving multiple calls for heavy fire and upgraded to the Box Plus assignment, which added Old Mystic Engine 62, Sub Base FAST, Groton Ambulance and Medic 12. Engine 51 arrived at 9:00 P.M. reporting a fully involved building spreading to other structures and transmitted the second-alarm. Engine 51 led off with their deck gun and crews stretched hand lines to protect exposures.

The police department started evacuating exposures while firefighters mounted an aggressive attack to prevent the fire from jumping across the street to neighboring homes. Command transmitted the third-alarm at 9:04 P.M. as the wind-driven fire quickly consumed multiple exposures. Truck 55 originally set up on Contrell Street and flew it off the rear while using the ladder pipe.

The second and third alarms added Old Mystic Tower 65, Poquonnock Bridge Engine 32, Ledyard Engine 13, North Stonington Engine 11, Quiambaug Engine 31, Noank Engine 42, Pawcatuck Truck 45, Gales Ferry Engine 21, Rescue 27 and the Mohegan Tribal FAST. Chief Manfredi had command and transmitted the fourth-alarm at 9:11 P.M. The fourth-alarm brought a Westerly Engine, Poquonnock Bridge Truck 35, City of Groton Truck 15, Waterford Rescue 57 and New London FAST. Command also requested some tankers to stage by the post office, so North Stonington, Center Groton, Ashaway and Gales Ferry were started.

Twenty-two minutes in, command reported a partial collapse of a building in the front. Old Mystic Truck 65 and Groton Truck 15 set up on the corners of Washington Street and Willow Street. Sub Base Engine 62 was put to work wetting down exposures, so command requested two additional FASTs. Groton Fire Alarm started Pawcatuck and Norwich as the fourth and fifth FASTs.

Mystic's fire boat set up on the 'Charlie/Delta' corner and hit it from the rear with two monitors. The boat also fed a five-inch line to Truck 55 when they repositioned to the back parking lot. Old Mystic Engine 61 pulled a draft from the Mystic River, which helped supply the scene. Canteen 1 responded to provide refreshments. Crews were on scene throughout the night wetting down multiple buildings that collapsed, as well as some boats that had been on shore. The Mystic Fire Marshal's Office is investigating.

Laurel Hill Engine 62 covered Mystic Headquarters while East Great Plain Ladder 5 and Voluntown Tanker 353 covered Old Mystic. Flanders Truck 25 covered Poquonnock Bridge.