Chief George Schoenrock Was An Asset to the Fire Service
By RON JEFFERS, New Jersey Editor | November 24, 2020 | NEW JERSEY
Story No. 112420108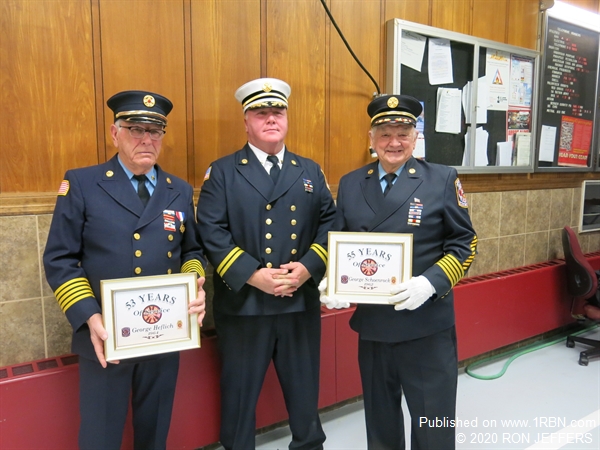 Photo by RON JEFFERSSecaucus ex-Chief George Schoenrock, right, when he received his 55-years of service award from the South Bergen Fire Chief's Association.
George Schoenrock served Secaucus as a volunteer firefighter and as a chief for 58-years, as well as being involved in many community activities. He was well known around the state in his capacity as a Safety Coordinator for PSE&G, training firefighters on handling compromised electrical power line incidents.

Chief Shoenrock passed away on October 31st at the age of 84, which saddens the Secaucus and fire service communities. He was a member of Rescue Co. 1 and Engine Co. 2 on Paterson Plank Road.

Schoenrock worked for PSE&G for 44-years, retiring in 1999. He also served Secaucus as the local fire department liaison to the Office of Emergency Management. Many firefighters knew him through his position as Chief Instructor and Director of the North Jersey Volunteer Firemen's Association Training Center in Wayne.

In 1955, he joined PSE&G laying cables underground. He became its first safety officer after nearly getting killed on the job.

"He would go down the manhole and he got electrocuted when he was helping somebody else," said his wife, Connie. "He took off his glove and his wrist hit the wire. He was knocked unconscious and they had to get a rope and pull him out of there. He was in the hospital a day or two. And that's why they probably made him a safety conductor; because he knew first hand what not to do."

In Secaucus, he started a fire prevention program in schools, teaching students the "Stop, Drop and Roll" drive. He got the children involved in activities such as drawing fire prevention posters, judging them and presenting winners with certificates and prizes. In addition, he conducted fire prevention lectures to local businesses.

Chief Shoenrock served in so many fire related organizations, some as a life member, that they are too numerous to mention. Some highlights include being a member of the International Association of Fire Chiefs, NJ/NY Volunteer Firemen's Association, South Bergen Chief's Association, Hudson County Fire Chief's Association and the Hudson County Fire Prevention Association. In addition, he was an executive board member of the North Jersey Volunteer Firemen's Association.

Chief Schoenrock was awarded "Citizen of the Year" for 2011-12 by the local chapter of UNICO National, the service organization of Italian Americans. In 1997 he received the PSE&G Award of Valor for rushing into a burning building across the street from his office and putting out the fire. In 1977, brewer Schlitz presented him with the NJ State Firefighter of the Year Award.

He served in the chief position twice, and he is the only member of the S.F.D. to hold five different chief ranks. He served as second and first assistant chief before becoming the chief of department. In later years, the S.F.D. changed the rank designations and Schoerock served as battalion and deputy chief, before becoming the chief, again.

"He was always caring, but could be very funny making us laugh," said Richard Dean of the North Jersey VFA and Butler Fire Department.

"He was a firefighter till the end," said Mayor Mike Gonnelli. "Chief Schoenrock went to every firefighting meeting. He was at every council meeting. He did not miss one."

Fire Chief Carl Leppin said George had been a life-long mentor.

Deputy Chief Joe Schoendorf said George's zest for the job belied his age.

"He was 84, but he was regularly coming to the firehouse, putting on gear, jumping on the fire rigs and responding to calls with all of us," said Schoendorf.

Chief Schoenrock was also described..."as a big rock to the fire service for well over 55-years, and to the North Jersey Volunteer Firemen's Association," by NJVFA President Victor J. France.

He loved being a firefighter, a teacher, and he was always a gentleman.

This article is a direct street report from our correspondent and has not been edited by the 1st Responder newsroom.