Leaking Barrels Prompt Local Response in Gadsden
By JAMES ROBERTS III, Correspondent | October 20, 2020 | FLORIDA
Story No. 110420102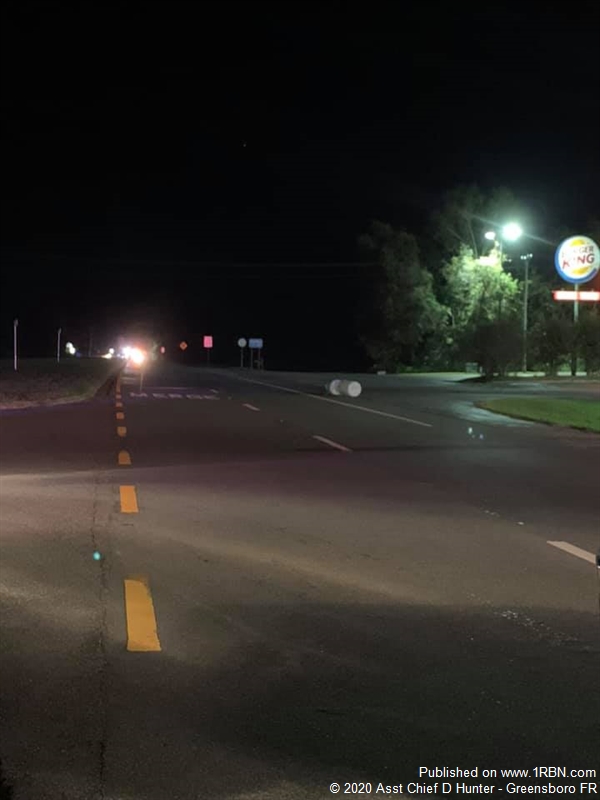 Photo by Asst Chief D Hunter - Greensboro FRInitial picture of scene with 2 plastic 55-gallon drums on their sides.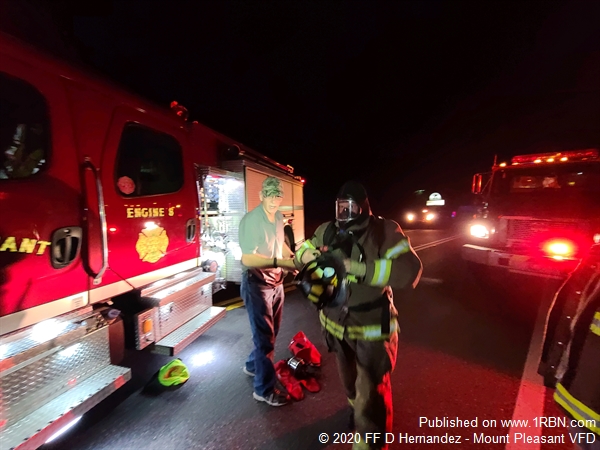 Photo by FF D Hernandez - Mount Pleasant VFDMount Pleasant Assistant Chief Clay Fallis preparing to go down range.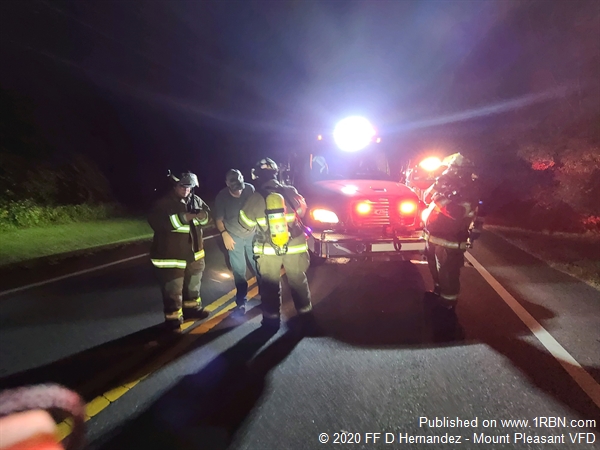 Photo by FF D Hernandez - Mount Pleasant VFDMount Pleasant Firefighter Jim Roberts (w/ SCBA) providing information to the IC on what was found downrange and comparing to information obtained from SDS and TFD HazMat.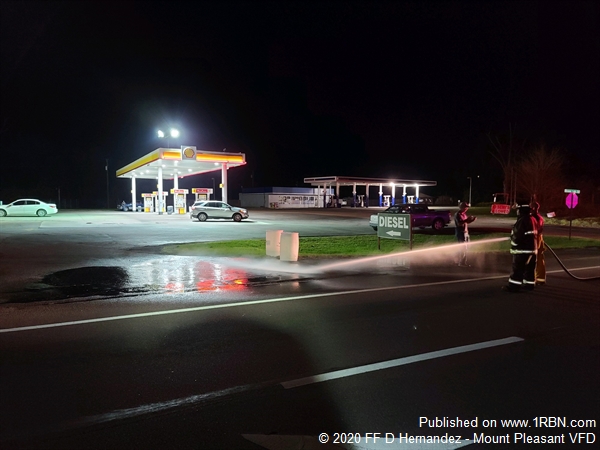 Photo by FF D Hernandez - Mount Pleasant VFDGreensboro Firefighters Cody Henderson and Roger Hostetter conducting the wash down.
Gadsden, FL - On October 20th, Greensboro Volunteer Fire Rescue and Mount Pleasant Volunteer Fire Department were dispatched to a Hazardous Materials Incident with an unknown type chemical spill on the roadway in front of 3314 Greensboro Hwy (SR 12), just north of Interstate 10.

Prior to arrival of fire personnel, a passerby that moved two 55-gallon barrels to the side of the road, began experiencing a medical issue and was treated by Gadsden County EMS.

Greensboro Fire Chief Doug Stiles established command and began the process of setting up the hot zone, isolating the area which involved shutting down State Road 12, and assigning tasks to incoming units. Mount Pleasant personnel were assigned with investigating the scene and identifying the labeling on two 55-gallon drums that were on their side, with one leaking a greenish liquid. Greensboro personnel were assigned as the RIT. Command requested that the Tallahassee FD HazMat team be placed on stand by as well as law enforcement for traffic control.

Mount Pleasant Assistant Chief Clay Fallis and Mount Pleasant Firefighter Jim Roberts donned air packs and went downrange to investigate and identify the product labels and report back to the IC. Upon investigation Assistant Chief Fallis and Firefighter Roberts reported that the drums were labeled "Benefect DECON 30". Further investigation found that the product was disinfectant made of botanical thyme oil and a subsequent check of the manufacturer's (Benefect) website by Mt. Pleasant and Greensboro personnel confirmed the product safety data sheet (SDS) that indicated the HMIS ratings as Health - 0 / Flammability - 0 / Reactivity - 0.

Command was also able to confirm with Tallahassee FD HazMat personnel that the substance was non-hazardous and did not require PPE. The SDS indicated that it could be washed down with water and Greensboro personnel conducted the wash down.
This article is a direct street report from our correspondent and has not been edited by the 1st Responder newsroom.