Pasco County Fire Rescue Responds to Hazmat Incidents in Land O' Lakes and Zephyrhills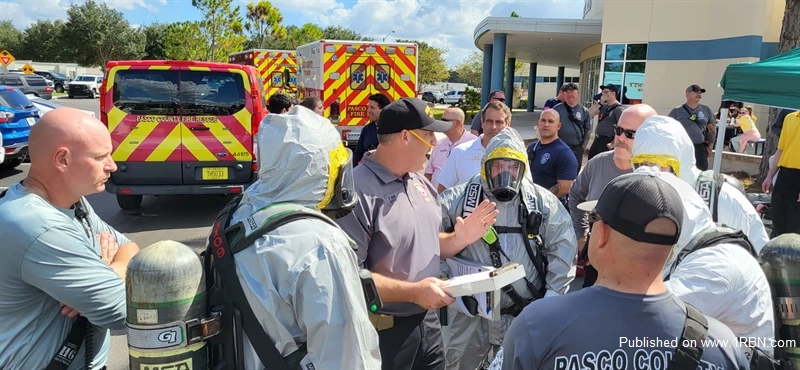 Briefing prior to entry into the hazard zone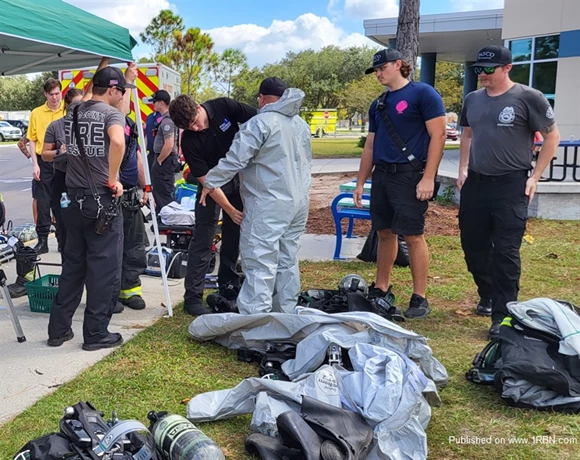 A member of the Haz-Mat team suiting up for entry.
This article is a direct street report from our correspondent and has not been edited by the 1st Responder newsroom.
Land O' Lakes, October 25, 2023 - In a testament to their unwavering dedication, Pasco County Fire Rescue, alongside Pasco Sheriff's Office and mutual aid assistance from Hillsborough County Fire Rescue, demonstrated exceptional professionalism during two back-to-back hazardous materials incidents this week. The incidents, involving a suspicious substance and a chlorine leak, emphasized the critical role our local first responders play in ensuring the safety and well-being of our community.
The first incident occurred on October 24th, when a suspicious substance was discovered at Land o' Lakes High School, prompting an immediate response from Pasco County Fire Rescue's specialized Hazardous Material Response Team and Pasco Sheriff's Office. Their swift and coordinated efforts swiftly resolved the situation, reassuring the school community.
However, the challenges for our first responders did not end there. The very next day, a chlorine leak occurred at a different location in the City of Zephyrhills, necessitating an urgent response. Pasco County Fire Rescue's expert Hazmat team, equipped with specialized training and equipment, promptly contained the leak, preventing any potential harm to the area.
Additionally, two days in a row, Land o' Lakes High School received suspicious packages, raising concerns and requiring immediate attention from our local authorities. Pasco County Fire Rescue, Pasco Sheriff's Office, and Hillsborough County Fire Rescue worked seamlessly to investigate the packages, ensuring the safety of all involved.
"We commend the bravery and professionalism exhibited by our Pasco County Fire Rescue team and Pasco Sheriff's Office, as well as our colleagues from Hillsborough County Fire Rescue. Their ability to respond swiftly and effectively underscores their dedication to our community's safety," stated Anthony Perez, Fire Chief at Pasco County Fire Rescue.
These incidents serve as a reminder of the unpredictable nature of emergency response work. Our local heroes, supported by their extensive training and commitment to public safety, alongside our mutual aid partners, remain vigilant and prepared to handle any situation that arises.