'Never Forget Walk' held in Hershey
August 28, 2021 | PENNSYLVANIA
KEN SNYDER, Correspondent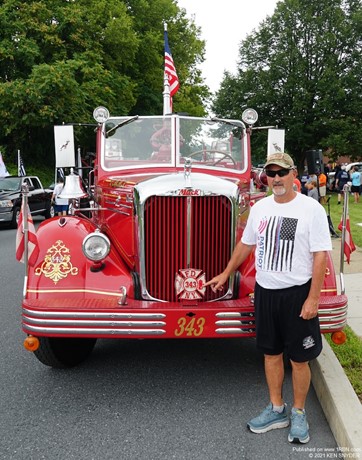 Photo by KEN SNYDERFrank Siller stands in front of this commemorative Engine 343 which was used at this parade.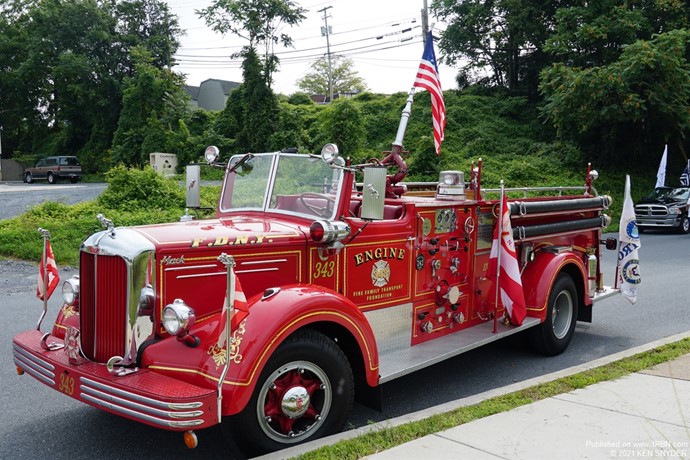 Photo by KEN SNYDERReady for the parade was this commemorative Engine 343 honoring the 343 FDNY members that made the supreme sacrifice on 9/11.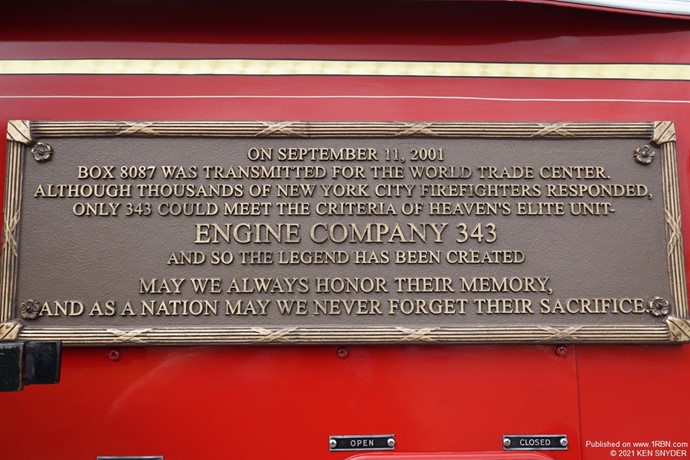 Photo by KEN SNYDERThe dedication plaque on Engine 343.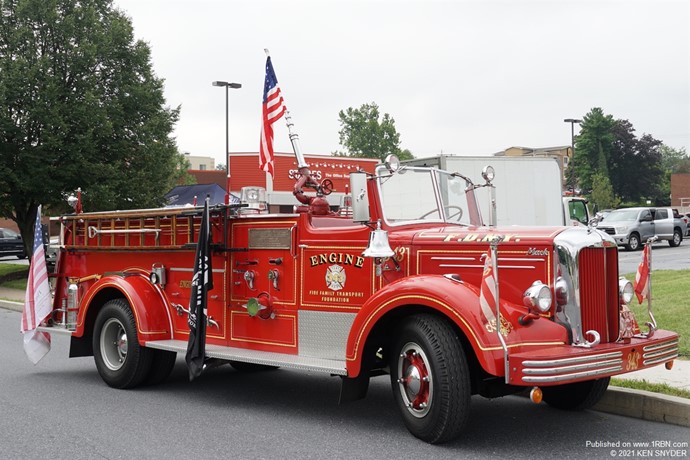 Photo by KEN SNYDERThe commemorative E 343 is ready for the parade.
This article is a direct street report from our correspondent and has not been edited by the 1st Responder newsroom.
HERSHEY, PA - On August 28th, the 'Tunnels to Towers Foundation' held their 'Never Forget Walk' down Chocolate Ave. leading to Hershey's firehouse about a mile away. Their Chairman and CEO is Frank Siller, whose brother Stephen ran with Brooklyn Squad 1, paid the supreme sacrifice on September 11, 2001 at the World Trade Center. That morning, Stephen Siller had just finished his tour and was going to play golf with his brothers when he heard on his scanner a plane had crashed into the WTC. He returned to the station, picked up his 60 pounds of gear and then proceeded to the Brooklyn Battery Tunnel. For security reasons the tunnel had already been closed, so he ran thru the tunnel and eventually arrived at the scene. Later his name was placed on a 'can't find' list and was never heard from again. Stephen's parents were lay Franciscans who grew up with this guiding philosophy "while we have the time, let us do some good". These are the words that Stephen Siller lived by.

Tunnels to Towers hosts a series of events to inspire unity and honor for the victims of the 20th anniversary of 9/11. The first of these events is the 'Never Forget Walks', others are listed on their website T2T.org . Frank Siller will walk about 537 miles, from the Pentagon to ground zero, which includes six states and will take six weeks to complete.

The Hershey parade started at 11am and finished in the parking lot of the Hershey Theater. Starting in the parade was the DC car from the HFD, followed by the honor guard of the PSP, Frank Siller and his marchers, followed by bands, support vehicles from TtoT and local fire apparatus and police units. The parade ended with a dedication ceremony and an unveiling of a 9/11 sculpture of a firefighter and a policeman kneeling in front of WTC debris. A BBQ was served by retired FDNY firefighters.