During Pandemic, Protecting Both Responders and the Public Requires a Special Touch
By EDWARD LUNDQUIST, Correspondent | September 01, 2020 | FLORIDA
Story No. 090120101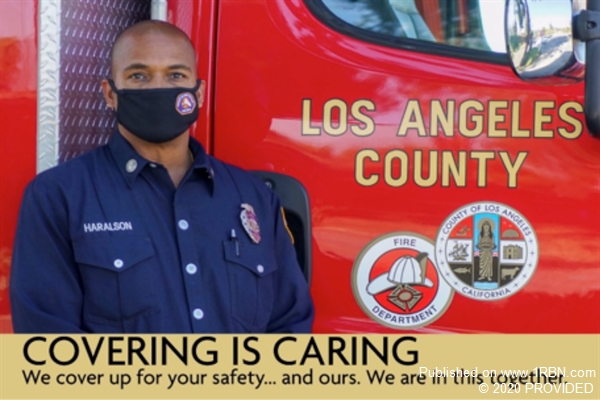 Photo by PROVIDEDLos Angeles County Fire Department Capt. Ronald Haralson, a 28-year veteran of the department, took to Twitter with this message: "During this pandemic, it's important to provide safety messages & continue our mission of protecting lives and property." (LACFD)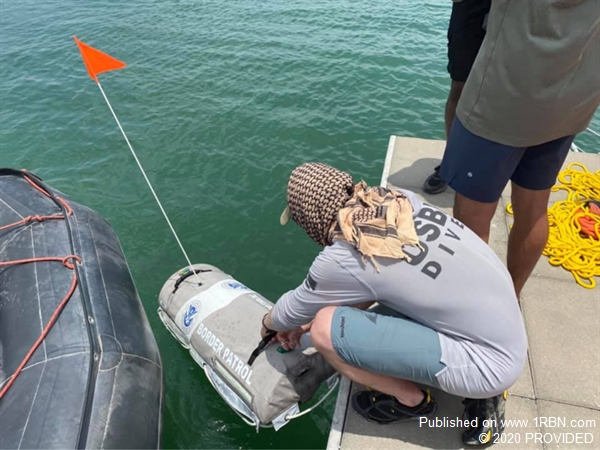 Photo by PROVIDEDResponders are using remote controlled rescue systems like the Hydronalix E.M.I.L.Y. (Emergency Integrated Lifesaving Lanyard) to conduct touch-free rescues.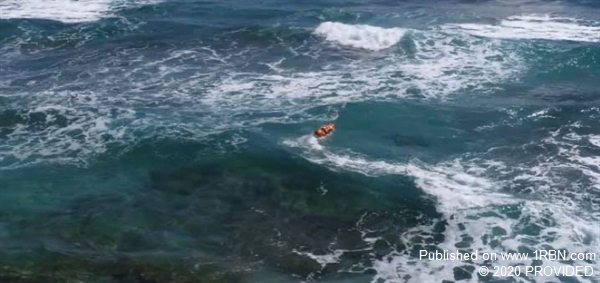 Photo by PROVIDEDResponders are using remote controlled rescue systems like the Hydronalix E.M.I.L.Y. (Emergency Integrated Lifesaving Lanyard) to conduct touch-free rescues.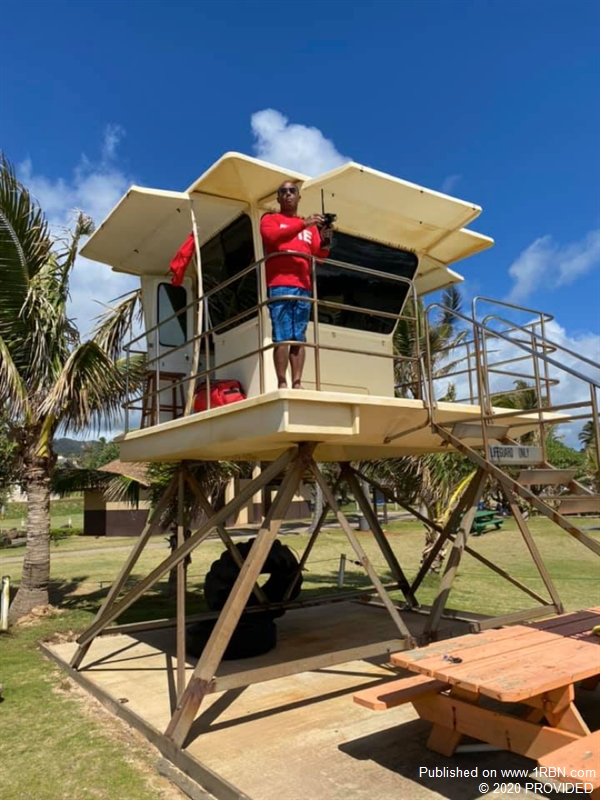 Photo by PROVIDEDResponders are using remote controlled rescue systems like the Hydronalix E.M.I.L.Y. (Emergency Integrated Lifesaving Lanyard) to conduct touch-free rescues.
The Coronavirus--or COVID 19--pandemic is global, indiscriminate, highly infectious and potentially deadly. It has changed the way the world does business, and how first responders carry out their critical duties. To conduct their work in manner that keeps them, as well as those who they come in contact with, safe and well, public safety personnel are increasingly managing risk through no-physical-contact interventions.

For the U.S. Coast Guard, there continues to be a need to provide search and rescue assistance from the air and on the sea.

"The Coast Guard is still operating and continuing to provide search and rescue assistance," said Cmdr. Mike Baird, CDR Mike Baird, Response Department Head for Coast Guard Sector North Bend, Ore. "We're implementing tactics, techniques, and procedures (TTPs) to keep our responders as safe as possible. We have adapted these TTPs to the way that we fly and operate. Our rescue swimmers are trained as EMTs, and are in the best position to evaluate the situation on scene and notify the flight crew about the patient's condition."
Baird said the Sector has trained personnel on the TTPs, and on how and when to don personal protective equipment (PPE). "When conducting lifesaving interventions, our aircrews use normal procedures and, when necessary, implement the COVID 19 TTP. The goal is to save lives and keep the aircrew safe."

As Rescue Swimmers can't wear an N95 mask or avoid contact during a water rescue, the survivor is quickly evaluated after being rescued. If they show signs or symptoms of COVID-19, the crew dons their PPE and the Sector Command Center is notified. Co-located with Coast Guard Air Station North Bend, the Sector North Bend is also taking other precautions, including instituting a disaggregated work schedule, avoiding close contact, and, when possible, having personnel work remotely. Gatherings are limited to a few people and all hands meetings and morning quarters have been replaced by group emails and individual contact through the chain of command.

"In addition to increasing the cleaning schedule at the station, off going and oncoming air and boat crews wipe down their duty rooms," Baird said. "If we can't social-distance, we wear masks. Eliminating our large gatherings makes passing information more difficult. We're relying on our department heads, division officers, and especially our chief petty officers to pass the word."

Customs and Border Protection
Customs and Border Protection (CBP) has implemented a proactive, multi-layered approach to minimize their employees' exposure to COVID-19 as they fulfill CBP's critical national security mission. According to Dennis Smith, a CBP spokesman, and consistent with its social distancing guidelines, the CBP workforce is teleworking when possible. "CBP has equipped its workforce with videoconferencing, teleconferencing and other tools and guidance to ensure swift, efficient, and timely communication between frontline personnel and teleworking employees," Smith said.

"CBP has ensured that personnel who cannot telework have ready access to Personal Protective Equipment (PPE), including nitrile gloves and N95 respirators, as well as comprehensive guidance for the use of that equipment. We have also issued cleaning guidelines to all CBP facilities to prevent the spread of COVID-19. CBP took early action to ensure that all Sectors and Field Offices were stocked with PPE, including eye protection and disposable outer garments. CBP also provided comprehensive guidance to all personnel on using PPE based on infectious disease risks, job functions and job settings," he said.
The CBP Senior Medical Advisor and Occupational Safety and Health team established robust procedures and guidance for supervisors and personnel to assess risk from potential COVID-19 exposure, and recommended actions to ensure mission continuity during this complex, novel and evolving pandemic. At facilities where an exposure has occurred, all employees are notified as soon as possible. Employees who have been in direct contact with a colleague who has tested positive for COVID-19 are provided with guidance based on the specific risks associated with the exposure.

"Nothing is more important than the safety of our workforce and the American people. CBP will continue to take every necessary precaution to keep our employees, their families and the American people safe during the COVID-19 pandemic," Smith said.

No-touch rescues
The job of a lifeguard at a beach or pool is inherently dangerous. Even when beaches are closed, there are people in the water in trouble and in need of intervention.
This year the added risk of COVID 19 is requiring new safeguards, including temperature checks, social distancing, wearing masks, cleaning chairs and equipment and additional training to monitor people for signs of the virus. Performing interventions requires new protocols, such as no-contact CPR.

Much of a lifeguard's duties are preventative. According to the U.S. Lifesaving Association, beach lifeguards executed more than 8 million preventative actions in 2018 compared with 86,000 rescues.

Carl Commenator, a vice president with Hydronalix, manufacturer of the EMILY (Emergency Integrated Lifesaving Lanyard) remote-controlled unmanned surface vehicle, said the current pandemic response has drawn attention to EMILY's inherently COVID-19 compliant capability. "EMILY allows first responders to save someone from drowning without having to make contact with the individual, thereby maintaining a safe distance and preventing the first responder from contracting the virus or other communicable disease," Commenator said.
Capt. Pat O'Neill of the Los Angeles County Fire Department (LACFD) Lifeguards Unit said the EMILY is one of the techniques lifeguards can use to conduct rescues that are safe for rescuers and swimmers in trouble. "If there's no rescuer, there's nobody to save the victim," O'Neill said.

In addition to saving victims, Fernando Boiteux, Chief of the LACFD Lifeguards Unit, said the EMILY system protects workers and can reduce the potential for costly workers compensation claims from responders who contract COVID-19 in the line of duty. "EMILY is a very useful tool for lifesaving and search and rescue. It makes our operation more efficient, and as a manager, it can save us money," Boiteux said.

Clear communications at a distance
Long Range Acoustic Devices (LRADs), made by San Diego, Calif.-based Genasys Inc., are being used by public safety personnel and first responders in more than 450 U.S. cities and in 72 countries to communicate to people at safe, stand-off distances in a variety of everyday duties and elevated risk operations.

"Homeland security and public safety agencies in several countries, including the U.S., Australia, Colombia, India, Spain, Poland, Morocco, South Africa, Thailand and Malaysia are using LRAD systems in the agencies' COVID-19 responses," said David Schnell, Vice President for Business Development for Genasys, Inc. "Our mobile voice broadcast systems enable operators to safely communicate critical information to individuals and groups from extended standoff distances."

LRAD COVID-19 uses include communicating to people inside vehicles and buildings, facilitating Coronavirus drive-through testing, communication to outdoor testing areas, and quarantine and curfew notifications.

Beyond COVID-19 applications, Schnell said one Florida sheriff's department is using a helicopter-mounted LRAD to broadcast air-to ground warnings to beachgoers that include strong currents, shark sightings or water pollution. Lifeguards in San Diego have found LRADs are more effective than bullhorns in warning swimmers of rip-tides, rogue waves or encroaching motorboats. All lifeguard towers in San Diego are outfitted with LRADs, with lifeguards at Coronado Beach using their LRADs almost every day, he said.
Genasys public warning system are also installed in several California cities, including Mill Valley, Laguna Beach and Newport Beach, to warn residents and visitors of wildfires, flooding, tsunamis and other critical events. Newport Beach is also using its Genasys system to deliver COVID-19 information and notifications, Schnell said.

Training for safe interventions
Mark DuPont, the executive director of the National Maritime Law Enforcement Academy said risk is not new to public safety. "It's called Risk Based Decision Making, or RBDM, and it is about measuring and evaluating that risk, to both the officer and to the public. It is why frontline emergency responders have maintained their efforts and mission performance, adapting to the new pandemic environment."

DuPont points to Louisiana State University's National Center for Biomedical Research and Training, Academy of Counter-Terrorist Education (NCBRT/ACE), which is offering online training programs such as COVID-19 Roll Call Training, Handling of COVID-19 Exposed Evidence, First Responder PPE Guidelines, EOC Operations During Social Distancing, as well as a series of podcasts designed to discuss pandemic response guidelines, best practices and resiliency issues.

DuPont said using technologies and solutions to reduce risk outside the immediate scope of a response, begins with the training for that response. "Training is often the part of the mission that gets minimized, glossed over, and even forgotten when operational requirements increase," he said. "But, as it has been proven time and time again, training is the most critical element in managing risk and empowering us to and perform our tasks safely, effectively and professionally."

This article is a direct street report from our correspondent and has not been edited by the 1st Responder newsroom.