Boat Goes Up in Flames in Mastic Beach Marina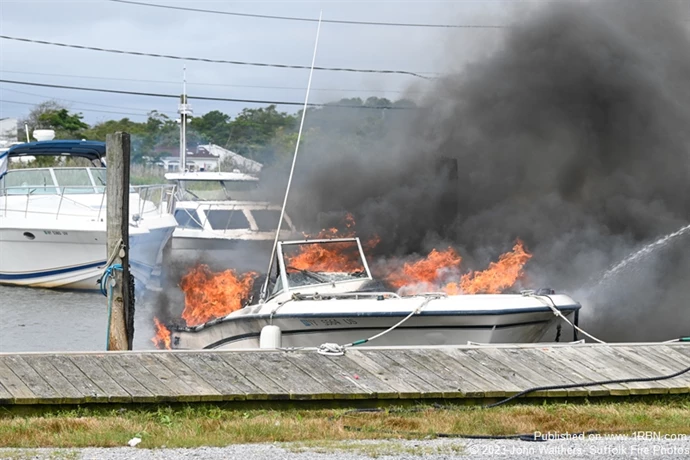 Photo by John Walthers- Suffolk Fire PhotosA Boat is engulfed in flames at the MBPOA Marina 1 in Mastic Beach on August 28th.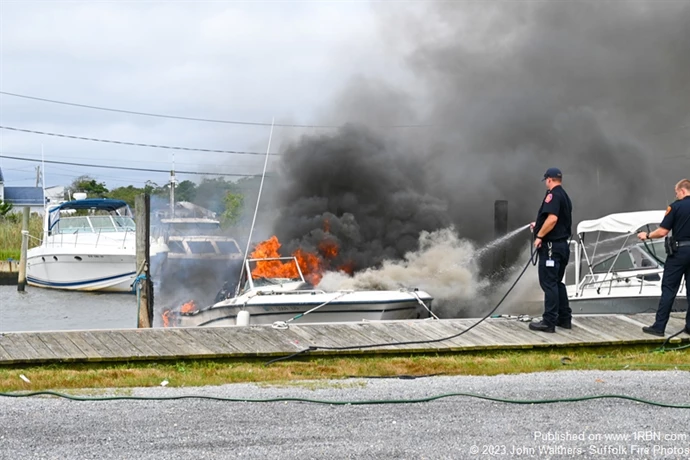 Photo by John Walthers- Suffolk Fire PhotosA Fire Marshal attempts to keep flames at bay using a hose at the dock while awaiting the arrival of fire engines and fire boats.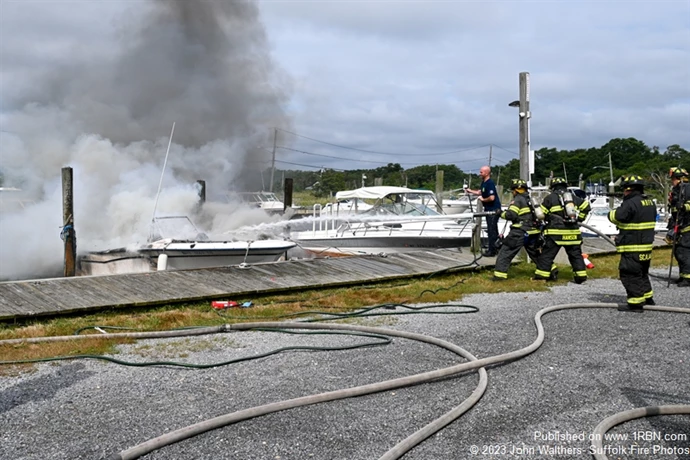 Photo by John Walthers- Suffolk Fire PhotosFirefighters go to work to extinguish the flames.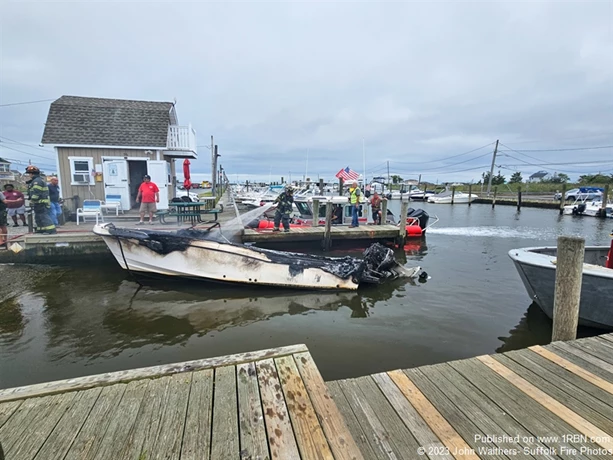 Photo by John Walthers- Suffolk Fire PhotosFirefighter Lian From Mastic Continues to hit hots spots before the boat is removed from the water.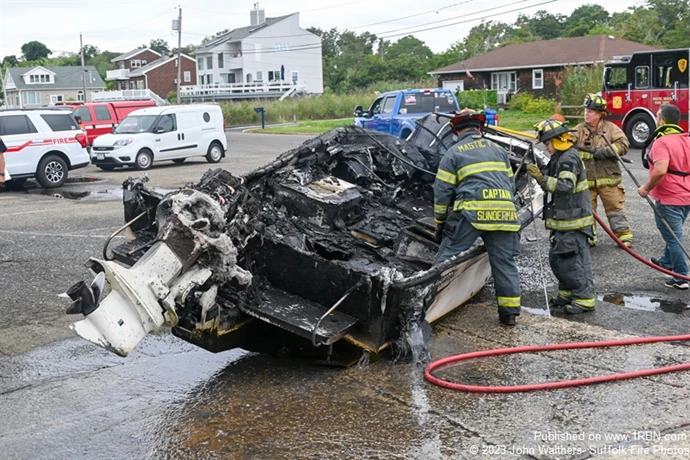 Photo by John Walthers- Suffolk Fire PhotosMastic Firefighters overhaul the boat before turning the scene over to Police and Fire Marshal's.
This article is a direct street report from our correspondent and has not been edited by the 1st Responder newsroom.
MASTIC BEACH, NY - Just after 10:00 A.M. on Monday, August 28th, reports came in for a boat on fire at the Mastic Beach Property Owners Marina on Riviera Dr.
The Moriches Bay Marine Incident response team, which is comprised of Fire and EMS resources from Mastic Beach, Mastic, Center Moriches, East Moriches & Eastport, were all alerted to the situation along with Suffolk Police 7th precinct, Suffolk Police Marine Bureau, US Coast Guard and Brookhaven Fire Marshals. 
On arrival, responders found a boat fully engulfed in flames and damaging a second nearby boat, according to police.
The fire department stretched hose lines from fire engines on shore and fire boats from Center Moriches, and Eastport FDs were also involved in the fire suppression, as well as towing the boat to the ramp for removal from the water. The boat was removed from the water where firefighters continued to operate for a little while overhauling to ensure that all hotspots were out.  
The scene was turned over to police and the fire marshal's office for further investigation, and information was also documented and sent to the US Coast Guard. Mastic Beach and Mastic Ambulance were on scene, but no injuries were reported.