Cape Canaveral Slag Spill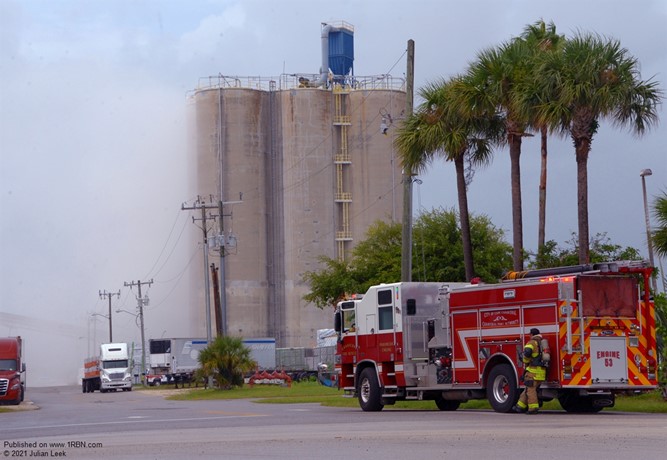 Photo by Julian LeekCanaveral Fire Department unit stands by the road hydrant waiting for instructions as a cloud of cement dust raises next to the storage silos
This article is a direct street report from our correspondent and has not been edited by the 1st Responder newsroom.
Public Notice of pollution: Incident Information
Name of Incident: Cape Canaveral Slag Spill
State Watch Office Case Number: 20214791
Start of Incident: 08/27/2021 11:00 AM
End of Incident: 08/27/2021 12:00 PM

Incident Description
On August 27, 2021, at around 11 AM, Lehigh Cement Company South LLC "Lehigh" experienced an unexpected leak at the bottom of one of the Silos at our Cape Canaveral Facility located at 9012 Marlin Street in Cape Canaveral, Florida [Air Permit No. 0090057-007-AO]. Approximately 125 tons of Slag from the Silo spilled onto the ground. Facility Personnel responded immediately to this spill by safely containing the source of the spill by making temporary repairs and wetting down the spilled material stockpile on the ground. We plan to vacuum up the spill and reprocess it through the plant in a controlled fashion. The NRC Spill Report was also made and the report number is 1314932.