Chesterfield responds to fatal fire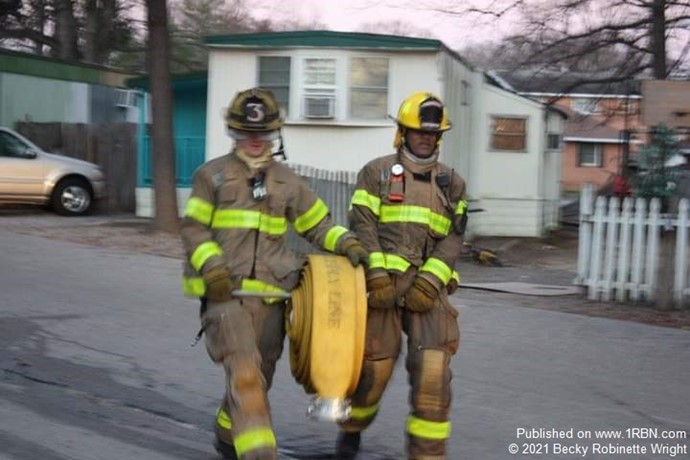 Photo by Becky Robinette WrightFirefighters on scene of a previous fire in Shady Hill Trailer Park.
This article is a direct street report from our correspondent and has not been edited by the 1st Responder newsroom.
CHESTERFIELD,VA-Tones sounded on Aug.13 at 1:57 p.m.,dispatching Chesterfield Fire and EMS crews to 6811 Jefferson Davis Highway, Shady Hill Trailer Park,for a structure fire.

First on scene reported a single wide mobile home with heavy fire.

"Live wires were down posing a hazard," said Captain Joe Harvey,Deputy Fire Marshal, Chesterfield Fire and EMS.

Firefighters went into Rescue mode and entered the blazing inferno and thick smoke,removing a 78 year-old man and searching for additional victims.

"The victim was transported to VCU Medical Center in critical condition," Captain Harvey said.

In spite of the valiant effort of firefighters and medics,the victim died at the hospital.

Conditions for firefighters were brutal. In addition to wearing protective gear that can weigh up to 65 pounds or more, temperatures were in the 90's with a heat index of 108 degrees.

"Crews were rotated,"Captain Harvey said.

Rehab was offered in the Medical Services Unit (MSU).

In addition to the death of the male resident, three dogs and a cat perished in the fire. Two dogs are still missing.

Two surviving adults who were not home at the time of the fire,we're displaced and are being assisted by the Red Cross.

Units that responded to the fire were: Engines 203,217,211,214,201,Trucks 203 and 214,Medics 203 and 211, Battalions 201 and 202, Fire Marshals 6,9 and 2,MSU and air utility. Chesterfield County Police were also on scene assisting.

The mobile home is a total loss.

The cause is under investigation.