Henrico Fire Earns Accredited Agency Status for Sixth Consecutive Time
September 14, 2023 | VIRGINIA
HENRICO FIRE, Correspondent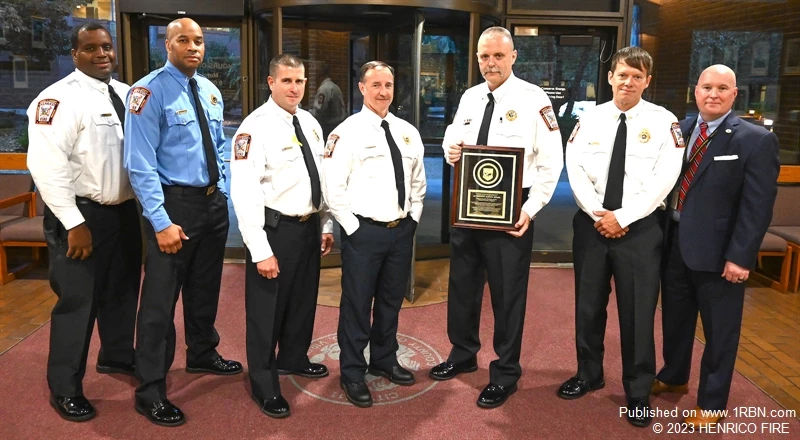 Photo by HENRICO FIREPictured from left: Doug Clevert, Deputy Chief of Community Risk Reduction; James Stenhouse, Planning Lieutenant; Jackson Baynard, Fire Chief; John Walls, Assistant Chief of Community Protection and Planning; Chris Ray, Captain, Accreditation Manager; Jason Wood, Deputy Chief of Support Services; Bill Boger, Career Firefighter, IAFF Local 1568 President
This article is a direct street report from our correspondent and has not been edited by the 1st Responder newsroom.
HENRICO COUNTY, VA. — Henrico County Division of Fire has been awarded Accredited Agency status by the Commission on Fire Accreditation International (CFAI) and the Center for Public Safety Excellence (CPSE) for a sixth consecutive time. Pursuit of accreditation is voluntary and awarded on a five-year cycle. Henrico Fire has been certified continuously since 1998 and will be up for reaccreditation again in 2028. Less than 400 agencies worldwide own the designation.  
"It takes an entire team to achieve accreditation," said Henrico Fire Chief Jackson Baynard. "This is a proud moment for Henrico Fire, our firefighters and support staff, and for the county as a whole."  
"CFAI's accreditation program may be optional," Baynard continued, "but that doesn't make it any less rigorous. The process is designed and administered by fire service professionals who have a deep understanding of what an excellent department looks like."  
Baynard thanked the CFAI and its assessors for their comprehensive and unbiased evaluation, which included a week's worth of interviews with Division and County leaders in March and concluded with a confirmation hearing in August.  
Henrico officials celebrated the Division of Fire's achievement during last night's Board of Supervisors meeting. County Manager John Vithoulkas called it "a momentous occasion for the county" and applauded the Division for pursuing peer review.  
"This is a testament to [Henrico Fire's] unwavering commitment to excellence," Vithoulkas said.  
Said Baynard: "The opportunity to hear input and perspectives from our peers in the fire service is invaluable. We learned a lot about ourselves during the accreditation period, including what we're doing well and how we can improve to better serve the community in the future." 
The next accreditation period might be nearly five years away, but Henrico Fire never stops preparing. "Part of what makes accreditation valuable is the standard of measuring outcomes and carefully tracking successes and shortfalls over time," Baynard said. "I'm grateful to Henrico Fire's Community Risk Reduction and Planning sections for coordinating all those moving pieces, and I'm humbled to be part of a team that values continuous improvement."