Montague, NJ Dedicates New Long-Awaited Firehouse
By SHARON SIEGEL, Senior Correspondent | August 07, 2021 | NEW JERSEY
Story No. 081221100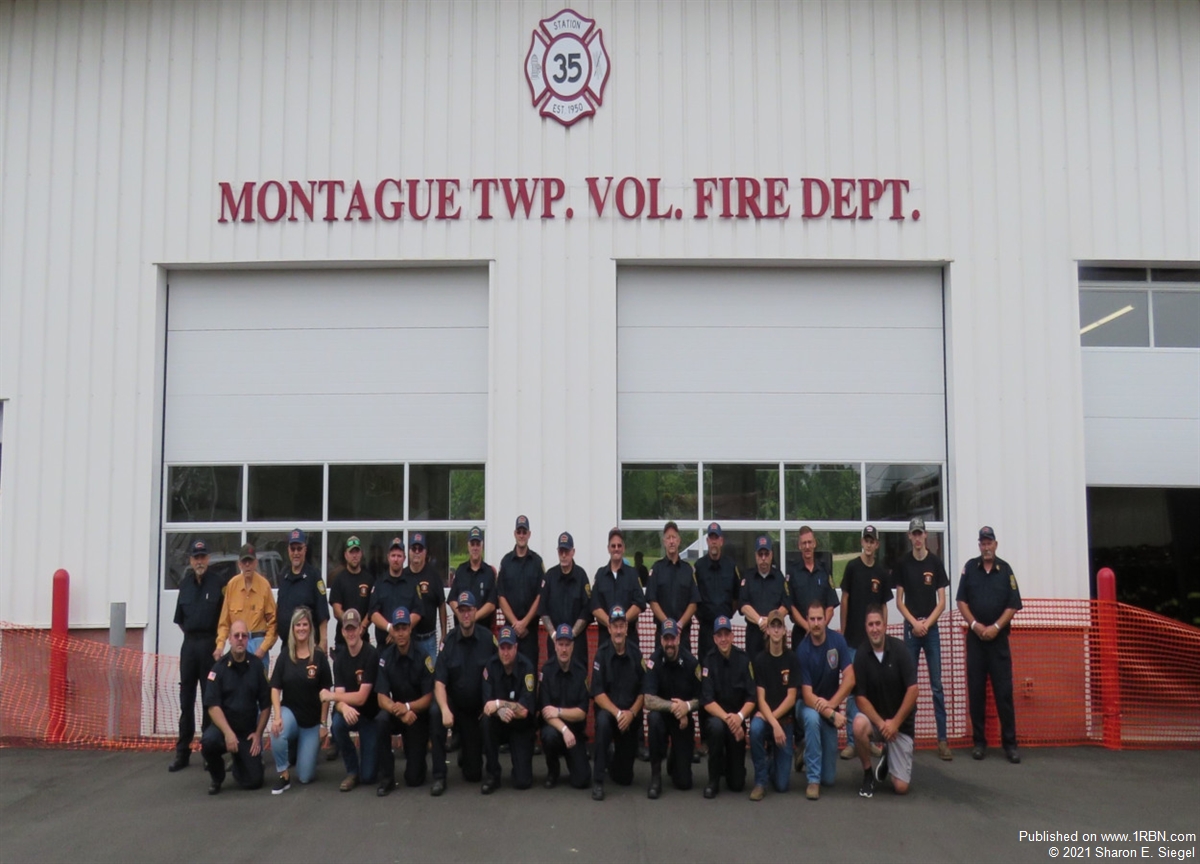 Photo by Sharon E. SiegelMontague FD members during the new firehouse dedication on August 7th, (Front row): Ryan Riegel, Kaitlin Frato, Edward Brown, Diavante Corum, Tim Lemin, Ed Smith Jr, John Conroy, Doug Drake, Mike McMickle, Doug Bender, Logan Nemeth, Matt Brown, James Ledonne; (Back row): Pete Smith, James Carpenter, Mark Lewandowski, Colby Westervelt, Josh Moran, Joe Serrecchia, Rich Nemeth, Alan Berkenbush, Ed Smith, Sr., Bill McCullough, Bill Dickson, Ed Brown, John Carlano, Keith Lamberson, Alex Dickson, Dylan Burghold, and Dave Coss.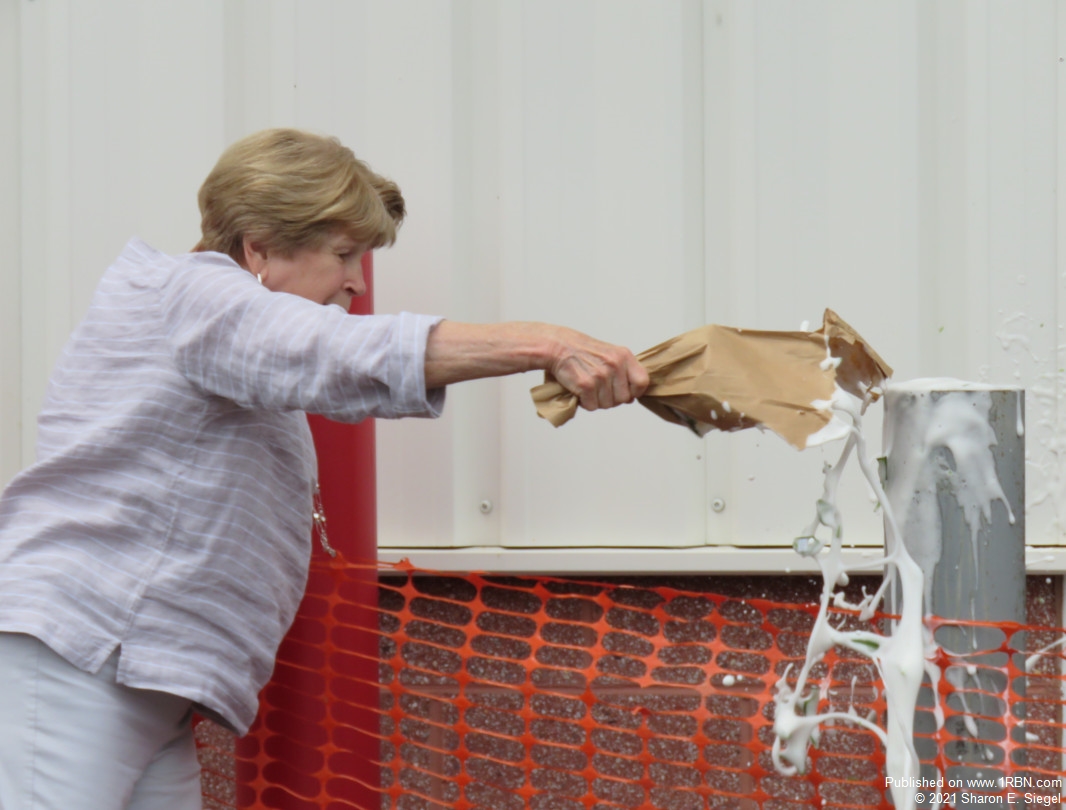 Photo by Sharon E. SiegelGene Crawford, Montague Twp. Committee, and chairperson of the township's new firehouse/community center, breaks a celebratory bottle of good cheer during the dedication ceremony held on August 7, 2021.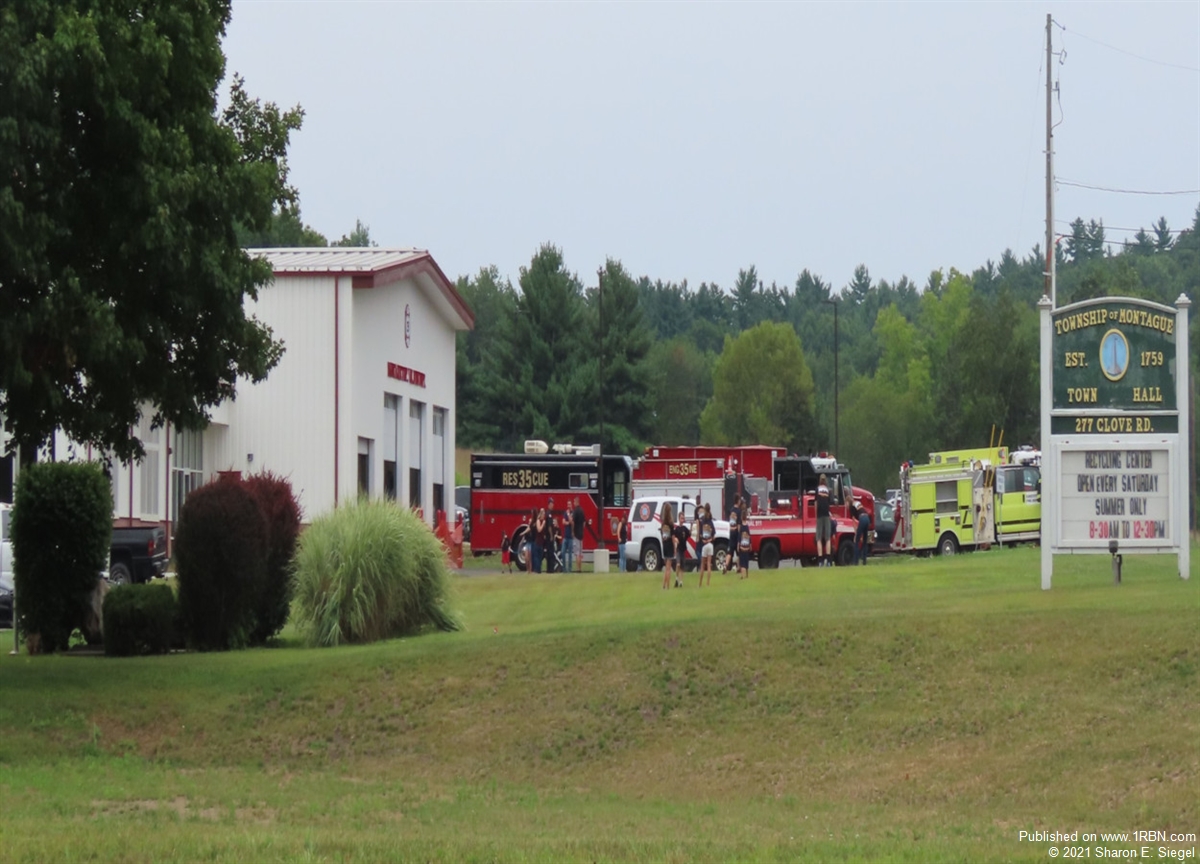 Photo by Sharon E. SiegelMontague Fire Department's new firehouse, which also contains Montague Township's new community center, was dedicated on August 7, 2021.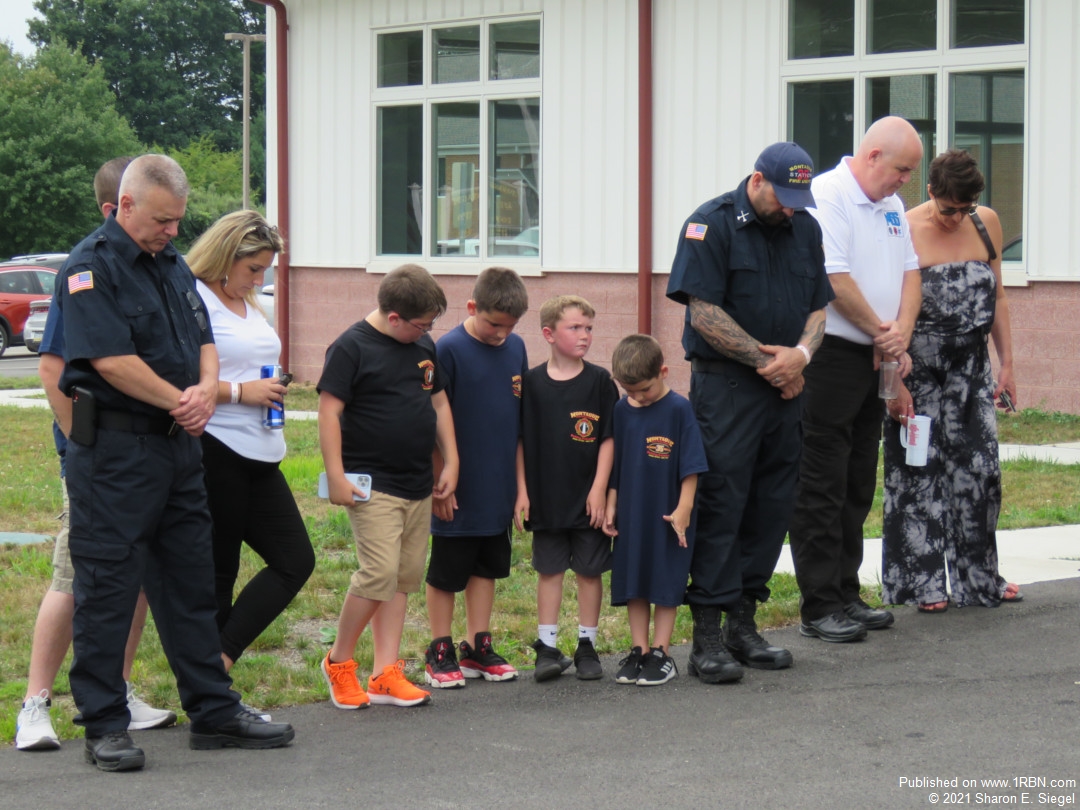 Photo by Sharon E. SiegelChaplain Keith Lamberson led the many guests in prayer during Montague Fire Department's dedication of the township's new firehouse and community center on August 7, 2021.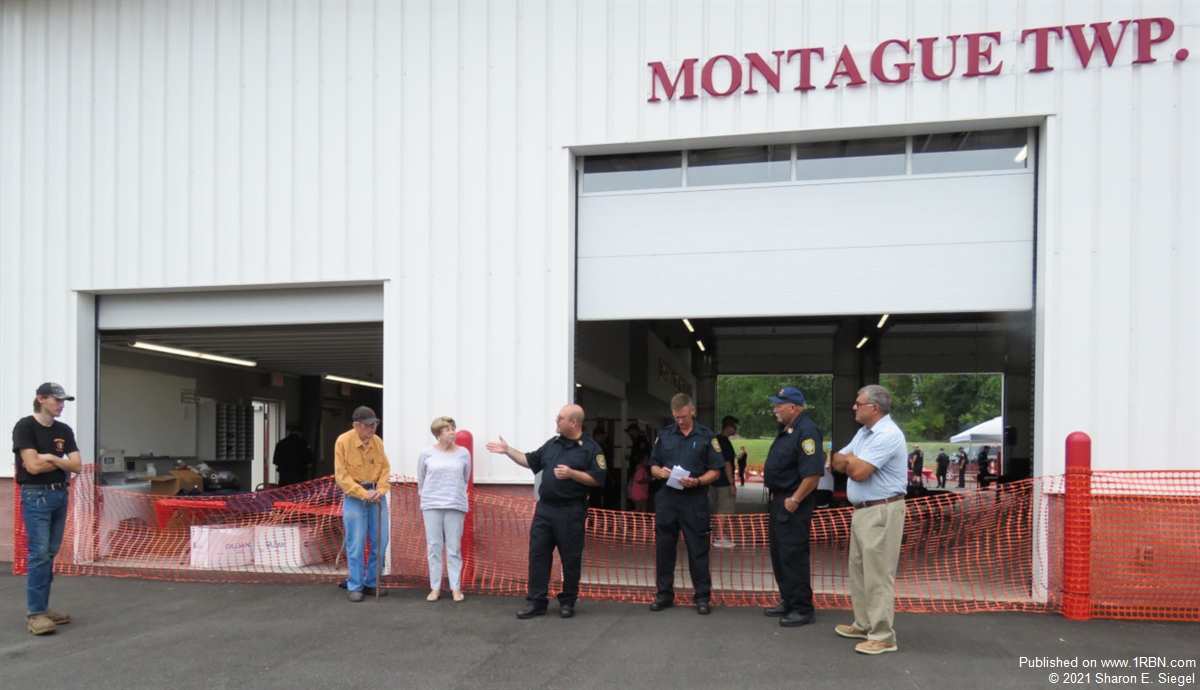 Photo by Sharon E. SiegelMontague FD Founding Father/Past Chief James Carpenter, Township Committeeman Gene Crawford, Chief Ryan Riegel, Chaplain Keith Lamberson, Trustee Dave Coss, and Township Committeemen George Zitone during the dedication of the department's new firehouse and township's new community center on August 7th.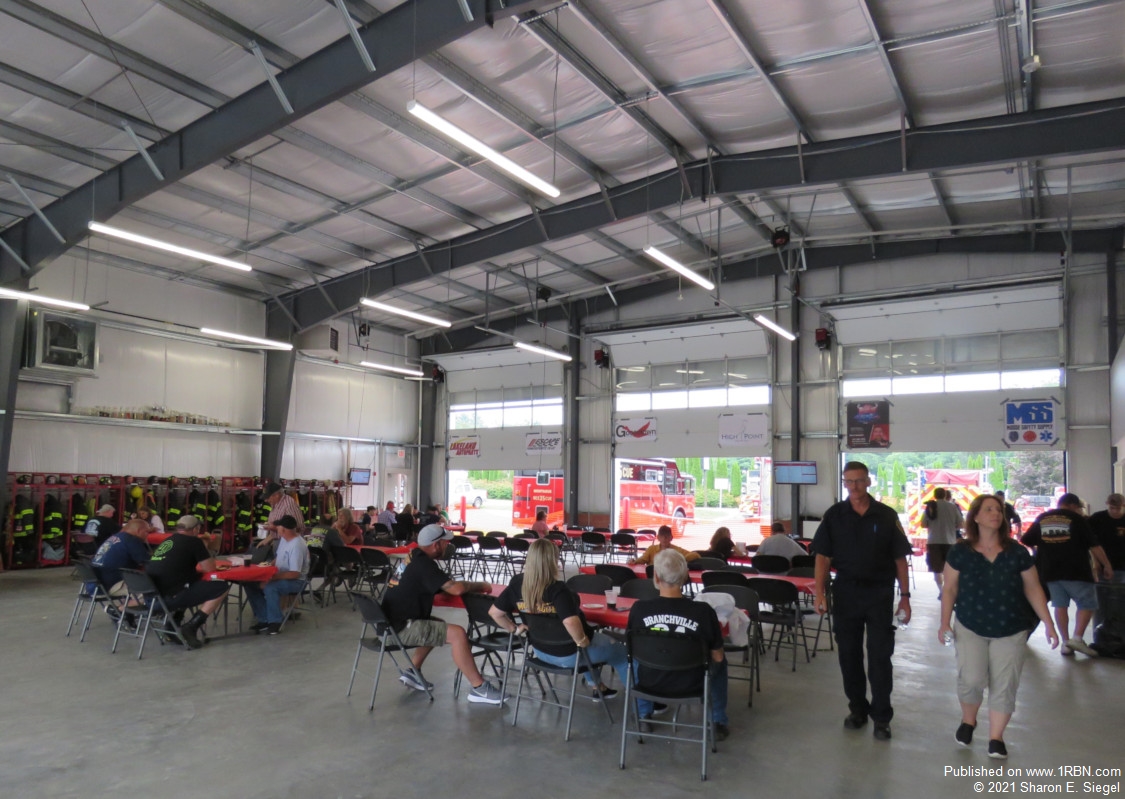 Photo by Sharon E. SiegelMany attended the dedication of Montague FD's new firehouse on August 7th, which included a barbeque, music, and games for families and visiting fire companies to enjoy.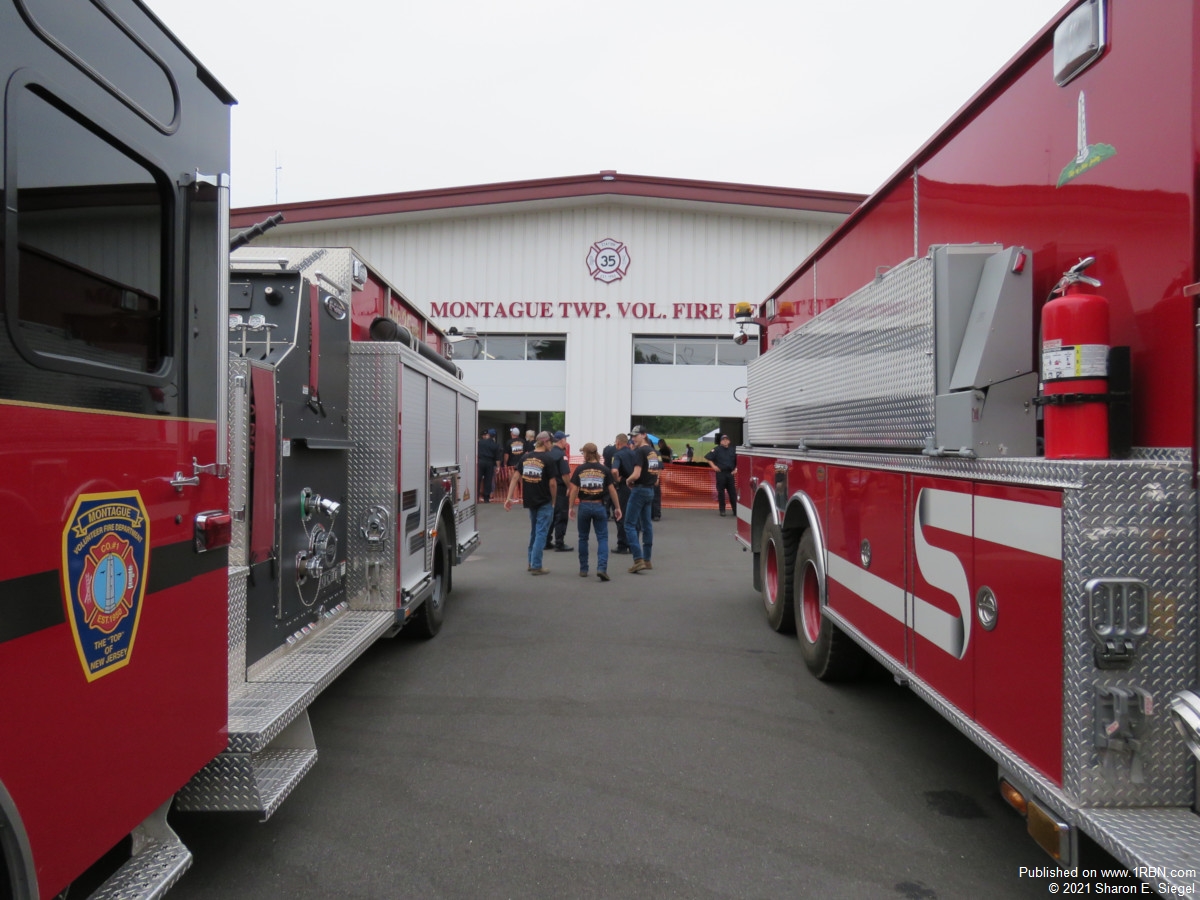 Photo by Sharon E. SiegelMontague Volunteer Fire Department firefighters are shown gathering to celebrate the dedication of their new firehouse (pictured) on August 7, 2021.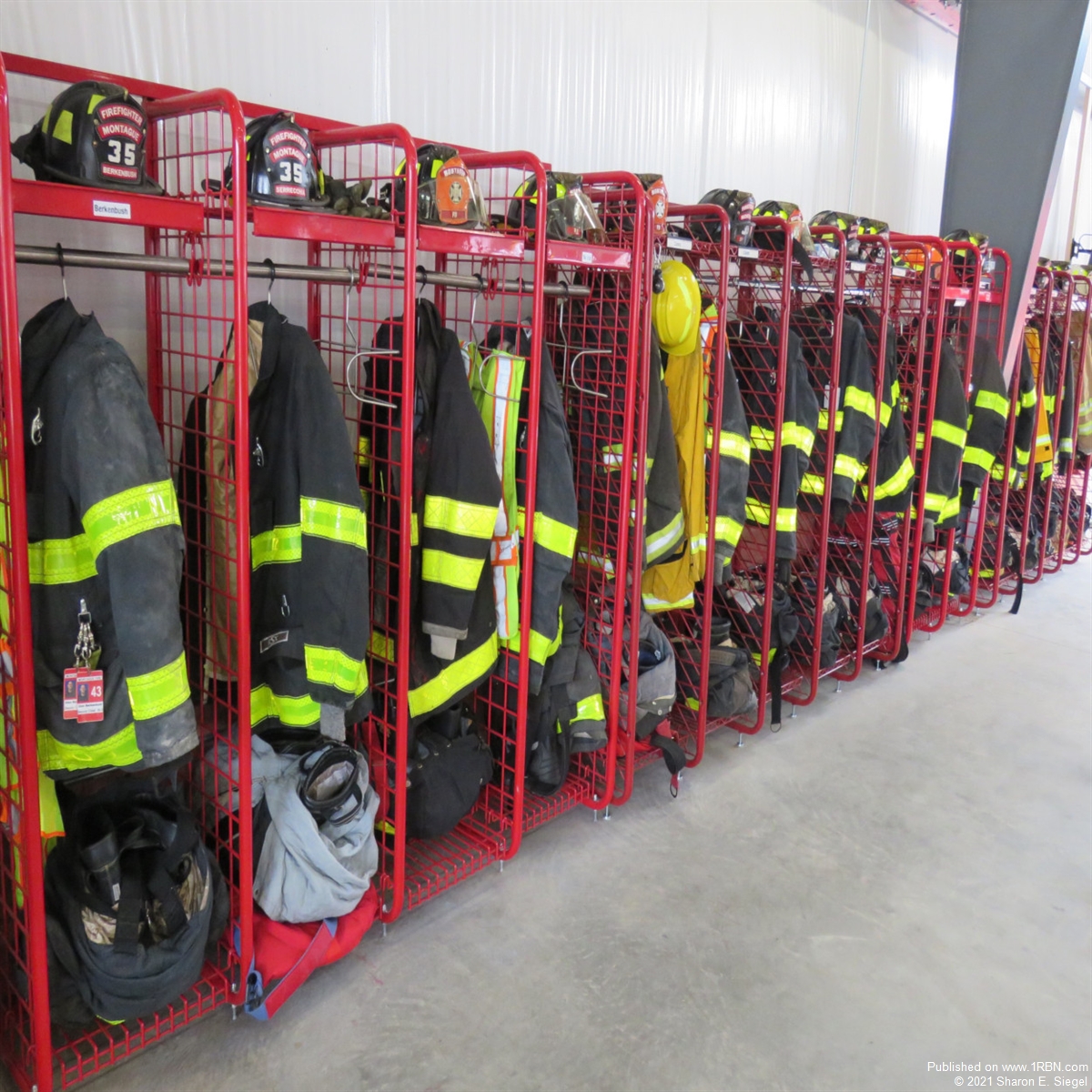 Photo by Sharon E. SiegelThere is plenty of room for the many dedicated Montague VFD firefighters to store their equipment, vehicles, and other vital gear and supplies, as well as to train and gather in the new firehouse.
MONTAGUE, NJ – The Montague Volunteer Fire Department celebrated the opening of a new long-awaited, much-needed firehouse on Saturday, August 7th. Located at 277 Clove Road in Montague, the approximately 10,000-square-foot building allows room for all of the department's vehicles and equipment, as well as a side community room township center. It is expected to not only bring more ease to responses, but also safer, faster, and even more efficient operations overall.

The building was dedicated by fire department and town officials, as well as a large number of MVFD firefighters, families, visiting departments, and community residents.

Chief Ryan Riegel introduced 92-year-old life member Jim Carpenter, one-of-ten men who founded MVFD in 1950. Carpenter's group helped to also incorporate the department in 1951, and oversaw the physical construction of the township's first firehouse. That original firehouse, also on Clove Road, remains near the new one.

Carpenter recalled that the department's first apparatus came from Bloomfield Fire Department. It was purchased for $100, which included hoses and other equipment, as well as instructions and firefighting lessons from Bloomfield's firefighters.

"Ten people got together back then to form the department, and we each contributed $100 toward a firehouse," Carpenter recalled. "We then asked around, and we were able to get equipment that was not being used by other departments."

MVFD's website lists the 10 founders as Carpenter and Dr. E.J. VanGieson, John Ardler, Lloyd Coss, Eston Myers, Donald Cole, Theodore Brace, Robert L. Westbrook, Joseph Zitone, and Irving Aber. Besides contributing the requested funds, each helped to cut and deliver wood and other materials for the firehouse, assist with hand-digging a well, and spent many weekends helping to construct the building. While today's firehouse and water supply may not have been garnered in this 70-years-ago style, it means no less to today's firefighters and community.

Carpenter said he was grateful to attend the August dedication of the new firehouse, a building he said was needed for the growing department and protection of the increased population and settlement of rural Montague Township.

Land for the new location was cleared for construction in 2019, ground broken in 2020, and move-in day and dedication held this year. MVFD's chief said the new quarters offers a building, equipment, and a place for the increasing number of dedicated volunteers to be prepared for the protection of and response to the region it serves.

Riegel said the most value of the new house for the members is their safety. He said now that all trucks are in one building, the members don't have to get their gear from one building and run across the street to get on a truck in another building (the first firehouse). As far as the community, he said they are now able to respond to scenes quicker and with crews dressed and ready to work coming off the trucks.

"We have a beautiful new building, great equipment in it, and a good bunch of firefighters to run it," Riegel told those gathered for the official dedication and day-long celebration. "Our members are dedicated to serve the community. We take pride in our quick response and aggressive action to safe life and property."

Montague Volunteer Fire Department Roster 2021—2022

Officers: Chief 1 Ryan Riegel, Chief 2 Dave Coss, Fire Captain Mike McMickle, EMS Captain Keith Lamberson, Fire Police Captain Mark Lewandowski, Engineer Bill Dickson, President Dave Coss, Vice President Bill McCullough, Treasurer Keith Lamberson, Secretary Rich Nemeth, Trustees Richard Cole, Steve LaCross, Joseph Barbagallo, Dave Coss, Bill Dickson, Chaplain Keith Lamberson

Active members: Paul Accardo, Doug Bender, Alan Berkenbush, Dick Bostwick, Jesse Brace-Revak, Ed Brown, Matt Brown, John Carlano, Paul Carter, John Conroy, Dave Coss, Lori Coss, Alex Dickson, Bill Dickson, Doug Drake, Kyle Gottemoller, Charles Hall, Caleb Lamberson, Keith Lamberson, Jim Ledonne, Christian Lemin, Tim Lemin, Josh Lewandowski, Mark Lewandowski, Michael Madsen, Erik Martin, Bill McCullough, Mike McMickle, Josh Moran, Logan Nemeth, Rich Nemeth, Alan Ovsen, Joann Ovsen, Todd Pfister, Jim Raperto, Kaitlin Frato, Ryan Riegel, Scott Schifferdecker, Joe Serrechia, Ben Smith, Ed Smith, Ed Smith, Jr., Pete Smith, Steve Smith
This article is a direct street report from our correspondent and has not been edited by the 1st Responder newsroom.